Stephen Stanko was sentenced to death by the State of South Carolina for a double murder
According to court documents Stephen Stanko would break into the home where he would murder Laura Ling (43) and Henry Lee Turner (74). Stanko would also sexually assault a teen in the home
Stephen Stanko would be arrested, convicted and sentenced to death
Stephen Stanko Photos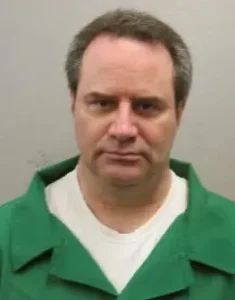 Stephen Stanko Now
STANKO, STEPHEN CHRISTOPHE (00006022)
https://public.doc.state.sc.us/scdc-public/inmateDetails.do?id=%2000006022
Stephen Stanko Case
Death row inmate Stephen Stanko is scheduled to be transferred to Georgetown County for a hearing on Jan. 28, Clerk of Court Alma White has confirmed.
White says she has not been told the exact purpose for the hearing but, she said, he is in the appeals portion of the process.
Stephen Stanko, now age 50, is housed at Kirkland Correctional Facility in Columbia.
He has been given two death sentences. One by a jury in Georgetown County and the other by an Horry County jury.
Stanko was arrested in April 2005 for the death of his girlfriend, Laura Ling, the brutal attack and attempted murder of Ling's daughter – who was 15-years-old at the time – and the shooting death of Henry Turner of Horry County.
Stanko met Laura Ling at the Socastee Library where she was a librarian. They struck up a relationship and Stephen Stanko moved in with Ling and her daughter in their Murrells Inlet home.
Ling and Stanko were also friends with Turner who frequented the library quite often.
On the morning of the crimes, Stephen Stanko stabbed Laura Ling repeatedly inside the home they shared as Ling's daughter watched in horror.
He then stabbed and raped the teen before fleeing the home in Laura Ling's vehicle. After withdrawing cash from Ling's bank account, Stephen Stanko drove to the home of Turner. He shot the 74-year-old man and stole his vehicle
After a nationwide manhunt, based on tips received after the posting of a $10,000 reward for information leading to his capture, Stanko was arrested without incident by the U.S. Marshals Service in Augusta, Georgia on April 12, 2005.
Stephen Stanko stood trial in Georgetown County in 2006. His Horry County trial was in 2009.
During his trials, and in subsequent appeals hearings, Stanko's lawyers have argued he suffers from a brain defect which caused him to commit the crimes.
GAB News has reached out to Stanko's attorneys for more information about the upcoming hearing but, as of this posting, no response has been received.
According to court documents filed Jan. 2, Stephen Stanko is now being represented by Lindsey Vann of Columbia and Florence attorney Henry Anderson Jr.
According to those latest court filings, Stephen Stanko says during his trial he was deprived of qualified counsel.
The documents state Stephen Stanko is asking for $10,000 from the state to pay Dr. Joseph Wu, an expert on psychiatric disorders and brain scanning.
Of that amount, $9,000 will be for the doctor's time (he charges $300 per hour) and $1,000 will be for his travel expenses.
In the filing, it is said the money is needed to make sure Stanko can have adequate resources for his appeal. A date for that appeal has not yet been set.
During Stanko's trials and Post Conviction Relief (PCR) hearings, his defense presented evidence indicating a brain issue played a major role in the murders of Ling and Turner and the attack on the teen.
During his trial in Horry County in 2009, Dr. Wu testified Stanko has "significant impairment in detecting right from wrong and controlling his impulses."
However, another doctor, Mark Einhorn said most of his tests on Stephen Stanko done while he was in prison came back fine.
State law, according to the document, allows death row inmates the chance to seek expert witnesses if a court rules such witnesses "are reasonably necessary for the representation of the defendant."
If a court determines the expert is needed, the court "shall order the payment of fees and expenses."
Stanko's lawyers, in the documents, say because a capital case is "an extraordinary proceeding" where the defense is "charged with the awesome responsibility of defending a person's life", expert testimony is "particularly essential."
The documents state Stephen Stanko has an IQ of 143 "and little history of violent behavior." It notes the crimes were "extremely violent and poorly planned" and were "an aberration" from Stanko's "known character."
The attorneys are also asking the court to allow Dr. Wu to examine Stanko's life history, something – the documents state – has not been done previously.
http://gabnewsonline.com/death-row-inmate-stephen-stanko-seeks-for-his-appeal-hearing-set-f-p2511-170.htm