Chadwick Willacy was sentenced to death by the State of Florida for the murder of Marlys Sather
According to court documents Chadwick Willacy would break into the home of Marlys Sather. When the woman discovered him inside of the home Willacy would tie the woman up, rob the home and proceeded to set it on fire
Chadwick Willacy would be arrested, convicted and sentenced to death
Chadwick Willacy Photos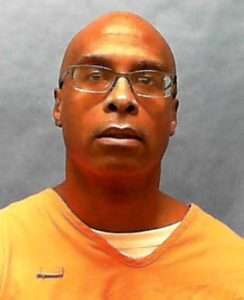 Chadwick Willacy Now
| | |
| --- | --- |
| DC Number: | 707742 |
| Name: | WILLACY, CHADWICK |
| Race: | BLACK |
| Sex: | MALE |
| Birth Date: | 09/23/1967 |
| Initial Receipt Date: | 12/13/1991 |
| Current Facility: | UNION C.I. |
| Current Custody: | MAXIMUM |
| Current Release Date: | DEATH SENTENCE |
Chadwick Willacy Case
Marlys Sather, the victim in this case, returned home from work around lunchtime unexpectedly and found Willacy, her next door neighbor, burglarizing her house. Willacy II, 696 So. 2d at 694; see also Willacy v. State ("Willacy III"), 967 So. 2d 131, 135 (Fla. 2007) (affirming the denial of postconviction relief). Willacy bludgeoned Sather, bound her ankles with wire and duct tape, and "choked and strangled her with a cord with a force so intense that a portion of her skull was dislodged." Willacy III, 967 So. 2d at 135. Willacy obtained Sather's car keys and ATM pin number and card, drove her car to her bank, and withdrew money out of her bank account. Id. He then drove back to Sather's house, hid her car around the block, and made several trips from Sather's house to her car with stolen items in tow. Id. After taking "a significant amount of property" from Sather's house, Willacy drove the car to a nearby plaza, left it, and jogged back to Sather's house. Id.
Willacy went back inside and, apparently to conceal evidence of his crimes, set Sather's body on fire. He disabled the house's smoke detectors, doused Sather with gasoline he found in the garage, placed a fan from Sather's guest room at her feet to provide oxygen for the fire, and struck several matches to set her body ablaze. Id. According to the medical examiner's testimony at trial, Sather was alive when Willacy set her body on fire; her death was caused by inhalation of smoke from her burning body. Id. The State also entered into evidence for the jury's review several photographs law enforcement took of Sather's body after the murder.
At trial, the State offered ample evidence that Willacy was the perpetrator of Sather's murder. Witnesses reported seeing a man matching Willacy's description near Sather's house and driving her car on the day of the murder. Id. Investigators found Willacy's fingerprints on several items at Sather's house, including the fan at Sather's feet and the gas can. Id. Willacy's girlfriend contacted the police when she discovered a woman's check register in Willacy's wastebasket, and police identified the register as belonging to Sather. Id. When police obtained a search warrant on Willacy's home, they recovered some of Sather's property and several articles of clothing containing blood consistent with Sather's blood type. Id.
Based on this evidence, the jury found Willacy guilty of first degree premeditated murder, burglary, robbery, and arson.3
https://caselaw.findlaw.com/court/us-11th-circuit/1867697.html