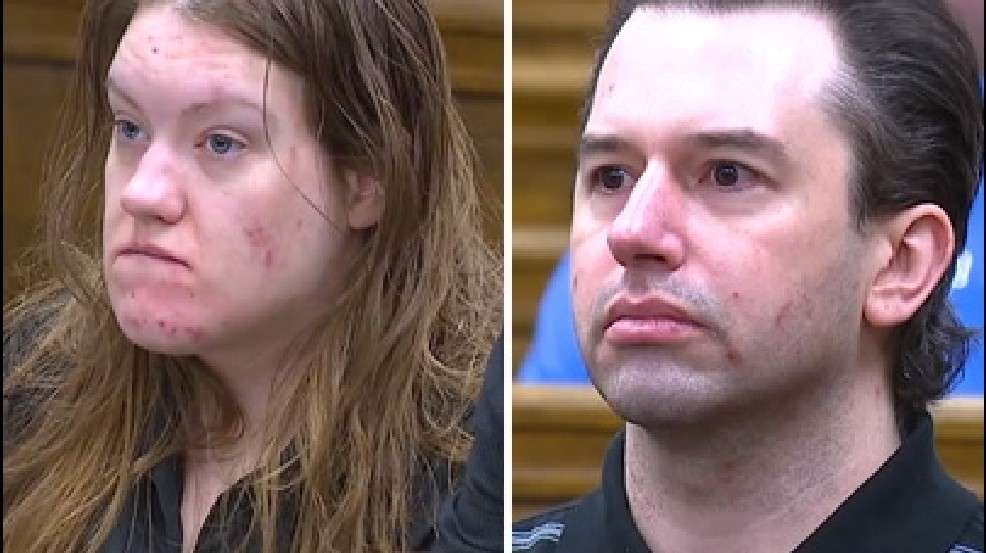 Joseph McEnroe and Michele Anderson are a pair of killers who would murder six family members in Carnation Washington in 2007
According to court documents Joseph McEnroe and Michele Anderson would go to the home of her parents Wayne and Judy Anderson. Once inside of the home they would shoot and kill Wayne and Judy Anderson. The pair would wait for Scott Anderson, 32, to come home who was fatally shot. They would then murder Scott wife Erica Mantle Anderson, 32, and their two children Olivia Anderson, 5, and Nathan Anderson, 3
Joseph McEnroe and Michele Anderson would be arrested, pleaded guilty and sentenced to life in prison
Michele Anderson Now
Inmate Number: 391491
ANDERSON, MICHELE K
Age: 45
Washington Corrections Center for Women
Joseph McEnroe Now
Inmate Number: 384102
MCENROE, JOSEPH T
Age: 44
Washington State Penitentiary
Joseph McEnroe and Michele Anderson Videos
Joseph McEnroe and Michele Anderson Case
Judge Jeffrey Ramsdell refused to waste time addressing Michele Anderson when he sentenced her Thursday to six consecutive life terms for joining with her boyfriend Joseph McEnroe to fatally shoot six members of her family during a Christmas Eve gathering eight years ago in Carnation.
Instead, the judge who presided over the case against Anderson and before her, that of her former boyfriend, Joseph McEnroe, commended the "secondary victims" — relatives, friends, first responders, witnesses, and jurors who heard horrific testimony and viewed gruesome crime-scene photos — for honoring the memories of the six lives cut short.
"You have all suffered tremendous losses," Ramsdell said after reading aloud a list of the victims' family and friends. "Fortunately, this lengthy chapter of your nightmare is almost over."
The six victims — Anderson's parents, brother, sister-in-law and young niece and nephew — were shot a combined 14 times with two handguns Anderson and McEnroe later tossed into the Stillaguamish River.
Related
8-plus years: A timeline of the Carnation murder case
Ramsdell noted that Anderson's sentence was "pretty much preordained" after a King County Superior Court jury convicted her in March of six counts of aggravated first-degree murder for the 2007 shooting spree inside the house on a wooded lot where her parents had lived for 30 years.
It was an anticlimactic end to a lengthy and expensive case that's dragged on for years despite the fact both defendants provided lengthy confessions, each detailing their roles in the bloodbath that wiped out three generations of the Anderson family. Anderson also admitted to the murders during a 2008 jailhouse interview with The Seattle Times.
Anderson, 37, cried and hung her head at times during the nearly hourlong hearing in the King County Courthouse in downtown Seattle, but she declined to address the court. Defense attorney Colleen O'Connor said Anderson was "very remorseful and apologizes to everyone involved."
While Anderson initially faced the possibility of execution for the killings, King County Prosecutor Dan Satterberg took the death penalty off the table last summer after two different juries declined to impose death sentences in two other capital-murder cases. One of those cases was against McEnroe, who was convicted last year of the same killings. He was sentenced to six life terms in June.
Anderson's sentencing hearing, like Joseph McEnroe's, was a formality since the only possible punishment for aggravated first-degree murder is death, or life in prison without the possibility of release.
Senior Deputy Prosecutor Scott O'Toole said there was no sadder piece of evidence in the case than a 911 call Anderson's sister-in-law, Erica Anderson, made amid the shootings, before the call was cut off. On the call, she could be heard screaming, "Not the kids! No!"

Erica's mother, Pam Mantle, told Anderson: "When you shot her, she called 911 not just to save herself but to save her babies because she knew you'd kill them, too.
"I don't think you're big and tough, Michele. I think you're a bully and a coward," Mantle said during Thursday's hearing. " I am brokenhearted. Every day, I miss those six people."
Michele Anderson's older sister, Mary Victoria Anderson — who earlier testified that she also would have been killed if she hadn't been ill and skipped the Christmas Eve gathering — told her sister she will have plenty of time in prison to think about her crimes.
"It kills me. I loved you so much," she said. "Just know they loved you."
The jury in Anderson's trial heard testimony from 38 witnesses called by the state over about five weeks in what was largely a repeat of McEnroe's trial. Anderson's defense team rested its case without calling any witnesses.
Anderson is expected to appeal her conviction.
According to testimony at Anderson's trial:

Around 4 p.m. Dec. 24, 2007, Anderson and Joseph McEnroe drove to her parents' house, where McEnroe distracted her mother, Judy Anderson, 61, in a back room while Anderson confronted her father, 60-year-old Wayne Anderson, who was fatally shot in the living room moments before his wife was killed in their kitchen.
Their bodies were dragged to a backyard shed, and Anderson and McEnroe spent the next hour mopping up the blood.
When Anderson's brother, Scott Anderson; his wife, Erica; and their two children, 5-year-old Olivia and 3-year-old Nathan, arrived at the house, the family of four was gunned down in the living room, but not before Erica Anderson managed to dial 911, a call that was quickly disconnected.
Michele Anderson walked down the driveway and locked a gate, which effectively turned away two deputies who had responded to the 911 hang-up call.
Two days later, one of Judy Anderson's co-workers discovered the bodies when she went to the property after Anderson had failed to show up for work at the Carnation post office.
Three hours after King County sheriff's deputies were summoned, Michele Anderson and Joseph McEnroe returned to the property and claimed they had planned to get married in Las Vegas but got lost and headed back home instead. Investigators quickly became suspicious of the two after neither asked about the welfare of Anderson's family or inquired why police had swarmed the property.
In her taped confession to detectives that was played for jurors, Anderson admitted that she had planned the killings for two weeks because she was "tired of everybody stepping on" her and had enlisted McEnroe's help to carry out the killings.
Anderson was angry with her brother for refusing to pay back $40,000 she said he borrowed over the years, and was angry at her parents for taking her brother's side. She was also mad that her parents wanted her and McEnroe to start paying rent after living rent-free for a year in a mobile home on her parents' rural lot.
Not including the cost of the investigation by the King County Sheriff's Office or work done by the state Crime Lab, the prosecutor's office spent nearly $1.7 million to convict Anderson and McEnroe, said spokesman Dan Donohoe.
Joseph McEnroe's defense cost an estimated $4.7 million, and the cost to defend Anderson was about $5.2 million, according to Leslie Brown, a spokeswoman for the King County Department of Public Defense.
https://www.seattletimes.com/seattle-news/law-justice/michele-anderson-sentenced-to-life-for-killing-6-relatives/