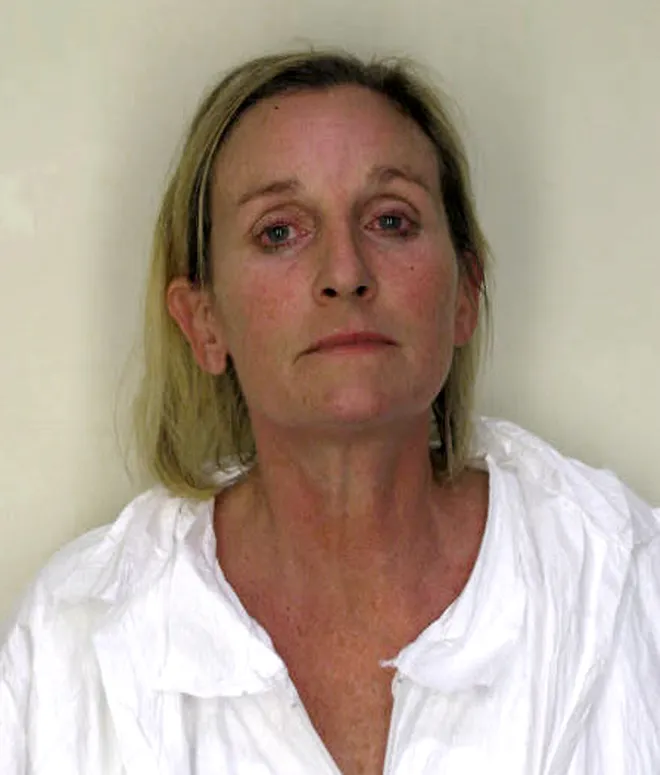 Julie Schenecker is a killer from Florida who would murder her two teenagers
According to court documents Julie Schenecker would shoot and kill her teenagers: 16-year-old Calyx and 13-year-old Beau Schenecker. Schenecker would later tell police the reason behind the killings was that the teenagers were mouthy and talked back. Calyx Schenecker would be found dead in her bedroom and her brother Beau Schenecker was fatally shot inside of a SUV
Julie Schenecker would be arrested, convicted and sentenced to life in prison
Julie Schenecker Now
| | |
| --- | --- |
| DC Number: | 156489 |
| Name: | SCHENECKER, JULIE |
| Race: | WHITE |
| Sex: | FEMALE |
| Birth Date: | 01/13/1961 |
| Initial Receipt Date: | 05/19/2014 |
| Current Facility: | LOWELL ANNEX |
| Current Custody: | CLOSE |
| Current Release Date: | SENTENCED TO LIFE |
Julie Schenecker Videos
Julie Schenecker Case
Julie Schenecker says she does not regret killing her children.
That was the jaw-dropping revelation from the first public interview with the Tampa woman who shot her two teens, Calyx, 16, and Beau, 13, in 2011. Upon her arrest, she had told authorities that the children were "mouthy" – an allegation that she has since recanted.
Speaking to ABC Action News in Tampa, Schenecker, 54, shockingly says she would do everything over again. When asked if she regretted the shooting, Schenecker shook her head no. "I saved them," she says in the interview.
But what did she save them from? Schenecker claimed that her son was being sexually abused and her daughter had recently disclosed that she was bipolar – both allegations that were never proved during her 2014 murder trial. She declined to give more details when pressed.
Schenecker says that her memories are hazy. "I took painkillers all the time," she said.
She also claims that she intended to commit suicide but not hurt her children.
"I was only going to kill me," she said. "I went to get a gun, but the store wouldn't let me take it home that day. So, I had to wait. If I had gotten it the day that I went to the gun store, I would have killed myself that day."
She also adds that she did not wake up on Jan. 27, 2011, planning to kill her children.
But those comments seemingly contradict what she wrote in the days before the killings. In her journals, which were obtained by PEOPLE, she plotted the deaths of her children. She called her plan a "massacre."
There were several bizarre moments during Schenecker's 2014 trial. Among other revelations, she admitted to manipulating her daughter's mouth into a smile. During her psychiatrist's testimony, Schenecker lashed out, yelling "Liar" in open court – and causing the judge to threaten to restrain her if she spoke out again.
After deliberating for just two hours, jurors found Schenecker guilty of two counts of capital murder without mental defect, meaning that she was sane at the time of the killings.
The killings shocked and devastated Schenecker's family. At the time of the killings, her husband, Parker, 52, was an Army colonel stationed in Qatar. Although his wife had battled clinical depression, she had never shown any signs that she would hurt the children. "We were a typical American family, but we had a sick member," Parker Schenecker told PEOPLE after the killings. "I never had any indication she was homicidal or that she would ever harm the children."
In the past four years, Parker Schenecker has focused his energy on remembering his children. Calyx was a talented artist who took advanced classes, ran track, and loved Harry Potter. Beau was a soccer standout with a wry sense of humor.
To keep their memories alive, Parker Schenecker has created a memorial fund that has provided scholarships for promising student leaders, artists and athletes. (The fund will participate in Give Day Tampa Bay on May 5.)
As Parker Schenecker channels his energy into his children's memorial, Julie Schenecker remains in a maximum security prison for the rest of her life – although, surprisingly, she was not shackled for her TV interview. She has appealed her conviction.
https://people.com/crime/julie-schenecker-54-says-she-doesnt-regret-killing-kids/