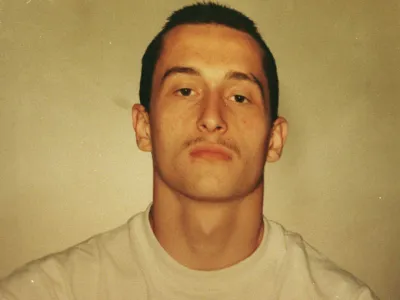 Mikhail Markhasev is a killer from California who was convicted in the murder of Ennis Cosby the son of comedian Bill Cosby
According to court documents Ennis Cosby was back in Los Angeles California during a school break from Columbia University. Ennis Cosby was driving a Mercedes Benz when he experienced a flat tire and would pull over. Ennis would call his girlfriend who would drive over and park behind him with her lights on so he could change the tire.
Mikhail Markhasev would drive up behind them and would threaten the girlfriend who would quickly drive off. Mikhail would then walk over to Ennis Cosby and would shoot him once in the head killing him. Ennis possessions were not taken by Markhasev
Soon the LAPD would track down Mikhail Markhasev who would be arrested and later convicted of the murder of twenty seven year old Ennis Cosby/
Mikhail Markhasev would be sentenced to life in prison without the possibility of parole
Mikhail Markhasev Now
MARKHASEV, MICHAEL
CDCR Number
P08669
Age
44
Admission Date
08/17/1998
Current Location
Valley State Prison
Location Link
Directions
Parole Eligible Date (Month/Year)
LWOP
Mikhail Markhasev Videos
Mikhail Markhasev Case
he man convicted of killing Bill Cosby's son has confessed to the murder and withdrawn the rest of his appeals.
In a handwritten letter to California Deputy Attorney General Kyle Brodie, Mikhail Markhasev apologized to the Cosby family for the Jan. 16, 1997 slaying of Ennis Cosby. Ennis was shot to death in an robbery attempt on a Bel-Air roadside while he was attempting to change a spare tire.
In his letter, Markhasev said he wished to abandon his appeal because it was a lie. He killed Ennis Cosby and wanted to do the right thing for his family and seek the forgiveness of the Cosby family.
"Although my appeal is in its beginning stages, I don't want to continue with it because it's based on falsehood and deceit," Markhasev writes. "I am guilty, and I want to do the right thing … More than anything, I want to apologize to the victim's family. It is my duty as a Christian, and it's the least I can do, after the great wickedness for which I am responsible."
California Attorney General Bill Lockyer and Los Angeles CountyDistrict Attorney Steve Cooley announced the development in Markhasev's case after he and his lawyer filed the notice of abandonment in appeals court. Marhasev also said in the letter that he wanted to apologize personally to the Cosby family and wanted them to receive a copy of the notice of abandonment of his appeals.
'Mend the Things I've Destroyed'
Insisting he did not have a personal agenda, he also asked Deputy Attorney General Brodie to make sure his family is spared "public ridicule and abashment" for his crimes.
"This is not about me, but about those whose lives I've marred," Markhasev writes. "My motive is to at least try to mend the things which I've destroyed."
The Los Angeles prosecutors office was surprised that Markhasev dropped his appeal.
"It's unusual, very unusual," said spokeswoman Sandi Gibbons. "But I wouldn't say it's necessarily unprecedented. But I've talked to other attorneys here and they say they've never had it happen in their experiences. … His [Markhasev's] reasons are [stated] in his letter."