Kelly Cochran is a killer from Michigan who would murder her husband and her boyfriend
According to court documents Kelly Cochran husband Jason Cochran would find out that she was cheating on him with Christopher Regan. When Jason asked Kelly how she was going to make up for her transgression she promised her husband she would kill Christopher Regan
Christopher Regan was invited over to Kelly Cochran home and while the two were having sex he would be fatally shot by Jason Cochran. Christopher Regan would then be dismembered and his body disposed of
However now Kelly Cochran was worried about Jason Cochran getting her tied up and would administer a fatal heroin overdose to her husband to cover up the first murder
Kelly Cochran would be arrested, convicted and sentenced to life in prison without parole
Kelly Cochran Now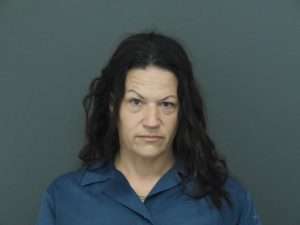 MDOC Number:
356714
SID Number:
5267595X
Name:
KELLY MARIE COCHRAN
Racial Identification:
White
Gender:
Female
Hair:
Brown
Eyes:
Hazel
Height:
5′ 10″
Weight:
165 lbs.
Date of Birth:
06/05/1982  (41)
Current Status:
Prisoner
Earliest Release Date:
LIFE
Assigned Location:
Maximum Discharge Date:
LIFE
Kelly Cochran Videos
Kelly Cochran Case
When Christopher Regan vanished in 2014, the case would test investigators' resolve, and eventually involve two murders, an undercover informant and an alleged bizarre marriage pact.
During the investigation, law enforcement officials learned Regan was having an affair with his married co-worker, Kelly Cochran, and initially began to suspect that Cochran's husband Jason may have played a role in Regan's disappearance.
"Jason really had motive. He was the husband who was being cheated on," former Iron River Police Chief Laura Frizzo said in an interview with "20/20." Frizzo ran a tiny police force of only four officers in the tightknit community in the Upper Peninsula of Michigan.
"What I came to learn about this marriage was that it had been in trouble for a while. Kelly was living a life of a single person."
Frizzo's suspicions only grew when investigators executed a search warrant and found a litany of chilling clues in the couple's home, including what appeared to be blood splatter on the ceiling and a journal written by Jason appearing to allude to the disturbing crime later learned to have taken place there.
The morning after the search, Frizzo got a call from one of the neighbors who said the Cochrans had left town the night before. The couple was then tracked by private investigators to their hometown of Hobart, Indiana, where Kelly and Jason Cochran grew up together as next-door neighbors.
The sordid case is the subject of a new "20/20" airing Friday, June 16, at 9 p.m. ET on ABC.
Body camera video showing the search of the Cochran home is part of a trove of hours of police footage detailing the complex investigation featured in the episode. The broadcast also features interviews with former Hobart, Indiana, Detective Jeremy Ogden, former neighbors of the couple and Regan's friends and former girlfriends, among others.
Kelly Cochran speaks out for the first time from her jail cell at Women's Huron Valley Correctional Facility in Ypsilanti, Michigan, in an exclusive phone interview with ABC News' Juju Chang, and two earlier recorded phone conversations with "20/20" are also featured.
"I was trying to do what I thought was the right thing. You go to school, you go to college, you get married," Kelly Cochran told "20/20." "I got bored from getting married. It was OK at the start, but all I did was work."
The Cochrans managed to evade authorities and cover their tracks for almost two years. Even though the couple was now out of Frizzo's jurisdiction, she continued to investigate Regan's disappearance, focusing on a body of water near the Cochrans' home known as the Caspian Pit. Just off shore, divers found a burn barrel with a clothesline and cement block attached to weigh it down, according to Frizzo.
Although investigators felt "confident" the burn barrel found in Caspian Pit likely belonged to the Cochrans, "there was nothing in it," Frizzo said.
Back in Hobart, Indiana, the case took a shocking turn when Kelly Cochran called 911 and asked for an ambulance, claiming her husband was not breathing. Jason Cochran was pronounced dead at the hospital.
Detective Jeremy Ogden attended the autopsy after being called in by the FBI, who got an anonymous tip that the Cochrans were wanted for a crime in Michigan. After the medical examiner found that Jason died of asphyxiation, Ogden took a closer look at Kelly Cochran and consulted with Laura Frizzo about her case in Michigan. What followed was a cat and mouse game between Ogden and Kelly Cochran as the detective hatched a scheme to get Kelly to open up about what really happened to Regan.
After observing Kelly's frequent visits to a park and sitting by a certain tree, Ogden went out on a limb and decided to make a carving on the tree that read, "CHRIS IS HERE" in hopes of scaring Kelly into believing Regan was communicating from beyond the grave.
Ogden said he saw Kelly Cochran running through woods, "then all of a sudden the truck backed out and she took off. That's the night that she decides to tell me everything."
That night, Kelly Cochran admitted to Ogden for the first time that Chris had been murdered. She initially claimed Jason shot and killed Chris and forced her to remove the bullet from Chris's skull and dismembered his body.
While Kelly told Ogden that she was a victim of the situation, police didn't believe she was being completely truthful about what happened.
"With [Kelly], it was like 'Lie, lie, lie, truth. Lie, truth. Lie, lie, lie, truth. You gotta figure it out," Frizzo said.
Eventually, Kelly Cochran fled to Kentucky, but was tracked down and arrested. She then told Ogden she knew in advance that Jason was planning to kill Chris Regan the night she invited him to their home, said ABC News contributor Ana Garcia. Kelly claimed that they had made a pact on their wedding night that if either spouse were to cheat, the cheating spouse would either have to kill their lover or be killed by the other spouse.
Kelly Cochran pleaded not guilty to Regan's murder. At trial, Kelly's defense attorney argued that Jason acted alone, because he was jealous and angry that his wife was involved with another man. Cochran testified about the abuse she claims she suffered in her marriage. The prosecution challenged these abuse claims against Jason.
After three hours of deliberation, the jury found Kelly Cochran guilty on all charges, including first-degree pre-meditated murder for her involvement in Regan's death. She was sentenced to life in prison without the possibility of parole. In a separate case, she was sentenced to an additional 65 years in prison for Jason Cochran's death.
Neighbors of the Cochrans have claimed that, shortly after Regan disappeared, they heard the couple using power tools in the middle of the night. They said they were later invited over for a barbecue where lots of meat was served.
"What if they were actually that kind of people and actually did kill the guy and then butchered him up and had us over for dinner?" David Saylor said in a police interview.
Frizzo said the claim was just a theory the neighbors came up with on their own and not something that police ever brought into the case.
Kelly Cochran's brother told investigators that Kelly said there were more victims, but there is no evidence that supports that claim.
In her interview with "20/20," Kelly denied that she killed anybody and denied serving her neighbors human remains. She now claims yet another version of the events on the night Regan was murdered, saying she was tied up as her husband killed Regan and he "cut him up in front of me."
"This is the first I'm hearing of her ever saying she was tied up. This is a game and she's going to continue this game as long as she can," Frizzo said.
https://abcnews.go.com/US/devil-woman-investigators-cracked-2014-murder-michigan-resident/story?id=99869387