Wesley Smith was sentenced to death by the State of North Carolina for the murder of Margaret Leighann Martin
According to court documents Wesley Smith would become upset when Margaret Leighann Martin asked him to stop coming by her home. Smith responded by forcing his way into her home where he would stab her multiple times causing her death
Wesley Smith would be arrested, convicted and sentenced to death
Wesley Smith Photos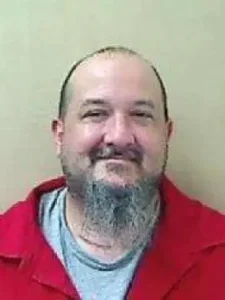 Wesley Smith Now
WESLEY T SMITH JR
Offender Number:
0765397
Inmate Status:
ACTIVE
Gender:
MALE
Race:
WHITE
Ethnic Group:
NOT HISPANIC/LATINO
Birth Date:
04/29/1976
Age:
47
Current Location:
CENTRAL PRISON
Wesley Smith Case
The evidence at trial tended to show that defendant met the victim's boyfriend, Jason Wagner, while working as a painter at a construction site.   Defendant became acquainted with the victim, Margaret Leighann Martin, during her visits to the construction site to see Wagner.   Defendant visited the couple at their home several times, occasionally staying even when Wagner was not there.
On two separate occasions, Martin expressed her discomfort about being around defendant.   In the summer of 2001, Martin told her mother that she had stopped visiting Wagner at work because defendant "gave her the creeps."   On 8 September 2001, Martin told her mother that she intended to tell defendant to stop visiting her home and to stop associating with Wagner.
On 11 September 2001, Wagner returned home early in the day to check on Martin.   Defendant's van was parked in the driveway, and Wagner found defendant and Martin sitting at opposite ends of the couch watching television.   Defendant asked Wagner if he had any work available.   Wagner replied in the negative and defendant left shortly thereafter.
The following day, Wagner left for work at approximately eight o'clock in the morning.   He returned home in the evening to find the front door open.   Once inside, Wagner noticed a dining room chair was flipped over, the dishwasher door was open, and there was blood in the kitchen.   Wagner ran to the bedroom, where he found Martin lying face down on the floor beside the bed.   Wagner checked for a pulse and discovered that Martin was dead.   She had been stabbed approximately sixty times in the back, head, and chest areas.   Additionally, her throat and neck were cut in several places.
Defendant was first questioned by police on 17 September 2001.   At that time, defendant denied any involvement in the victim's murder and consented to giving blood, hair, and fingernail samples.   That same day, the police searched defendant's home and property, finding a pair of shoes that were later determined to match prints found in the victim's home.   After searching defendant's property, the police asked defendant to return to the sheriff's department for further questioning.   Defendant confessed to Martin's murder during his second interview with police and gave a written statement detailing the circumstances of the victim's death.   The basic issue for the jury to determine at trial was whether defendant murdered the victim with premeditation and deliberation
https://caselaw.findlaw.com/nc-supreme-court/1228002.html