Reche Smith was sentenced to death by the State of North Carolina for the murder of Charles King
According to court documents Reche Smith would break into the residence of Charles King who he would murder before robbing the home
Reche Smith would be arrested, convicted and sentenced to death
Reche Smith Photos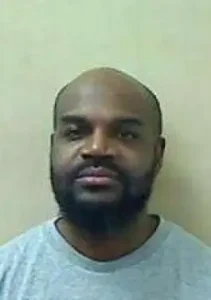 Reche Smith Now
RECHE SMITH
Offender Number:
0379083
Inmate Status:
ACTIVE
Probation/Parole/Post Release Status:
INACTIVE
Gender:
MALE
Race:
BLACK/AFRICAN AMERICAN
Ethnic Group:
NOT HISPANIC/LATINO
Birth Date:
05/25/1973
Age:
50
Current Location:
CENTRAL PRISON
Reche Smith Case
On 8 March 2002, defendant Reche Smith was convicted of first-degree murder and felony larceny.   The jury found defendant guilty of first-degree murder on the basis of malice, premeditation, and deliberation and under the felony murder rule.   Following a capital sentencing hearing, the jury recommended a sentence of death for the murder.   The trial court accordingly imposed a sentence of death for the murder and further imposed a sentence of fifteen to eighteen months imprisonment for the felony larceny.
The evidence at trial showed the following:  At 6:00 a.m. on 10 March 2001, the victim, Charles King (King), was at his home in Plymouth, North Carolina, when defendant knocked on his door.   King, wearing a bathrobe and thermal shirt and pants, answered the door, and defendant asked him for a glass of water.   King invited defendant into his home and headed toward his kitchen to get the water.   However, before King reached the kitchen, defendant grabbed King around his neck and choked him until he became unconscious.   Defendant then bound King's wrists with clear packaging tape, went to another room in King's house, found a clock, and used the clock's extension cord first to bind King's wrists and then his ankles.   Next defendant covered King's entire face, including his nose and mouth, with clear packaging tape and pushed King under a hospital bed.   Defendant left King under the bed to die of asphyxiation while he searched King's house for something to steal.   As King lay suffocating under his bed, defendant took $250 from an envelope in King's bedroom, $20 from King's wallet, King's cell phone, bank card, and car keys.   After thirty minutes of searching King's house and stealing these items, defendant took King's car, drove to Williamston, North Carolina, rented a room at a motel, and bought crack cocaine.
The next day defendant drove King's car to a local Burger King, where he stole a woman's purse and drove away.   A man at the restaurant saw the license plate number on King's car as defendant fled the restaurant.   A Burger King cashier relayed the license plate number to a police officer.
A short while later, Corporal Scott McDougal of the Williamston Police Department spotted the car defendant was driving.   Several officers, including Deputy Jason Branch of the Martin County Sheriff's Department, pursued defendant.   Eventually, defendant stopped his car and fled into the woods, where Deputy Branch overtook him on foot and arrested him.
When Corporal McDougal arrived at the scene of the arrest, he examined the car defendant had been driving.   Inside he found the purse defendant had just stolen, a set of keys, a cell phone, a knife, a homemade crack pipe, and a bank card bearing the name Charles King. Corporal McDougal also confirmed that the car defendant drove during the chase belonged to Charles King. The officers took defendant to the Martin County Sheriff's Department for questioning and later transported him to the Bertie-Martin Regional Jail.
Later on 11 March 2001, defendant called his wife, Rita Smith (Rita), from whom he was separated, and claimed he was in jail for snatching a purse.   Defendant then began to cry and told his wife he would never get out of jail because he killed someone in Plymouth.   Rita then asked defendant to let her speak to the sheriff.   She asked the sheriff why defendant was in jail.   The sheriff replied that defendant had stolen a woman's purse and fled in a car registered to Charles King. After talking with defendant and the sheriff, Rita relayed the story to her mother and speculated that defendant killed King. Rita knew King because she had bought cologne from him in the past.   Rita and her mother attempted to call King at his home, but no one answered.
Two days after the murder, Rita relayed the contents of her conversation with defendant to her friend, Brenda Jackson.   Rita and Jackson again called King's home, but no one answered.   After receiving no reply from King, Rita and Jackson called Detective John Floyd, Chief of Police in Plymouth, North Carolina.   Jackson relayed information to Chief Floyd about defendant's conversation with Rita. Jackson asked Floyd to go by King's house to check on King's whereabouts.
When Chief Floyd and Officer Heather Thompkins arrived at King's house, they knocked on the doors and received no answer.   One officer gained entry to the house through a window and let the other one in through a door.   Once inside, they noticed a bedroom had been ransacked.   The officers discovered King's body under a hospital bed.
On 13 March 2001, Dr. Paul Spence, M.D., conducted an autopsy on King at Pitt County Memorial Hospital.   The autopsy revealed only one significant external injury, a scratch on King's left shin.   Internal injuries were consistent with manual choking:  bruises and bleeding into the muscles surrounding the voice box and bits of hemorrhage inside the structure of the thyroid cartilage.   King's hands were swollen and purple-red in color, indicating King was alive at the time defendant bound him with the tape and electrical cord.   Dr. Spence stated that King's death was caused by asphyxia resulting from blockage of the nose and mouth due to tape bound around the head.   In Dr. Spence's estimation, once defendant placed tape on King's nose and mouth, King became brain dead in two to three minutes and his heart stopped after ten to twenty minutes.   Dr. Spence also determined that King could have remained conscious for a portion of that time.   Finally, Dr. Spence testified King could have regained consciousness after defendant choked him and been aware of his condition, but because of his lack of oxygen, King would have been unable to move.