Brian Moore was sentenced to death by the State of Kentucky for the murder of Virgil Harris
According to court documents Brian Moore would kidnap seventy nine year old Virgil Harris from a grocery store parking lot. The victim was driven to a remote location where he would be robbed and murdered
Brian Moore would be arrested, convicted and sentenced to death
Brian Moore Photos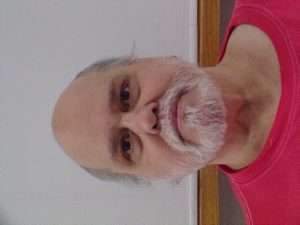 Brian Moore Now
Name:
MOORE, BRIAN KEITH
Active Inmate
DEATH ROW
PID # / DOC #:
202593 / 031900
Institution Start Date:
12/04/1979
Expected Time To Serve (TTS):
DEATH SENTENCE
Classification:
Maximum
Minimum Expiration of Sentence Date (Good Time Release Date): ?
DEATH SENTENCE
Parole Eligibility Date:
DEATH SENTENCE
Maximum Expiration of Sentence Date:
DEATH SENTENCE
Location:
Kentucky State Reformatory
Brian Moore Case
The proof introduced by the Commonwealth showed that the decedent, Virgil Harris, was a 77 year-old man who owned and operated an ice cream shop located on Seventh Street in Louisville. He had a regular daily routine which consisted of arriving at the store at 8:30 a. m., going to the bank at about 10:00 a. m., and then to the A&P grocery store. On August 10, 1979, Harris left his store at 11:20 a. m., driving his 1978 maroon Buick. He went to the Liberty National Bank in Shively where he made a deposit and picked up several rolls of coins. After leaving the bank, he purchased bananas at the A&P.
Shortly before noon, an eyewitness in the A&P parking lot saw a young man answering the description of appellant (Brian Moore) standing near the door of a maroon car, pointing a gun at the driver, an "older" man. Later in the day, appellant was seen driving a maroon Buick. He told a witness that the car belonged to his uncle and that he (appellant) was going to take over the payments.
Lynn Thompson and Kenny Blair, friends of appellant (Brian Moore) , lived together in an apartment on Shady Villa Drive in Louisville. Appellant spent the night with them on August 8 and 9. Thompson testified that on the afternoon of August 10, Moore came to the apartment carrying a paper sack which contained a money bag, a gun, a clip, several rolls of coins, and some bananas. Appellant stated to her that he had just robbed a "place" of $250.00. He later told Blair that he had followed a man to his car and demanded his money. The man gave appellant the money and then pulled a mask from appellant's face. Appellant told Blair that he wasn't going to let the man live and testify against him, and that he drove the man to the Jefferson Hill Road where he shot and killed him.
Following this conversation with appellant, Blair, who was seeking probation for a recent felony conviction, called his attorney, Murray Turner, and informed him that he had some information about a murder. Turner contacted Judy Feldkamp, an assistant Commonwealth's attorney, and sought a "deal" whereby the Commonwealth would recommend probation for Blair in return for his testifying about the murder.
*430 The police discovered Virgil Harris' car in the parking lot at the Shady Villa Apartment, and found that appellant had the car keys in his possession. He also was wearing Harris' wristwatch. Blair took the police to the scene of the murder, claiming that appellant had taken him there. A battery of scientific tests introduced by the Commonwealth showed that appellant had recently fired a gun, that he had soil on his trousers which was similar to that at the crime scene, and that appellant's fingerprints were in Harris' car and on the coin wrappers. Following appellant's arrest, he made a verbal confession. Evidence of the confession was admitted by the trial judge following a suppression hearing.
Appellant denied that he was guilty and claimed that Kenny Blair was the culprit. There was evidence that appellant was a regular drug user, and he claimed that he was "high" on the day of the crimes. Appellant denied having fired a gun and stated that he had lent the gun to Blair. He admitted driving Harris' car, but stated that Blair had stolen it and that he had borrowed it from Blair. He denied having made the confession to the police. A witness for appellant, James Lofton, who was a prisoner in the Jefferson County Jail, testified that Blair had told him (while both were incarcerated) that he himself had robbed and killed Harris and that he was setting appellant up for Harris' murder.
Appellant has raised thirty alleged errors with respect to both the guilt and the sentencing phases of the trial. While we have examined all points raised, we will discuss only those which have any substance. We have found those not discussed to be without merit.
https://law.justia.com/cases/kentucky/supreme-court/1982/634-s-w-2d-426-1.html