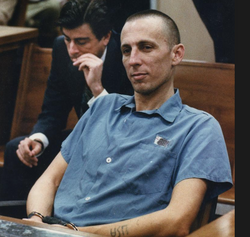 Michael Durocher was executed by the State of Florida for five murders
According to court documents Michael Durocher would murder Grace Reed, their 6-month-old son and her 5-year-old daughter. Apparently Durocher was in a murder-suicide pact that he backed out of. It would be years before he would be arrested for these murders
Before he was arrested Michael Durocher would murder a clerk during a robbery and would beat his roommate to death
Michael Durocher would be arrested, convicted and sentenced to death
Michael Durocher would be executed via the electric chair on August 25 1993
Michael Durocher Photos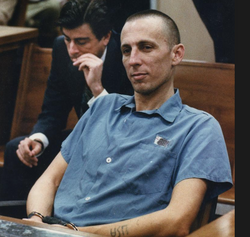 Michael Durocher Case
Convicted five-time killer Michael A. Durocher got his wish and was executed in the Florida electric chair early Wednesday for the 1983 deaths of his girlfriend, their infant son and the woman's daughter.
Durocher was pronounced dead at 7:15 a.m. EDT in the death chamber at the Florida State Prison in Starke
A smiling Durocher was brought to the death chamber at 7:01 a.m., making comments to the guards who were leading him. He sat calmly and quietly as he was strapped into the 70-year-old electric chair, 'Old Sparky.'
Prison Superintendent Everett Perrin asked whether Durocher had any last words.
'No, I don't,' he replied.
He closed his eyes as the brown chin strap was applied and a black leather mask was fitted over his face.
Durocher, 33, of Green Cove Springs, was sentenced to death in 1991 for the 1983 killings of his girlfriend and two children. He also was sentenced to die for killing a Jacksonville storekeeper in 1986 and to life in prison for killing a former roommate in 1988
Durocher, a 10th grade dropout, made a suicide pact with his girlfriend, Grace Reed, over the Thanksgiving weekend in 1983. They drove to a remote area in Clay County and Durocher shot Reed's 5-year- old daughter in the back, and then stabbed the 6-month-old son Reed had said was Durocher's child.
In an April letter to Gov. Lawton Chiles, Durocher said he killed Reed because he was irritated at her for insisting the 6-month-old boy was his.
'That made her a nuisance, one that needed to be eliminated,' he wrote.
The killings did not come to light until 1989, when Durocher was sentenced to die for the 1986 shotgun slaying of Jacksonville store owner Thomas Underwood.
Durocher said he killed Underwood during a robbery to raise money for a trip to kill his father. But, he wrote Chiles, he found out the trip was unnecessary because his father was dying of cancer.
Durocher also confessed to killing his old roommate, Eddie D. Childers, in 1988 during an argument. He said he clubbed Childers with a hammer, poured gasoline on the body and set it on fire.
Among 31 convicts executed in Florida since the state resumed the death penalty in 1979, most have gone through several death warrants. Durocher is the only one to be executed on his first death warrant.
But Durocher had pleaded with state officials for execution since his first note to Chiles in 1991: 'I am a believer in capital punishment.'
Durocher asked that no appeals be made on any level on his behalf and the U.S. Supreme Court upheld his right to die Tuesday night.
In Florida, all death sentences automatically are appealed to the Florida Supreme Court. The courts found Durocher competent to reject the help of state-appointed lawyers who wanted to fight the death sentence.
In April, Durocher wrote to Chiles that he had not expected opposition to his wish to die. When Chiles signed the death warrant May 26, Durocher wrote him the next day to say, 'Mr. Chiles, Thank you!'
For his last meal, Durocher requested and was given five pounds of jumbo breaded shrimp, a pint of chocolate ice cream and a two-liter bottle of Coca-Cola. He ate about half of the food.
His only visitor was lawyer Judy Dougherty.
https://www.upi.com/Archives/1993/08/25/Florida-executes-Michael-Durocher/6492746251200/