Paul Brown was sentenced to death by the State of North Carolina for a double murder
According to court documents Paul Brown would would get into an argument with the victim and would leave however he would return and fatally shoot Latashonette Cox and infant David Dishon Franklin
Paul Brown would be arrested, convicted and sentenced to death
Paul Brown Photos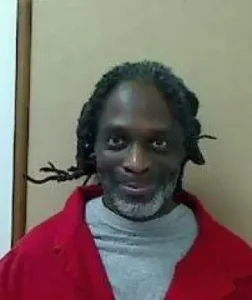 Paul Brown Now
PAUL A BROWN
Offender Number:
0051026
Inmate Status:
ACTIVE
Probation/Parole/Post Release Status:
INACTIVE
Gender:
MALE
Race:
BLACK/AFRICAN AMERICAN
Ethnic Group:
NOT HISPANIC/LATINO
Birth Date:
10/08/1965
Age:
57
Current Location:
CENTRAL PRISON
Paul Brown Case
On 21 December 1996, shortly before midnight, defendant and victim Cox got into an argument.   Cox kicked defendant out of the apartment and told him to "get her presents from under the tree."   Defendant left the apartment but was clearly upset.   Around 11:45 p.m., defendant went to the residence of Mary Cox, victim Cox's mother, and complained that victim Cox had "kicked him out."   Defendant appeared upset and Mary Cox could tell defendant had been drinking.
Defendant returned to victim Cox's apartment about twenty-five to thirty minutes after Cox had asked him to leave.   Jessica Franklin allowed defendant into the apartment and spoke with him briefly.   Franklin dozed off in a chair, but was startled by gunshots.   Franklin watched as defendant shot and killed victim Cox and victim Franklin while they lay in bed.   Victim Cox was leaning back in the bed in a defensive position and victim Franklin was on his back.
Jessica Franklin ran from the apartment and frantically knocked on the door of Cymantha Tate's apartment.   Franklin was hysterical and said, "He shot my baby.   He shot my sister."  (Jessica Franklin commonly referred to victim Cox as her "sister," even though the two were unrelated.)   Tate told Franklin to call the police and left the residence to help Franklin.   As Franklin and Tate were returning to Tate's apartment, they saw defendant's vehicle driving away from the apartment complex.   The police arrived within a few minutes.   Franklin told police that defendant kept a nine-millimeter gun inside the residence and that defendant had committed the shootings.
Police Officer C.H. Newsome responded to the scene of the murders. He checked both victims and concluded they were dead.   When Officer Newsome swept the apartment for the gunman, he found two children sleeping in another room.
At approximately 12:45 a.m. on 22 December 1996, Emergency Medical Technician Jerry Barnes and his partner responded to the call at the murder scene.   They checked both victims and verified that they were dead.
In the early morning of 22 December 1996, Goldsboro Police Officer Ron Melvin searched the crime scene and found eight shell casings and seven bullet fragments.   State Bureau of Investigation Special Agent Al Langly was admitted at trial as an expert in forensic firearms examination.   Special Agent Langly analyzed the evidence submitted to him by the Goldsboro Police Department.   He determined that eight bullets had been fired.   He further concluded that all eight bullets had been fired from the same gun.   Special Agent Langly also determined that the weapon used in the murders was a nine-millimeter, semiautomatic handgun that would have held eight or nine bullets in the clip.   The gun would have had a safety device that had to be manually switched off.
On 22 December 1996, Dr. John Butts, chief medical examiner for the State of North Carolina, participated in autopsies on the bodies of both victims.   Dr. Butts was admitted at trial as an expert in forensic pathology.
The autopsy of victim Franklin, the infant, revealed that Franklin had three gunshot wounds-one to his right chin, one to his right chest, and one to his right abdomen.   Franklin had two exit wounds in his back.   One bullet struck Franklin in the jawbone and came to rest against the base of his skull.   A second bullet struck Franklin in the chest and damaged his heart and left lung before exiting his back.   A third bullet struck Franklin in the abdomen and damaged his liver and right lung before exiting his back.   All of Franklin's wounds were secondary wounds, meaning that the bullets passed through the body of victim Cox before striking Franklin.   The cause of Franklin's death was multiple gunshot wounds.
The autopsy of victim Cox revealed that Cox's death was also caused by multiple gunshot wounds.   Indeed, victim Cox suffered at least ten gunshot wounds.   Among Cox's injuries was a gunshot wound from a bullet that struck the inner corner of her right eye, struck her jaw, and exited her body through the neck.   This wound indicated the gun was in close proximity to Cox when it was fired.   Another bullet struck the base of Cox's left ear, passed through the spinal canal, damaged the sixth and seventh vertebra in her neck, and lodged in her shoulder.   This wound would have caused instant paralysis in the lower extremities.   At least three bullets that passed through Cox's hand were described as defensive wounds, incurred while attempting to ward off an attack.   Extensive internal bleeding continued for a time following the shooting;  this showed that Cox's heart continued to beat during this time.