Aubrey Trail was sentenced to death by the State of Nebraska for the murder of Sydney Loofe
According to court documents Aubrey Trail and his girlfriend Bailey Boswell lured Sydney Loofe over to their home and asked her to join their cult. When Sydney Loofe refused she would be brutally murdered.
Aubrey Trail would be arrested, convicted and sentenced to death. His girlfriend Bailey Boswell was sentenced to life in prison without parole
Aubrey Trail Photos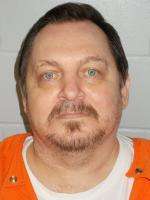 Aubrey Trail Now
Committed Name
Last:
TRAIL
First:
AUBREY
Middle:
C
Suffix:
Legal Name
Last:
First:
Middle:
Suffix:
Details
Gender:
MALE
Race:
WHITE
Date of Birth:
09/07/1966
Facility:
TECUMSEH STATE COR INSTITUTION
Bailey Boswell Photos
Bailey Boswell Now
Committed Name
Last:
BOSWELL
First:
BAILEY
Middle:
M
Suffix:
Legal Name
Last:
First:
Middle:
Suffix:
Details
Gender:
FEMALE
Race:
WHITE
Date of Birth:
02/26/1994
Facility:
NEBRASKA CORR CENTER FOR WOMEN
Aubrey Trail Case
Sentencing was handed down Wednesday for a man convicted of killing a woman whose dismembered remains were later found in trash bags along rural Nebraska roads.
Convicted killer Aubrey Trail entered Saline County district courtroom facing life in prison or the death penalty.
A three-judge panel sentenced Trail to death.
Trail, 54, and Bailey Boswell, 26, were convicted of the 2017 murder of Lincoln store clerk Sydney Loofe, 24.
On Wednesday, Trail said he wanted to set the record straight and addressed Loofe's family whom were seated in the courtroom.
"I won't say I'm sorry, is that would be an insult to you after what I've put you through. And I won't ask for forgiveness. As I don't believe there is such a thing," Trail said.
He said that Loofe was not part of his ring of sex and crime.
"Sydney did nothing but threaten to expose my lifestyle and I killed her for it," Trail said.
He said the murder was a spur of the moment and not planned for days.
Trail said Boswell lured Loofe using the dating app Tinder.
When Loofe got their apartment in Wilber, she "freaked out."
He said he had no doubt she would tell authorities about "their lifestyle," so he strangled her with an electrical cord.
"I have done some terrible things in my life but this is the only thing I have ever done that I feel real regret about," Trail said.
Before announcing the sentence, District Court Judge Vicky Johnson said Trail used exceptional depravity in selecting and coldly planning the murder of Loofe. Exceptional depravity is one of the circumstances required for the death penalty.
Johnson asserted that Loofe's death was planned in advance.
Trail and Boswell purchase tools to dismember and dispose of Loofe's body before Boswell brought her to the apartment.
Johnson said during the trial, there was testimony that Trail enjoyed bragging about the murder and joking that he drank Loofe's blood.
The judge said Loofe was "needlessly" dismembered to satisfy Trail's desires and so he did not have to hide the body. Unnecessary mutilation is one factor considered when establishing exceptional depravity.
Johnson said Trail is not low-functioning and was not intoxicated when the murder occurred. She said his attempt to dispose of Loofe's remains proves he understands the wrongfulness of murder.
The judge stated that Trail's poor upbringing does not constitute a mitigating factor.
Trail's attorneys said they were surprised by Trail's statement but not surprised by the sentence.
"When you get a guy who slashes his throat in front of a jury and you still don't get a mistrial you get a flavor of how these things are going to go," Ben Murray said.
Trail made national headlines during a 2019 court appearance when he attempted to take his own life.
Shortly after a witness was sworn in, Trail reportedly shouted "Bailey is innocent and I curse you all!"
Trail then attempted to cut his own throat.
Death penalty sentences are automatically appealed.
Joe Murray said that will be one of the issues raised.
"After the incident with the razor, I think this case was over," Joe Murray said.
Loofe's family did not want to say anything as they left the courthouse.
Trail showed little emotion during the hearing. He said he was not looking for mercy or forgiveness.
"To be quite frank and no disrespect to intended to the court, I could care less what you do here to me today," Trail said.
Nebraska Attorney General Doug Peterson called the three-judge panel's order well-reasoned.
In a statement Peterson said, "The panel did an extensive job of setting forth the gruesome details of the murder of Sydney Loofe and explained why the death penalty is appropriate under the language of the Nebraska statutes and the history of Nebraska case law where the death penalty was upheld."
Investigators say Boswell arranged a date with Loofe through the dating app Tinder for Nov. 15, 2017 — the same day officials say Loofe was killed. Loofe was reported missing by her family, and a massive search was launched. Her remains weren't found until Dec. 4, when her dismembered body was found stuffed into garbage bags that had been dumped in a field near Edgar, about 90 miles southwest of Lincoln.
Trail previously told several news outlets that Loofe's death was accidental. In the unsealed arrest affidavit, though, investigators said Trail and Boswell were captured on video at a Home Depot in Lincoln on Nov. 15 buying tools used to dismember Loofe, hours before Loofe's death and while she was still at work.
A jury convicted Boswell of first degree murder Oct 14, 2020.
She is scheduled to be sentenced later this month.
If also sentenced to die, Boswell could become the first woman sent to death row in Nebraska.
https://www.ketv.com/article/covid-19-vaccination-record-card-holder/35967644