Thomas Moore was sentenced to death by the State of Florida for the murder of Johnny Parrish
According to court documents Thomas Moore would rob Johnny Parrish, shot him twice and then set his house on fire
Thomas Moore would be arrested, convicted and sentenced to death
Thomas Moore Photos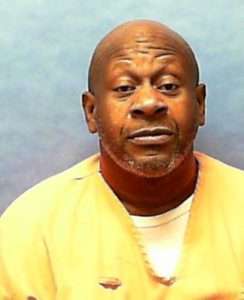 Thomas Moore Now
DC Number: 116335
Name: MOORE, THOMAS J
Race: BLACK
Sex: MALE
Birth Date: 04/20/1973
Initial Receipt Date: 12/16/1993
Current Facility: UNION C.I.
Current Custody: MAXIMUM
Current Release Date: DEATH SENTENCE
Thomas Moore Case
Thomas Moore [who was nineteen years old at the time of the crime] was convicted of robbing and killing Johnny Parrish—an adult resident of his neighborhood—and burning down Parrish's house. The two were friends, and Moore occasionally visited Parrish's home. On January 21, 1993, at about 3 p.m., Moore sat outside Parrish's house drinking with the victim. Moore claims that two other youths, Clemons and Gaines, approached the house. Moore claimed he saw the pair chase a neighborhood youth named "Little Terry" with a gun earlier that day, but Clemons denied it at trial. Clemons and Gaines testified that they had a conversation with Moore about robbing Parrish. Clemons said he agreed to go in the house with Moore, and Gaines was to be the lookout. Gaines said he stood outside but did not see either man go in. He said he heard two shots and then saw Clemons come out of the house and go back in. When Gaines started to walk away, Clemons caught up with him and told him Moore had shot Parrish.
Clemons said that when he and Moore went into the house, Moore pulled out a gun. Moore asked Parrish where his money was and then shot him when he got no response. Later, neighbors saw smoke in Parrish's house and ran in and pulled out Parrish. Parrish was already dead when exposed to the fire, and a fire investigator, Captain Mattox, said that there were two separate fires in the house, both of which were intentionally set.
A witness named Shorter testified that Moore brought him a bag of clothes and asked him to burn them. Shorter also testified that Moore told him he had shot Parrish and set fire to the house. Shorter stated that Moore said he shot Parrish twice, that Clemons ran out of the house, and that Moore took the top off a lawn mower he found and set it on fire to clean the house of fingerprints. Shorter did not call the police but did call his mother, who called the police.
A jail inmate, Jackson, testified that Moore told him that he did not mean to kill Parrish but had to because Parrish would recognize him. Another neighbor, Dean, testified that Moore asked him to rob Parrish.
At the penalty phase, the State submitted evidence of Moore's prior convictions of armed robbery and aggravated battery. Also, the State called Parrish's daughter for "victim impact evidence" limited to the fact that Parrish was a good man. The defense called Moore's mother, who testified that Moore was a bright child who had been troubled because his father, who had died when Moore was young, was married to another woman. Other family and friends testified that Moore had been a good student and a polite young man.
Moore v. State, 701 So.2d 545, 547–48 (Fla.1997). The jury convicted Moore of first-degree murder, among other crimes, and, after hearing the evidence presented in the penalty phase, recommended death by a vote of nine to three. The trial court sentenced Moore to death, finding three aggravators: (1) a prior violent felony; (2) the murder was committed to avoid arrest; and (3) the murder was committed for pecuniary gain.
https://caselaw.findlaw.com/court/fl-supreme-court/1651274.html