Ashley Lyndol Jones was sentenced to death by the State of Georgia for the murder of Keith Holland
According to court documents Ashley Lyndol Jones and an accomplice experience car trouble driving a stolen vehicle. They would ask Keith Holland for help. When Holland was bent over the engine he would be attacked and hit in the head with a sledgehammer
Ashley Lyndol Jones would be arrested, convicted and sentenced to death
Ashley Lyndol Jones Photos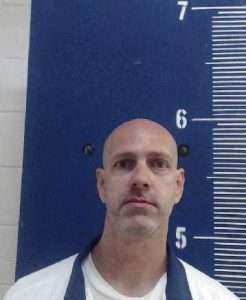 Ashley Lyndol Jones Now
MAJOR OFFENSE: MURDER
MOST RECENT INSTITUTION: GA DIAG CLASS PRISON
MAX POSSIBLE RELEASE DATE: DEATH
Ashley Lyndol Jones Case
Ashley Jones and his co-defendant, Allen Bunner, began the crime spree which led to the death of Keith Holland on the night before the murder, when they stole four cases of beer from a convenience store in Ware County. The co-defendants fled in an automobile with three other companions, who were waiting for them outside the store. The group spent the remainder of the night driving around aimlessly and drinking the stolen beer, until their car' broke dawn, and Ashley Jones and Bunner left the others, stating they were going to find a truck.
The co-defendants stole a Ford truck, belonging to Rudolph Melton, which was parked in front of Melton's residence. After driving around for several more hours in the stolen truck, they arrived at the home of the victim, Keith Holland. Bunner knocked on Holland's front door at approximately 5 a.m. and asked Holland's wife Mamie for assistance, on the pretext that the truck's battery was dead. Mamie Holland woke-her husband, and he went outside to assist Bunner.
As Holland was leaning over to look in the engine compartment of the truck, Ashley Jones struck him in the head from behind with a sledge hammer.Mamie Holland witnessed the first blow from her dining room window and reacted by screaming for Jones to stop and by banging on the window. Jones turned and looked at her but continued to pound the victim, inflicting at least six blows to the head and face, all of which were potentially fatal. Prior to leaving in the victim's truck,
Ashley Jones got out of the vehicle and hit the victim again, while he was lying on the ground. EMS workers arrived within minutes after the codefendants' departure. Because of the injuries to the victim's face, EMS workers were unable to perform CPR or intubate the victim, and he died before reaching the hospital.Jones and Bunner drove to Florida in the victim's truck. They tossed Holland's personal belongings out of the truck along the way, and pawned two chain saws belonging to Melton. Police learned of their whereabouts through telephone calls made by the co-defendants to a friend in Georgia, and they were arrested at a welcome station south of the Georgia-Florida line. The victim's truck, which Jones and Bunner had burned, was found in the woods a short distance away. Jones v. State, 267. Ga. 592, 592-93, 481 S.E.2d 823-24 (1997).
https://www.leagle.com/decision/infdco20170526c26