Jerry William Jones was sentenced to death by the State of Georgia for four murders
According to court documents Jerry William Jones would go to the home of Georgia Mae Bradley looking for his girlfriend, when Bradley refused to help him she would be murdered. Jones would then shoot her next door neighbor Tom Blaylock and his wife Nola Blaylock. Jones would also murder his ten month old daughter Jerri Georgia Jones.
Jerry William Jones would then kidnap three young girls who were thankfully not harmed. Jones would shoot himself in the head before police could capture him
Jerry William Jones would be arrested, convicted and sentenced to death
Jerry William Jones Photos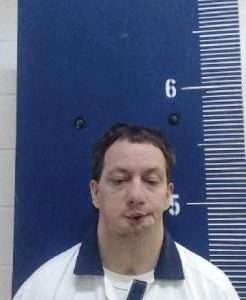 Jerry William Jones Now
MAJOR OFFENSE: MURDER
MOST RECENT INSTITUTION: GA DIAG CLASS PRISON
MAX POSSIBLE RELEASE DATE: DEATH
Jerry William Jones Case
The jury returned a verdict of death on all charges in the case of Jerry Jones Jr. after about six hours of deliberation over two days.
One juror cried when asked by Judge Carey Nelson if she agreed to the verdicts and one member of Tom Blaylock's family was escorted out when she began to cry when the verdict was read. Melissa Peeler showed no emotion as the verdict was read.
The jury sent Nelson a question regarding how a vote of "life without possibility of parole" would affect a vote of "death" on another count shortly after they convened on Friday.
Jones pleaded guilty to four counts of murder in the January 2004 slayings of Georgia Mae Bradley, Tom Blaylock, Nola Blaylock, and Jerri Georgia Jones.
Defense attorney Jack Martin told the judge any vote for the death penalty meant his client would be executed. Jones' attorneys said they would not ask the jury to consider "life with possibility of parole" due to the horrendous nature of the crimes.
Jones admitted to going to the home of Georgia Mae Bradley on January 4, 2004, binding her arms with ducttape behind her back so he could question her why her sister and his long time girlfriend, Melissa Peeler, left him. He then cut her clothes off, taped her face with duct tape, strangled her, put a plastic bag over her head and shoved her a closet.
He then waited for Tom Blaylock to leave his home, next to Bradley's, shot him, covered the body with a tarp before going to the Blaylock's house and shooting Nola Blaylock three times. The couple was the mother and step-father of Peeler.
Jones also pleaded guilty to killing his 10-month-old daughter, Jerri Georgia Jones, by hanging her with an electrical cord.
According to testimony by the defenses' expert witnesses, he said his original plan was to kill all of his children, then himself so they could be together in heave.
The defense tried to paint a picture of a mentally ill man, born into a family of violent and mentally ill members. The prosecution tried to show Jones as "just plain mean," by pointing out that he wrote Peeler while he was in prison describing how her baby died and telling her if she had been there, she could have saved her baby. Peeler was in another state when the murders occurred.
The jury was charged at 3:20 p.m. on Thursday.
Closing arguments began a day earlier than projected. The trail as a whole has gone faster than earlier predicted. District Attorney Joe C. Campbell had predicted the trial to last a month. It is now in it's third week.
The prosecution finished their closing arguments before the judge ordered a lunch recess. Campbell told the jurors that the defense was presenting the "tower of babble" by bringing in psychiatrists and social workers to show the history of mental illness and violence in Jerry Jones' family.
"They want you to believe that family history makes it okay to kill four people," said Campbell. "He put the darkness in the Blaylock family."
He told the jurors that Dr. Janet Vogelsang, the clinical social worker that the defense brought in, was a "hired gun" who make $600,000 off of death penalty cases.
The defense will present their closing arguments after court reconvenes today.
For reasons not disclosed, both sides in the death-penalty trail of Jerry William Jones, Jr, decided not to present any further evidence in the case. The defense had originally planned to call an expert witness to testify about the effects the death penalty has on surviving family members.
Closing arguments began around 10:35 a.m. with District Attorney Joe Campbell telling the jury to consider the evidence to make a decision.
"You are the voice of the community," he said.
On Wednesday, the jurors heard testimony from two expert witnesses, who stated that the history of mental illness and neglect contributed to his delusional state.
"We're not saying he was legally insane, but something wrong was going on in brain," said Martin.
Wednesday Dr. Janet Vogelsang and Dr. Richard Roberts testified to the history of mental illness in his family and that the mental illness in Jones was so severe that he should have been kept in a mental hospital for a year instead of a month, referring to two stints he did in a mental hospital as a teenager.
Vogelsang detailed the history of gun violence and domestic violence that began with Jones' great-grandmother, and passed through his grandmother, mother, himself and his half-sister.
On Tuesday, the jury heard testimony from family members who asked them to spare Jones' life because they loved him and believed there was some good in him.
Jones admitted to killing Georgia Mae Bradley first on January 4, 2004. The cause of death was strangulation. He duct-taped her hands behind her back, cut her clothes off, and fashioned a mask of duct-tape to her face before strangling her and putting her in the closet. The prosecution tried to convince the jury that the crime met the requirements of aggravating circumstances needed to justify the death penalty. Jones then admitted to waiting until he saw Tom Blaylock and shot him once, close to under his arm, killing him.
Jones then said he went to the Blaylock's home and shot Nola Blaylock three times, before strangling 10-month-old Jerri Georgia Jones with an electrical cord.
The prosecution had to prove the crimes involved torture, and the murder was inhuman and vile.
The jury can hand a sentence down of death, life without possibility of parole or life with possibility of parole. The defense said they would not ask the jury to consider life with possibility of parole.
I do believe there is no worse crime than to kill your own child," said Martin, "but I can't ignore the mental illness, nor can you."
https://www.northwestgeorgianews.com/jerry-jones-receives-death-penalty-for-quadruple-murde-local-new/article_0fc76af3-2eaf-5e10-badf-f6103f516557.html