Brandy Jennings was sentenced to death by the State of Florida for a triple murder
According to court documents Brandy Jennings and an accomplice would rob a Cracker Barrel restaurant and in the process shoot and kill three people: Vicki Smith, Jason Wiggins and Dorothy Siddle
Brandy Jennings would be arrested, convicted and sentenced to death
Brandy Jennings Photos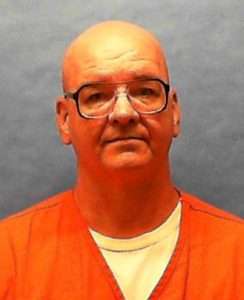 Brandy Jennings Now
DC Number: 721097
Name: JENNINGS, BRANDY B
Race: WHITE
Sex: MALE
Birth Date: 06/30/1969
Initial Receipt Date: 12/06/1996
Current Facility: UNION C.I.
Current Custody: MAXIMUM
Current Release Date: DEATH SENTENCE
Brandy Jennings Case
Dorothy Siddle, Vicki Smith, and Jason Wiggins, all of whom worked at the Cracker Barrel Restaurant in Naples, were killed during an early morning robbery of the restaurant on November 15, 1995. Upon arriving on the scene, police found the bodies of all three victims lying in pools of blood on the freezer floor with their throats slashed. Victim Siddle's hands were bound behind her back with electrical tape; Smith and Wiggins both had electrical tape around their respective left wrists, but the tape appeared to have come loose from their right wrists.
Police also found bloody shoe prints leading from the freezer, through the kitchen, and into the office, blood spots in and around the kitchen sink, and an opened office safe surrounded by plastic containers and cash. Outside, leading away from the back of the restaurant, police found scattered bills and coins, shoe tracks, a Buck knife, a Buck knife case, a pair of blood-stained gloves, and a Daisy air pistol.
Brandy Jennings (age twenty-six) and Jason Graves (age eighteen), both of whom had previously worked at the Cracker Barrel and knew the victims, were apprehended and jailed approximately three weeks later in Las Vegas, Nevada, where Jennings ultimately made lengthy statements to Florida law enforcement personnel. In a taped interview, Jennings blamed the murders on Graves, but admitted his (Jennings') involvement in planning and, after several aborted attempts, actually perpetrating the robbery with Graves. Jennings acknowledged wearing gloves during the robbery and using his Buck knife in taping the victims' hands, but claimed that, after doing so, he must have set the Buck knife down somewhere and did not remember seeing it again. Jennings further stated that he saw the dead bodies in the freezer and that his foot slipped in some blood, but that he did not remember falling, getting blood on his clothes or hands, or washing his hands in the kitchen sink. Jennings also stated that the Daisy air pistol belonged to Graves, and directed police to a canal where he and Graves had thrown other evidence of the crime.
In an untaped interview the next day, during which he was confronted with inconsistencies in his story and the evidence against him, Brandy Jennings stated, "I think I could have been the killer. In my mind I think I could have killed them, but in my heart I don't think I could have."
At trial, the taped interview was played for the jury, and one of the officers testified regarding Jennings' untaped statements made the next day. The items ultimately recovered from the canal were also entered into evidence.
The medical examiner, who performed autopsies on the victims, testified that they died from "sharp force injuries" to the neck caused by "a sharp-bladed instrument with a very strong blade," like the Buck knife found at the crime scene. A forensic serologist testified that traces of blood were found on the Buck knife, the Buck knife case, the area around the sink, and one of the gloves recovered from the crime scene, but in an amount insufficient for further analysis. An impressions expert testified that Jennings' tennis shoes recovered from the canal matched the bloody shoe prints inside the restaurant as well as some of the shoe prints from the outside tracks leading away from the restaurant.
The State also presented testimony concerning previous statements made by Brandy Jennings regarding robbery and witness elimination in general. Specifically, Angela Chainey, who had been a friend of Jennings', testified that about two years before the crimes Jennings said that if he ever needed any money he could always rob someplace or somebody. Chainey further testified that when she responded, "That's stupid. You could get caught," Jennings replied, while making a motion across his throat, "Not if you don't leave any witnesses." On cross-examination, Chainey further testified that Jennings had "made statements similar to that several times."
The State also presented testimony concerning previous statements made by Brandy Jennings regarding his dislike of victim Siddle. Specifically, Bob Evans, one of the managers at Cracker Barrel, testified that Jennings perceived Siddle to be holding him back at work and that, just after Jennings quit, he said about Siddle, "I hate her. I even hate the sound of her voice." Donna Howell, who also worked at Cracker Barrel, similarly testified that she was aware of Jennings' animosity and dislike of Siddle, and that Jennings had once said about Siddle, "I can't stand the bitch. I can't stand the sound of her voice."
The jury found Brandy Jennings guilty as charged. In the penalty phase, the defense presented mitigation evidence, including general character testimony from witness Mary Hamler, who testified on direct examination that she had lived with Jennings for two and one-half years. She also testified that Jennings had gotten along well with her children during that time, and that he cried when they (Jennings and Hamler) broke up.
https://caselaw.findlaw.com/fl-supreme-court/1636496.html