Derrick Smith was sentenced to death by the State of Florida for the murder of Jeffery Songer
According to court documents Derrick Smith would call for a taxi and soon after Jeffery Songer would pick him up. Smith would murder Jeffery Songer and rob him a short time later
Derrick Smith would be arrested, convicted and sentenced to death
Derrick Smith Photos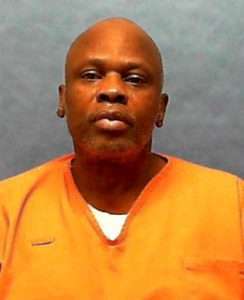 Derrick Smith Now
| | |
| --- | --- |
| DC Number: | 490606 |
| Name: | SMITH, DERRICK T |
| Race: | BLACK |
| Sex: | MALE |
| Birth Date: | 08/07/1962 |
| Initial Receipt Date: | 12/02/1983 |
| Current Facility: | UNION C.I. |
| Current Custody: | MAXIMUM |
| Current Release Date: | DEATH SENTENCE |
Derrick Smith Case
Derrick Tyrone Smith was convicted and sentenced to death for the murder of Jeffery Songer. On March 21, 1983, Derrick Smith and Derrick Johnson carried out a robbery which they had previously planned. Following their plan, Smith called for a cab from a St. Petersburg restaurant payphone.
A cab driver, Jeffery Songer, picked up the two men who requested to be taken to a nearby residential area. After becoming suspicious, Songer radioed an emergency code to his dispatch. His dispatch called the police and also sent another cab driver to answer Songer's distress call. The police and other cab driver found Songer lying about 70 feet from the car, dead from a gunshot wound to the back. A witness was able to identify Smith and Johnson. He testified to seeing Smith shoot Songer in the back when he tried to run from the taxicab. Another witness testified at trial to Smith robbing him and his wife in their motel room at gunpoint with a firearm similar to the one used to kill Songer.
Smith pled guilty to those charges and received a life sentence. The firearm used to kill Songer was never found. Smith's uncle, however, reported that a firearm of the same type, a .38-caliber pistol, was missing from his home which several people testified to seeing Smith with shortly before the murder. Furthermore, the police were able to match the type of bullet that killed Songer to bullets that Smith's uncle had bought for his missing firearm. Smith's fingerprints were also found on the restaurant pay telephone that had been used to call for the taxicab. During the investigation, Smith said that he had sold the firearm the day before the murder to Johnson. Smith admitted that he called for the taxicab, but claims that at the last minute he changed his mind about the robbery and decided not to go.
Smith was resentenced to death in Pinellas County on July 13, 1990.