Edward Kennedy was executed by the State of Florida for a double murder
According to court documents Edward Kennedy was serving a life sentence for murder when he would escape Union Correctional Institution. Kennedy would break into a home and when the home owner Floyd Cone and his cousin Florida State Trooper Robert C. McDermon entered the home Kennedy would shoot and kill both men
Edward Kennedy would be arrested, convicted and sentenced to death
Edward Kennedy would be executed by way of the electric chair on July 21 1992
Edward Kennedy Photos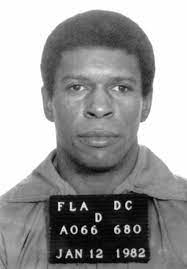 Edward Kennedy Case
A 47-year-old man was executed in Florida's electric chair today for killing two people after escaping from prison in 1981.
The condemned inmate, Edward Dean Kennedy, was led into the gray execution chamber at the state prison here shortly before 7 A.M., was strapped into the oak chair and said to the witnesses, "Peace be with you all." The prison's superintendent, Everett Perrin, nodded to the executioner, and 2,000 volts of electricity was sent through Mr. Kennedy's body. He was pronounced dead three minutes later.
Mr. Kennedy was serving a life term for the 1978 murder of a Dade County motel manager when he escaped with two other prisoners from the Union Correctional Institution, about 30 miles north of Gainesville, on April 11, 1981.
Mr. Kennedy fled to the town of Baldwin, where he broke into a trailer home owned by Floyd Cone Sr. He was changing clothes there when Mr. Cone's son Floyd Jr. and the son's cousin Robert Patrick McDermon, a Highway Patrol officer, drove up. Both men were killed in an ensuing gun battle.
The elder Mr. Cone, among the witnesses at the execution today, said he had forgiven Mr. Kennedy. But he said, "Justice has finally been carried out after a far too long delay."
Mr. Kennedy came within two hours of execution in May but won an indefinite stay then from the United States Supreme Court after contending that his trial lawyer had been ineffective and that the judge had given the jury improper instructions.
But after hearing arguments on the merits of the appeal, the Florida Supreme Court and a Federal district judge turned down Mr. Kennedy last week. On Monday a Federal appeals court and the United States Supreme Court also rejected the appeal.
Mr. Kennedy became the 29th person executed in Florida, and the 177th around the country, since the Supreme Court's 1976 ruling allowing the states to resume capital punishment.