Kenneth Stewart was sentenced to death by the State of Florida for the murder of Mark Harris
According to court documents Kenneth Stewart was picked up hitchhiking by Mark Harris and Michele Acosta. When they reached their destination Kenneth Stewart would shoot both Mark Harris and Michele Acosta. Mark Harris would die from his injuries. Kenneth would steal the vehicle and would later set it on fire
Kenneth Stewart would be arrested, convicted and sentenced to death
Kenneth Stewart Photos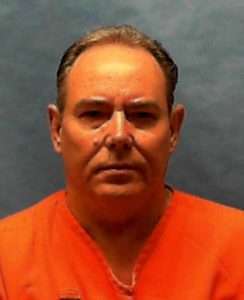 Kenneth Stewart Now
| | |
| --- | --- |
| DC Number: | 479774 |
| Name: | STEWART, KENNETH A |
| Race: | WHITE |
| Sex: | MALE |
| Birth Date: | 08/26/1963 |
| Initial Receipt Date: | 10/08/1986 |
| Current Facility: | UNION C.I. |
| Current Custody: | MAXIMUM |
| Current Release Date: | DEATH SENTENCE |
Kenneth Stewart Case
In April 1985, Michele Acosta and Mark Harris picked up appellant, Kenneth Stewart, while he was hitchhiking. When Acosta stopped to drop Stewart off, he struck her on the head with the butt of a gun and fired three shots, hitting Acosta in the shoulder and Harris in the spine. Stewart then forced Acosta and Harris from the car before driving off and picking up a friend, Terry Smith. The two removed items from the car's trunk and Stewart burned the car after telling Smith that the car belonged to a woman and man whom he had shot. Acosta recovered from her injuries; Harris later died.
Stewart was arrested and ultimately charged with first-degree murder, attempted first-degree murder, armed robbery, and arson. He consented to a search of his apartment, which yielded the items he and Smith had taken from Acosta's car. When shown a photopack display of suspects, Harris, who had not yet expired, and Acosta identified Stewart as the assailant. Acosta also identified Stewart in person at a preliminary hearing. While in jail, Stewart telephoned his grandparents. Detective Lease, who was visiting the grandparents, obtained their permission to secretly listen in on an extension. Via pretrial motions, Stewart sought to suppress the identifications made by Acosta and Harris, and the telephone conversation overheard by Lease. The court excluded the identification made by Harris, but ruled admissible both of Acosta's identifications and the telephone conversation.
During the culpability phase of the trial, the defense presented no evidence or testimony, conceding that Stewart had done the shooting but arguing that he was guilty of only second-degree murder or manslaughter. The jury found Stewart guilty of first-degree murder, attempted second-degree murder with a firearm, robbery with a firearm, and arson. The trial judge, following the jury's recommendation, sentenced Stewart to death on the murder charge, imposed two consecutive fifteen-year sentences for the attempted second-degree murder and arson convictions, and, departing from the sentencing guidelines, imposed a life sentence for the armed robbery.
https://law.justia.com/cases/florida/supreme-court/1989/70015-0.html