Michael Woodbury was sentenced to death by the State of Florida for a prison murder
According to court documents Michael Woodbury was serving multiple life sentences when he would beat to death his cellmate Antoneeze Haynes
Michael Woodbury would be convicted and sentenced to death
Michael Woodbury Photos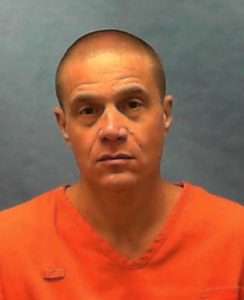 Michael Woodbury Now
| | |
| --- | --- |
| DC Number: | 124356 |
| Name: | WOODBURY, MICHAEL L |
| Race: | WHITE |
| Sex: | MALE |
| Birth Date: | 12/31/1975 |
| Initial Receipt Date: | 02/21/2009 |
| Current Facility: | UNION C.I. |
| Current Custody: | MAXIMUM |
| Current Release Date: | DEATH SENTENCE |
Michael Woodbury Case
The man convicted in the 2007 triple murder of three men in Conway has been sentenced to death in the beating death of his cellmate in a Florida prison.
Michael Woodbury received the death sentence this week for killing Antoneeze Haynes, 52.
Jurors voted this week 12-0 in favor of the death penalty.
According to court documents, Woodbury had only been living in that particular cell with his alleged victim for eight days before the attack.
According to court documents, Woodbury barricaded the cell door and beat and tortured Haynes using a metal lock for more than two hours, threatening to kill anyone who entered the cell.
Woodbury eventually surrendered. Haynes died on the way to the hospital.
Several witnesses said during negotiations, Woodbury demanded to be transferred back to New Hampshire because his father was dying of cancer. Woodbury was transferred to Florida in 2009.
Woodbury was already serving three consecutive life sentences for the shooting deaths of three men at a Conway Army surplus store.
The next hearing in this case will occur in September.
https://www.wmur.com/article/man-convicted-in-conway-triple-murder-sentenced-to-death-for-killing-cellmate/22575639#