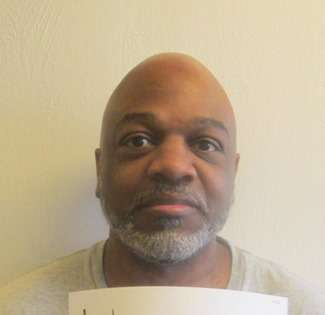 Raymond Johnson was sentenced to death by the State of Oklahoma for a double murder
According to court documents Raymond Johnson would beat his girlfriend Brooke Whitaker with a hammer before setting the house on fire. Brooke Whitaker and her seven month old daughter Kyra would die in the fire
Raymond Johnson would be arrested, convicted and sentenced to death
Raymond Johnson Photos
Raymond Johnson Now
Gender: Male
Race: Black
Height: 5 ft 5 in
Weight: 185 lbs
Hair Color: Black
Eye Color: Brown
Alias: Halfpint
Alias: Hitman
Alias: Cedrick R. Lewis
OK DOC#: 207742
Birth Date: 3/26/1974
Current Facility: OKLAHOMA STATE PENITENTIARY, MCALE
Reception Date: 8/10/2009
Raymond Johnson Case
The U.S. Supreme Court on Monday declined to review the appeal of Oklahoma death row inmate Raymond Eugene Johnson, who was convicted of killing his girlfriend and her infant daughter in Tulsa County.
Johnson, 45, is the 24th death row inmate in the state who has exhausted his appeals and will be eligible for an execution date if the state resumes executions.
Johnson was given two death sentences for killing Brooke Whitaker, who was 24, and her 7-month-old daughter, Kya, in 2007.
Johnson hit his girlfriend several times with a hammer and then doused her with gasoline and set her on fire. The bodies of Whitaker and her daughter were found in the charred remains of their home.
Along with the death sentences, Johnson received a life sentence for arson.
Johnson's appeals in federal courts have focused on whether the judge in his case allowed enough mitigating evidence intended to spare Johnson from capital punishment and whether the judge properly informed the jury about mitigating evidence; also, the appeals have faulted Johnson's attorney for not correcting misstatements about mitigating evidence.
"The crime at issue in this case was horrific, but there is no crime so bad that a juror might not be persuaded to grant the defendant life in prison over death, particularly under Oklahoma's capital sentencing system," Johnson's petition to the U.S. Supreme Court states. "Nor is there a crime so bad that the defendant forfeits his rights to a fair trial and effective assistance of counsel."
The Oklahoma attorney general's office countered that the evidence needed to impose a death sentence far outweighed mitigating evidence such as a video of Johnson preaching in prison during a previous incarceration.
"The evidence overwhelmingly established four aggravating circumstances for both murders," the attorney general's office told the high court. "The brutal murders of Ms. Whitaker and K.W. were not (Johnson's) first homicide. (Johnson's) sentences were not rendered unreliable by the absence of additional evidence that he was a singer and preacher in between his homicides."
https://www.oklahoman.com/article/5648140/man-who-killed-girlfriend-infant-loses-final-appeal