Bobby Francis was executed by the State of Florida for the murder of Titus Walters
According to court documents Bobby Francis was upset with Titus Walters who would inform police regarding Francis drug activities that ended with Bobby being arrested. Titus Walters was tortured for two hours before he was injected with draino and bleach before he was fatally shot
Bobby Francis would be arrested, convicted and sentenced to death
Bobby Francis would be executed by way of the electric chair on June 25 1991
Bobby Francis Photos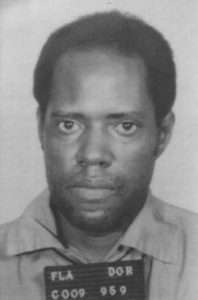 Bobby Francis Case
Bobby Marion Francis, who murdered a man who told police about his drug trafficking, was executed in Florida's electric chair Tuesday morning despite a jury's recommendation for a life sentence.
Officials at the Florida State Prison near Starke said Francis, who was condemned by a judge who overrode the jury's sentence, was pronounced dead at 7:07 a.m. Tuesday, just 30 minutes after the Florida Supreme Court unanimously but without comment rejected a last-ditch appeal.
They brought him in about one minute before 7 a.m. and strapped him into the electric chair. He made a brief final statement,' said Bob Macmaster, a corrections department spokesman who witnessed the execution.
'He said that he felt no animosity, but he didn't elaborate on that. What he said was in such a low voice that it was almost inaudible. The executioner turned the switch and everything went as routine as it can go.'
Francis, 46, has been tried, convicted and sentenced three times to die for the 1975 murder of Titus R. Walters, who informed against him for drug trafficking.
Francis was the 27th person executed in Florida since capital punishment was reinstated in 1977, and the 223rd in the state since 1923.
He was visited Monday night by a friend, Christa Ward of Middleburg, an Islamic clergyman, Radbani Muhammad, and four attorneys. He ate ice cream and sipped Pepsi-Cola while talking to his visitors, but declined a last meal Tuesday morning, Macmaster said.
None of Francis' relatives or the victim's relatives witnessed the execution.
Francis was scheduled to die Thursday, but the 11th U.S. District Court of Appeals in Atlanta granted a last-minute stay.
That stay was vacated Monday by the U.S. Supreme Court, which rejected two separate appeals by Francis to block his execution. In both instances, liberal Supreme Court Justice Thurgood Marshall dissented, a court spokesman said.
In a separate ruling Monday, the Supreme Court refused for a third time to consider Francis's case. His lawyers had argued that Francis should not be executed because the judge ignored the jury's recommendation in Francis's third trial that he be sentenced to life in prison.
Florida, Alabama and Indiana are the only states that permit judges to override jury recommendations in death penalty cases.
Gov. Lawton Chiles has said he does not approve of the 'jury override' law but nevertheless signed Bobby Francis's death warrant as a means of forcing a judicial review of the law.
'I don't think that I can sort of … put myself in front of what the law is now,' Chiles said when he signed the death warrant. 'But I would suggest that the Legislature ought to change the law.'
Investigators said Francis shot Walters in the head and heart because Walters had set him up for a narcotics-dealing arrest.
A Florida State University professor who represented Francis in his clemency request said statements from three people convicted along with Francis suggest that jurors may have been given the wrong impression about his role in the slaying.
Steve Goldstein, who teaches law at FSU, said the statements suggest that Francis did not know that Walters was a police informant, and that the killing was in retaliation for an attack on several of Francis's friends by Walters
https://www.upi.com/Archives/1991/06/25/Florida-executes-inmate-in-informants-murder/4582677822400/