David Martin was sentenced to death by the State of Florida for the murder of Jacey McWilliams
According to court documents David Martin would murder Jacey McWilliams by beating the woman to death with a hammer before stealing her vehicle
David Martin would be arrested, convicted and sentenced to death
David Martin Photos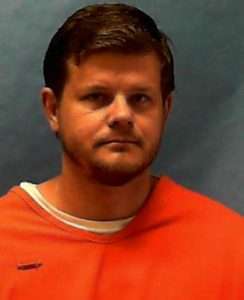 David Martin Now
DC Number: J30258
Name: MARTIN, DAVID J
Race: WHITE
Sex: MALE
Birth Date: 05/23/1986
Initial Receipt Date: 03/18/2010
Current Facility: UNION C.I.
Current Custody: MAXIMUM
Current Release Date: PENDING
David Martin Case
On August 15, 2008, a grand jury indicted the appellant, David James Martin, on one count of first-degree murder and one count of armed robbery for the homicide of Jacey McWilliams. The charges against Martin resulted from his March 20, 2008, confession to police and the discovery of Jacey's body shortly thereafter.
The evidence presented at trial revealed that on Thursday, March 13, 2008, Christine McWilliams called police to report that her daughter, Jacey McWilliams, was missing. Mrs. McWilliams was concerned because she had just learned that Jacey had not reported to work for two days, which was out of character for her daughter. Law enforcement began trying to trace Jacey's movements since the last time she was seen, two days earlier on March 11, while working for the service department at a car dealership. Law enforcement determined that the last time Jacey used her cellular phone was when she placed a phone call to her mother at 9:22 p.m. on March 11. During that conversation, Jacey informed her mother that she was out with a friend named David.
While at work on March 11, Jacey told a coworker that she would be spending the evening with David, who had planned a special night for them. The coworker had met Martin before as she, the coworker's fiancé, Jacey, and Martin had gone out to play pool together a few weeks prior to March 11. The evidence revealed that after work on March 11, Jacey drove to Martin's residence in Jacksonville, picked him up, and the pair headed to Black Creek in Middleburg, Florida. At that time, and relevant to this case, Martin did not own a car.
On March 17, four days after Jacey was reported missing, a police officer arrested David Martin at a Wal-Mart in Pinellas County for shoplifting. After Martin was transported to the Pinellas County Jail, officers from the Clay County Sheriff's Office who were looking for Jacey coordinated their search efforts with officers from the Pinellas Park Police Department, who confirmed that they had found Martin with Jacey's car. Three days later, on March 20, detectives from the Clay County Sheriff's Office and Jacksonville Sheriff's Office convened at the Pinellas County Jail to question Martin about Jacey's whereabouts. A third officer from the Clay County Sheriff's Office monitored the video that recorded Martin's interrogation.
Detectives Ken West of the Clay County Sheriff's Office and Brian Wolcott of the Jacksonville Sheriff's Office questioned Martin. At this point in the investigation and interview, the detectives did not know whether Jacey was alive or dead. During trial, Detective West testified that his and Detective Wolcott's primary objective in questioning Martin was to determine Jacey's whereabouts. At the beginning of the interview, the detectives read Martin his Miranda rights, which he waived.
Miranda v. Arizona, 384 U.S. 436 (1966).
David Martin's explanation of the last time he had been with Jacey evolved over the course of the interview. Initially, Martin stated that Jacey picked him up from his home in Jacksonville, and then, after spending the evening together, Martin dropped her off at her home, which was also located in Jacksonville. Martin stated that Jacey had given him permission to borrow her car to visit his girlfriend, and that he paid Jacey $50 in return. After taking Jacey home, Martin explained to the detectives that he then drove to St. Petersburg to spend time with his girlfriend. After a visit of two days, March 12-13, in St. Petersburg, Martin returned to Jacksonville. Before returning to see his girlfriend in St. Petersburg a second time, Martin went to his residence and packed all of his belongings into Jacey's car because Martin and his girlfriend were planning to move to Georgia together soon thereafter.
Later during the interview, David Martin's story changed. Martin told detectives that Jacey had not loaned him her car to visit his girlfriend. Rather, she was unwilling to do so, and, as a result, a verbal altercation ensued. Martin said that he pushed Jacey out of her car and left her behind at Black Creek. He said that when he left in her car, she was alive.
David Martin's story continued to shift, and after approximately three-and-a-half hours of interviewing, Martin confessed to murdering Jacey. He said that on the evening in question he and Jacey were smoking cigarettes near Johns Cemetery Road in Middleburg, Florida, when he told Jacey that he was going to get another cigarette from the car. While at this location, Martin was also communicating with his girlfriend on his cellular phone, who he said was "freaking out . . . because [he] wasn't home." Martin said that he felt overwhelmed by his girlfriend's "hurt" and he, in response, attacked Jacey. Rather than obtaining a cigarette from the car as Martin told Jacey he would, Martin retrieved a hammer and then used it to strike Jacey in the head multiple times. He stated that after the first blow, Jacey fell and appeared to be unconscious. He admitted that he continued to strike her, but was unsure of how many blows he inflicted. He described the incident as "a blur" and said that he "blacked out" while he attacked her. Martin then pulled Jacey, now deceased, into the bushes and departed in Jacey's car. Martin said that he threw the hammer, along with Jacey's phone, into a river.
David Martin told the detectives where he left Jacey's remains and then drew a map of the area for them. Shortly thereafter her body was located in the area Martin had described just off Johns Cemetery Road. The forensic pathologist who performed the autopsy on Jacey described her as being in an "advanced stage of postmortem decomposition."
David Martin stated that he killed Jacey because the "woman that [he] loved with all [his] heart was hurt so bad" and he had to go to her. Martin and his girlfriend had been exchanging calls and texts throughout the day. His girlfriend stated, and Martin confirmed, that she was concerned that Martin was pursuing a relationship with Jacey.
After David Martin killed Jacey, bank records and video surveillance revealed that Martin used Jacey's ATM card at a Domino's Pizza and attempted to withdraw cash from her account. After the attack, Martin drove to his girlfriend's home in St. Petersburg, arriving around 3 a.m. the next morning, March 12. She described Martin's arrival as unexpected, and said that David Martin seemed "very happy" and was "giddy" and "smiling." During this visit to St. Petersburg, Martin drove his girlfriend to and from her job at a grocery store and slept at rest stops in Jacey's car. That same day, Martin drove back to Jacksonville, and then returned to his girlfriend's home two days later, on March 14.
His girlfriend testified that before David Martin arrived at her residence in St. Petersburg, she and Martin had joked about how he could visit her given that he did not own a car. His girlfriend testified that the following exchange took place:
STATE: Did the defendant say anything to you about how not having a car he could possibly get down to see you?
GIRLFRIEND: There was one point in time where we were just joking around with each other and he said, well, you know, I can just steal a car and I said, okay, well, how are you going to do that and he said, well, that's easy. I'll just kill them.
STATE: Now that conversation, was that two or three days before he actually showed up at your house?
GIRLFRIEND: It was very shortly before. . . .
STATE: After he said those words to you, well, that's easy, I'll just kill them, did you say anything back to him, joking back towards him?
GIRLFRIEND: Yes.
STATE: What did you say back?
GIRLFRIEND: I made a comment that—I told him a good place to hide a body is—and I told him a cemetery.
David Martin confirmed that a similar exchange about stealing a car occurred as well, although he denied that any comments about killing someone were made.
Various experts testified as to what they found at the crime scene and the state of Jacey's remains. A senior crime laboratory technician for the Florida Department of Law Enforcement testified that he found a cigarette butt, a white blanket, a suspected blood stain on the ground, a pair of eyeglasses, two flip-flops, and loose change strewn about the area where Jacey's body was located. The laboratory technician also testified that Jacey's shirt and sweatshirt were pulled up over her head, which suggested to him that Jacey's body had been dragged to the area where police found it. The pockets in Jacey's pants were also turned inside out.
A forensic pathologist testified that Jacey's skull was cut and exhibited numerous fractures. Although the forensic pathologist was unable to estimate how many blows Jacey had suffered, a forensic anthropologist testified that based on her examination and reconstruction of Jacey's skull (which comprised more than thirty-three fragments), Jacey was hit at least seven times. The anthropologist likened the blows to those she had seen at mass fatalities or car accidents. The forensic pathologist and anthropologist confirmed that Jacey died from blunt trauma to the head, and that injuries to her brain triggered a hemorrhage that resulted in death. The forensic anthropologist explained that based on the type of trauma Jacey suffered, she was hit by an object with a "curvilinear edge" that was "delivered with great force to the cranium." The pathologist opined that Jacey was hit with a hammer. Although a hammer was recovered from Jacey's vehicle, it tested negative for blood. As noted previously, Martin stated during the police interrogation that he threw the hammer used to kill Jacey into a river.
Against the advice of counsel, David Martin testified on his own behalf. He denied killing Jacey and claimed that another man, an acquaintance who was Martin's drug dealer, had killed Jacey in his presence. Martin testified that on the night of Jacey's murder, he and Jacey went to his drug dealer's residence. The drug dealer instructed that he and Jacey follow him to Johns Cemetery Road. David Martin stated that once the three of them arrived at that location, the drug dealer pressured Martin to engage in sexual activity with him, but before this transpired, the trio became involved in a fight. Martin said that his drug dealer had previously forced him to perform sexual acts during prior drug exchanges between the two men. During the ensuing tussle, Martin stated that his dealer struck Jacey with a hammer, killing her, and then told Martin to "drag her body away." David Martin said that he dragged Jacey's body to the bushes and covered her face with a white blanket. He said that his dealer told him to get rid of the hammer used to kill Jacey, so Martin threw it into a river on his way back to Jacksonville from St. Petersburg after visiting his girlfriend. David Martin testified that he falsely confessed to the crime because his dealer, the actual murderer, had threatened to hurt his (Martin's) mother and girlfriend if he told anyone what had happened. Martin said that at the time police interviewed him, he still feared for his mother's and girlfriend's safety. At trial, Martin did not have any other witnesses testify on his behalf. The jury found Martin guilty of one count of first-degree murder and one count of armed robbery.
During the penalty phase, the State argued three aggravators were present and offered victim-impact testimony from Jacey's mother, Christine McWilliams. The parties stipulated as to the first aggravator—that at the time of Jacey's murder Martin was on felony probation. The second aggravator was that Martin committed the murder while engaged in the commission of a felony—armed robbery. The third aggravator was that David Martin committed the murder in a cold, calculated, and premeditated (CCP) fashion without any moral or legal justification.
https://casetext.com/case/martin-v-state-1981