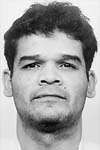 Joe Cordova was executed by the State of Texas for the murder of Masel Williams
According to court documents Joe Cordova and his teenage accomplices would abduct Masel Williams who would later be robbed and murdered
Joe Cordova would be arrested, convicted and sentenced to death
Joe Cordova would be executed by lethal injection on January 22 1992
Joe Cordova Photos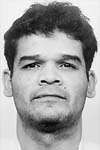 Joe Cordova Case
A man convicted of abducting and killing a man 10 years ago was executed by injection at the state prison today.
The prisoner, Joe Angel Cordova, 39 years old, was pronounced dead at 12:18 A.M., becoming the 43d inmate to be executed in Texas since the state resumed capital punishment in 1982. The total is the highest in the nation among states.
The United States Supreme Court turned down Mr. Cordova's 11th-hour appeal Tuesday and refused to grant a stay of execution.
Earlier Tuesday, the United States Court of Appeals for the Fifth Circuit in New Orleans and the Texas Court of Criminal Appeals also refused to halt the execution.
Mr. Cordova, was convicted in the abducting Masel Williams from a telephone booth in Houston on Feb. 27, 1982, and shooting himn to death. Mr. Cordova was on parole for burglary at the time.
Mr. Williams, 32, was taken to a wooded area where he was robbed, stripped and shot in the chest at close range with a shotgun. Mr. Cordova then took Mr. Williams' car.
Witnesses at Mr. Cordova's trial said he and three teen-agers had drunk beer and sniffed paint fumes to get high before abducting Mr. Williams. Defense lawyer blamed alcohol for Mr. Cordova's actions, contending that "when Joe Cordova is drunk, he's crazy."