Johnny Parker was sentenced to death by the State of North Carolina for the murder of James Buchanan
According to court documents Johnny Parker would murder James Buchanan during a robbery and would set his house on fire. Parker would also be convicted of the murder of Jerry Dowdy
Johnny Parker would be arrested, convicted and sentenced to death
Johnny Parker Photos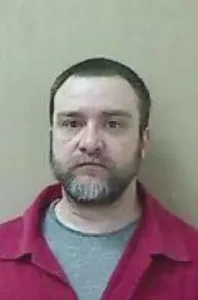 Johnny Parker Now
JOHNNY S PARKER
Offender Number:
0311966
Inmate Status:
ACTIVE
Probation/Parole/Post Release Status:
INACTIVE
Gender:
MALE
Race:
WHITE
Ethnic Group:
NOT HISPANIC/LATINO
Birth Date:
08/24/1974
Age:
48
Current Location:
CENTRAL PRISON
Johnny Parker Case
The State's evidence presented at trial tended to show the following facts and circumstances:  On the morning of 2 October 1994, John Williams noticed smoke coming from a house located at 201 Northeast Street in the town of Roseboro.   He drove to the police department to report the smoke.   Billy Herring, the chief of the Roseboro Fire Department, received the fire call around 7:25 a.m. and went to the house at 201 Northeast Street.   James William Buchanan, also known as "Alabama," lived in the downstairs portion of the house, and Jerry Lee Dowdy lived in an upstairs apartment.   Herring pushed the downstairs door open.   A fireman, Keith Sessoms, observed testicles lying in the doorway to the downstairs area.
Officers found the lifeless body of James Buchanan, a fifty-two-year-old businessman and Roseboro town commissioner, on his bed in the bedroom of the downstairs apartment.   He had been shot in the face and burned.   The cloth covering on the bed had been burned, with only the springs remaining.   In the bedroom, dresser drawers were open with everything pulled out of them;  on the floor, there was a broken television, clothes, a pink Bic-style cigarette lighter, a burned lighter-fluid can, and a nine-millimeter shell casing.   There was heavy fire damage in the bedroom, on and around the bed.
Officers found the lifeless body of Jerry Dowdy, a fifty-year-old groundskeeper at the Hardee's Restaurant in Roseboro, lying facedown in a large puddle of blood in the kitchen of his upstairs apartment.   Spatters of blood were apparent on the kitchen table, the lower portion of the stove and the sink cabinets, the walls, the floor, the side of the refrigerator, and extending into the hallway.   Dowdy was naked from the waist down, with underwear around his legs.   His testicles had been removed, and there were multiple chopping wounds to his head and hands.   Officers found an empty wallet under his left elbow, blood and hair on an ax propped against a cabinet under the sink, and a bloody knife on the kitchen floor.
Betty Edwards lived nearby at 208 Railroad Street in Roseboro.   On 2 October 1994, she noticed that several items, including a battery charger, an electric heater, a gas edger, a toolbox, and a black case with tools in it, had been removed from her storage building.   Ms. Edwards' son's 1991 Nissan Stanza had also been entered, and papers had been scattered around in the car.
James Jackson lived at 203 Northeast Street in Roseboro, next door to Buchanan's home.   He testified that, on 2 October 1994, when he arrived home, there was security tape around his residence.   The phone lines had been cut, a storm window under the garage had been removed, and the padlock had been pried from the door of a storage building.   Nothing had been taken from the residence.
Between 10:00 p.m. on Saturday, 1 October 1994 and 4:00 a.m. on Sunday, 2 October 1994, several people saw defendant in Roseboro.   Defendant was wearing a multiple-color, splashed shirt under a dark-green, long-sleeve pullover shirt with black stripes and no collar, and a pair of gray stone-washed jeans with a tear in the right knee and a splash of orange paint on one leg.   By 9:00 a.m. on Sunday, 2 October 1994, defendant had on a pair of gray dress pants, instead of the gray stone-washed jeans, and a pair of black and white Asics tennis shoes.
A tennis-shoe impression in blood on a newspaper found in the hallway of Dowdy's upstairs apartment was an exact match in design and size to an impression from the Asics tennis shoe defendant was wearing when he arrived at his cousin's house at 9:00 a.m. on 2 October 1994.   When seized on 6 October 1994, it was determined that the tennis shoes had human blood on them.
Defendant's cousin, Mitchell Parker, testified as follows:  On the night of 2 October 1994, defendant told Mitchell that he knew there was a gun at Buchanan's house and that he had gone there to steal it.   Defendant said that as he was stealing the gun, Buchanan woke up and grabbed him from behind.   He said he shot Buchanan in the head to get him off of him.   Then Dowdy woke up and came downstairs, and a fight ensued.   Defendant said that he "busted" Dowdy's head.   Defendant said that he decided to burn the house and that he changed clothes, cut some phone lines at a nearby house, and took a lawnmower.   Defendant also told Mitchell that, earlier that day, he smoked some marijuana, drank some beer, and injected cocaine several times.
At 5:00 a.m. on the morning of 3 October 1994, defendant's family tried to have him committed to the mental health department because they thought he was hallucinating from drugs.   Later that day, defendant was committed and sent to Onslow Detox Center.   By that time, defendant was calm and cooperative, oriented to the surroundings, and understood what was said and what was occurring.
Defendant stayed at the detox center for two days.   On Wednesday, 5 October 1994, defendant was arrested at the detox center for the murders of Buchanan and Dowdy.   At the police station, defendant told the officers that he had gone to a house near Buchanan's on 2 October 1994 and had stolen a lawnmower and a battery charger from the shed.   He had also stolen a cellular phone from Buchanan's car.   He denied going into Buchanan's house.   Then the officers told defendant that his cousin had told them that defendant had admitted killing Buchanan, and defendant put his head down, cried, and asked for a lawyer.   Following his request, the interrogation ended.   Defendant was handcuffed and taken to the police car.   Once outside, defendant asked one of the officers how serious everything was, to which the officer replied, "It's real bad."   Defendant replied, "I didn't mean to kill Alabama [Buchanan]."   Defendant then began crying.
Defendant did not testify during the trial.   He did call several witnesses.
https://caselaw.findlaw.com/nc-supreme-court/1070062.html