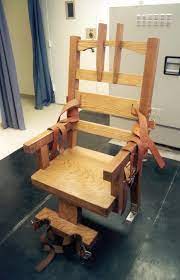 Larry Heath was executed by the State of Alabama for the murder of Rebecca Heath
According to court documents Larry Heath wanted to marry his new girlfriend however he was still married to Rebecca Heath. So Larry would hire two men to kill her. The two men would abduct Rebecca Heath who was brought to a remote location and murdered
Larry Heath would be arrested, convicted and sentenced to death
Larry Heath would be executed via the electric chair on March 20 1992
Larry Heath Case
A man who admitted hiring two men to kill his pregnant wife so that he could marry another woman was executed early today in Alabama's electric chair.
Larry Gene Heath, 40 years old, made no last attempt to appeal his death sentence for the 1981 slaying of Rebecca Heath.
Gov. Guy Hunt on Tuesday denied a request for clemency from Mr. Heath's supporters, including a group of ministers. Friends at Holman Prison called him the "Death Row Apostle" because he had claimed to have undergone a religious conversion in prison. Secret Engagement
Prosecutors said Mr. Heath, who was secretly engaged to another woman, had persuaded his 21-year-old wife, who was nine months pregnant, to cosign a $2,000 home-improvement loan. He used the loan to pay for her murder, the prosecutors said.
She was abducted from their home in Phenix City, Ala., and shot in the head. Her body was found in Georgia. The male fetus also died.
The men hired by Mr. Heath were convicted and given life sentences.
Mr. Heath was arrested four days after the killing. He pleaded guilty to murder in Georgia in February 1982 and was sentenced to life in prison.
In January 1983, a jury in Alabama convicted him of murder and a judge sentenced him to die.
The U.S. Supreme Court rejected "double jeopardy" arguments that Mr. Heath could not be sentenced to death in one state after being given a life sentence for the same crime in another state.