Nikko Jenkins was sentenced to death by the State of Nebraska for four murders
According to court documents Nikko Jenkins was just released from prison and soon after his murder spree would begin. With the help from his sister and a cousin Juan Uribe-Pena and Jorge C. Cajiga-Ruiz were lured to a hotel room where they would be fatally shot by Jenkins. A week later Nikko would fatally shoot Curtis Bradford for he believed he had shot at a home. The last murder was Andrea Krueger who was dragged from her car and shot multiple times
Nikko Jenkins would be arrested, convicted and sentenced to death
Nikko Jenkins Photos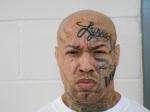 Nikko Jenkins Now
Committed Name
Last:
JENKINS
First:
NIKKO
Middle:
A
Suffix:
Legal Name
Last:
First:
Middle:
Suffix:
Details
Gender:
MALE
Race:
BLACK
Date of Birth:
09/16/1986
Facility:
TECUMSEH STATE COR INSTITUTION
Nikko Jenkins Case
Nikko Jenkins timeline
Aug. 11, 2013: Jenkins kills Juan Uribe-Pena and Jorge Cajiga-Ruiz in Omaha's Spring Lake Park.
Aug. 19, 2013: Jenkins and his sister, Erica, kill Curtis Bradford near 18th and Clark Streets.
Aug. 21, 2013: Jenkins kills Andrea Kruger near 168th and Fort Streets.
Sept. 5, 2013: Jenkins is charged with four homicides.
Oct. 1, 2013: Jenkins case is assigned to Judge Peter Bataillon.
Jan. 8, 2014: Bataillon orders Jenkins evaluated for competency.
Feb. 12, 2014: Bataillon holds a competency hearing. Dr. Bruce Gutnik, a psychiatrist hired by the defense, says Jenkins is incompetent. A state psychiatrist says Jenkins is competent.
Feb. 20, 2014: Bataillon rules Jenkins competent to stand trial.
March 20, 2014: After Jenkins files several motions, Bataillon rules that Jenkins can represent himself.
April 18, 2014: Jenkins states his desire to plead no contest to all counts against him. In a bizarre hearing, Bataillon first says Jenkins must plead guilty to the murders and describe what he did to the victims. The judge then changes his mind and allows Jenkins to plead no contest. Bataillon indicates that because of the seriousness of the death penalty, he will require Jenkins to stop representing himself. The judge reappoints the Douglas County Public Defender's Office.
May 6, 2014: Bataillon sets death-penalty hearing for Aug. 11, 2014.
May 7, 2014: Gutnik, the defense psychiatrist, writes report detailing concerns about Jenkins' competency. Among other things, Jenkins has mutilated himself.
July 10, 2014: Second competency hearing.
July 18, 2014: Bataillon rules that Jenkins is not competent to proceed with death-penalty phase.
Feb. 11, 2015: Jenkins files a motion to dismiss his counsel.
Feb. 17, 2015: Jenkins tells court: "I am competent to proceed. I'm not going to participate in any more evaluations. It would be a waste of time."
March 2, 2015: Jenkins is declared competent. He tells Bataillon any more evaluations by Gutnik would be a "waste of time."
March 24, 2015: Judge sets death penalty hearing for July 7, 2015.
April 2015: Jenkins tries to carve 666 into his forehead but does it backward because he is looking in a mirror.
June 10, 2015: Judge delays death-penalty hearing after Legislature rescinds capital punishment. "The court continues this matter until further order of the court."
June 27, 2015: Jenkins slices his tongue and carves the word "satan" on his face.
Aug. 26, 2015: Petition organizers submit far more than enough signatures to put the death penalty to a vote of the people in November 2016.
September 2015: Jenkins cuts his penis.
Oct. 5, 2015: Bataillon sets death-penalty hearing for Jan. 4, 2016.
November 2015: Jenkins says he has sliced his penis again and has a total of 65 stitches on his face and penis.
Dec. 11, 2015: Bataillon orders another competency evaluation. Death penalty hearing will be delayed again.
https://omaha.com/complete-coverage-nikko-jenkins-convicted-of-4-murders-sentenced-to-death/collection_48429228-a038-11e5-9263-8bc352525845.html#2