Robert Morris was sentenced to death by the State of Florida for the murder of Violet Livingston
According to court documents Robert Morris would break into the home of Violet Livingston and beat the woman to death before robbing her residence
Robert Morris would be arrested, convicted and sentenced to death
Robert Morris Photos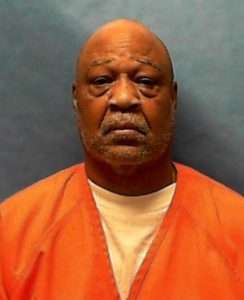 Robert Morris Now
DC Number: 550026
Name: MORRIS, ROBERT D
Race: BLACK
Sex: MALE
Birth Date: 03/03/1963
Initial Receipt Date: 05/04/1999
Current Facility: UNION C.I.
Current Custody: MAXIMUM
Current Release Date: DEATH SENTENCE
Robert Morris Case
The victim of this brutal murder, Violet Livingston, was 88 years old.   Her body was found in her apartment by her son on the morning of September 2, 1994.   When the police arrived, they found Livingston's body lying on the bedroom floor, with her head wrapped in bed sheets.   The police found blood on the walls, some furniture, and the victim's walking cane.
The medical examiner who performed the autopsy, Dr. Alexander Melamud, testified at trial that the victim died as a result of multiple injuries.   In particular, Dr. Melamud testified that the victim suffered "multiple bruises, lacerations, abrasions, rib fractures, subarachnoid hemorrhage of the brain and mechanical asphyxia due to suffocation."   Dr. Melamud could not determine the order in which the injuries were inflicted, but opined that the victim was alive for a short period after the attack began.
The State presented four main categories of evidence against Robert Morris.   First, the State's DNA experts testified that Morris could not be excluded as the source of DNA obtained from two locations on the victim's body and from the victim's kitchen curtain.   One of the State's experts testified that the frequency of the tested DNA pattern in the African–American database would be 1 in 7.1 million.   The expert testified that this number meant that the likelihood of obtaining the DNA profile from an African–American other than Morris was between 1 out of 710,000 and 1 out of 71 million.   Second, the police obtained eleven fingerprints of value from the crime scene, and one of them, from a lightbulb outside of the victim's apartment, was matched to Morris.   Third, the police found in and around Morris's residence items known to have belonged to the victim, including coin wrappers, coin collection booklets, a coin sorter, and a small television.   Finally, the State presented the testimony of Damion Sastre, who recounted a jailhouse confession to the murder by Morris.   Sastre testified that Morris had told him about entering the victim's apartment, murdering the victim, and taking from the victim's apartment a small television, jewelry, old coins, and whatever money was around.
At the conclusion of the guilt phase, the jury convicted Morris of first-degree murder, armed burglary of a dwelling or battery committed during burglary of a dwelling, and robbery with a deadly weapon.
https://caselaw.findlaw.com/court/us-11th-circuit/1599168.html