Robyn Parks was executed by the State of Oklahoma for the murder of Abdullah Ibrahim
According to court documents Robyn Parks would go to a gas station and used a stolen credit card however he would become worried the clerk Abdullah Ibrahim would realize so he murdered the clerk who was fatally shot
Robyn Parks would be arrested, convicted and sentenced to death
Robyn Parks would be executed by lethal injection on March 10 1992
Robyn Parks Photos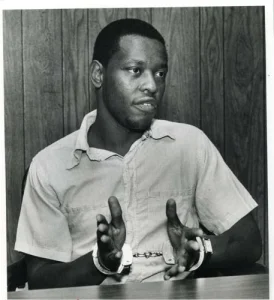 Robyn Parks Case
The state of Oklahoma this morning executed Robyn Leroy Parks, who for more than 14 years maintained his innocence in the slaying of an Oklahoma City gas station attendant.
Parks was declared dead at 12:52 a.m. Witnesses said it took about 11 minutes for the execution to be completed.
In a post-execution news conference, witnesses described how Parks apparently tried to fight the lethal drugs. They said his body flinched, his jaw clenched, he gasped for breath and his head moved from side to side.
After the execution procedures began, they said, he turned his head to the left, looking into the witness area, and spotted his common-law wife, Debbie.
She said, "I love you, Robyn," to which he responded, "I love you, too, Debbie. " Those were his last words.
Witnesses said that as Parks began to lose consciousness, his wife became extremely emotional, shaking violently and screaming, "This is unreal! Oh, God! This is unreal! " In his final statement, Parks said, "Special thanks to Jesse Jackson, special thanks to Vicki Miles-La Grange and the black caucus, special thanks to Malik Muhammad for his years of assisting me. Thanks to my wife and children. Thanks, especially to the legal team. They did as much as could possibly be done. Thanks to sisters and brothers, and to my father, who I especially love, and that's all. " Parks was sentenced to death for the 1977 shooting death of Abdullah Ibrahim, 24, a college student gunned down at a northeast Oklahoma City gas station where he worked part time.
After a doctor confirmed Parks' death, the body was taken to the state medical examiner's office in Oklahoma City for an autopsy.
The execution was scheduled at 12:05 a.m. Gean Atkinson, a spokesman for the governor's office, said the delay occurred in getting witnesses organized and into the witness room.
Later, witnesses were unable to fully explain the delay. They reported that shortly before the curtains were drawn to reveal the execution chamber to them, they heard laughter from behind the curtains. They could not identify the source of the laughter.
Parks lost three chances at winning a reprieve Monday from the 10th U.S. Circuit Court of Appeals in Denver, then tried unsuccessfully to get a last-minute hearing before the U.S. Supreme Court. Gov. David Walters refused to grant a reprieve.
At 11:05 p.m., the Supreme Court notified the state attorney general's office that it had refused to rehear Parks' appeal or stay the execution.
Parks' attorneys had filed the appeal about 9:45 p.m. The appeal came before Justice Byron White, who is assigned to review cases from the 10th Circuit. White, after polling fellow justices, refused to stop the execution, Oklahoma Attorney General Susan Loving said.
"Justice White polled all the justices and there were no dissents," she said. "None of the justices wanted to hear the case again. " Earlier Monday, a three-judge appeals panel in Denver had rejected an appeal by Parks by a 2-1 vote. The full appeals court rejected his request for a rehearing by a 6-4 vote and rejected a request for a stay on a 7-3 vote.
"Although we realize that the review of a death sentence is perhaps the most serious examination any court ever undertakes, we also must be cognizant that the Supreme Court has emphasized that 'federal courts should not continue to tolerate – even in capital cases – this type of abuse of the writ of habeas corpus,' " the appeals court said.
"Accordingly, we dismiss Parks' petition for habeas corpus as successive and abusive and deny his request for stay of execution. " Parks was the first inmate executed in the penitentiary's new 200-cell unit, which houses death row and problem inmates.
At 9:25 a.m. Monday, Robyn Parks was escorted from his death row cell to the holding cell near the execution chamber. The cell, a duplicate of his own, holds two concrete slabs for beds, shelves above and at the ends of the beds and a stainless steel sink and toilet.
He was allowed to take a few personal items with him, and he has had access to a television.
At midmorning Monday, Robyn Parks called Miles-LaGrange, a state senator at the Capitol, just before he was moved to a special holding cell in preparation for his execution.
Also participating in the phone call was attorney Steven Hawkins of the National Association for the Advancement of Colored People Legal Defense Fund.
Parks said he would "like to extend my thanks and appreciation to the attorneys who have worked so diligently in trying to achieve the efforts to save my life. " He thanked Miles-LaGrange, D-Oklahoma City, and Rep. Angela Monson, D-Oklahoma City, along with the Black Caucus in the Legislature.
Robyn Parks added, "And I want to thank the public … for their opinion and for their supports and their prayers. And I hope they will continue to pray and support this cause.
"I'd like to thank the Ministerial Alliance for their assistance and all the efforts that they've put forth to support my cause.
Thank you very much. " Robyn Parks requested fried fish, french fries, a banana split and strawberry soda for his final meal.
He spent much of the day talking on the telephone with his attorneys, and met with family and friends until 8 p.m. Prison officials and guards escorted Parks, without restraints, to the execution chamber shortly before midnight.
As Robyn Parks went to his death, opponents and supporters of Parks' execution gathered outside the prison walls Monday night, and also outside the state Capitol in Oklahoma City.
Parks was the first black person to be put to death in Oklahoma since 1948; the first executed after a conviction in Oklahoma County since Richard Dare in 1963
https://www.oklahoman.com/story/news/1992/03/10/convicted-killer-parks-executed/62499788007/