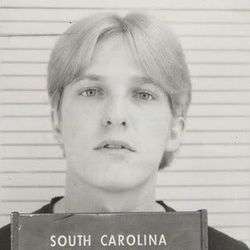 Ronald Woomer was executed by the State of South Carolina for four murders
According to court documents Ronald Woomer and his accomplice Eugene Skaar would go ona a robbery spree that would leave four people dead and another fighting for his life
Before they could be captured Eugene Skaar would take his own life
Ronald Woomer would be arrested, convicted and sentenced to death
Ronald Woomer would be executed by way of the electric chair on April 27 1990
Ronald Woomer Photos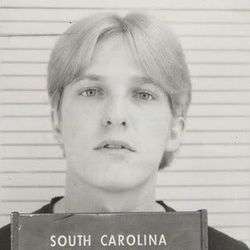 Ronald Woomer Case
Convicted murderer Ronald 'Rusty' Woomer, who killed four people during a 1979 crime spree along the South Carolina coast, was executed early Friday in the state's electric chair.
Woomer, 35, of Huntington, W.Va., closed his eyes and clenched his fists as he was strapped into the electric chair at the Broad River Correctional Center. He was prounounced dead at 1:12 a.m. EDT
His final words included a statement of his religious faith and a simple apology to the families of his victims.
'I'm sorry,' Woomer said in a low, shaky voice.
The execution was witnessed by Don Sellers, whose wife, Della, was kidnapped, raped and murdered by Woomer and an accomplice. Sellers said he promised his wife before she died that he would see justice done and her killer executed.
'It was too easy,' he said, but later added: 'Justice has been served. I'm going to sleep a little better tonight, a lot better than last night
About 100 people gathered outside the prison, most of them capital punishment advocates. Only a handful of execution protesters were on hand, but about a dozen held a candlelight vigil outside the governor's mansion.
Woomer was the 122nd person to be executed in the United States, and the third in South Carolina, since capital punishment was reinstated in 1976. The last execution in the state was in 1986.
The condemned man exchanged final words with his relatives Thursday before his walk to the electric chair and said he was ready to die at the appointed hour if that would comfort the families of his victims.
'I just want the pain and suffering to end for them, and if the Lord sees fit to end that by me going in there and sitting down in the electric chair, whatever he says is good enough for me,' said Woomer, who wept at times during a 30-minute interview at the facility.
Woomer, whose last hope of avoiding execution disappeared late Thursday when the U.S. Supreme Court refused to grant him a stay, said he was sure that God had forgiven him for his sins and that he would be going to heaven to join his mother, who died two years ago
'It's going to be great, seeing her again,' Woomer said, choking back tears. 'I hurt because I sit and think of the things that I could have and should have done for her when she was alive.'
The condemned man visited Thursday with two sisters, a brother, his father and other family and friends. He has asked to be buried next to his mother in Kentucky.
Woomer was condemned for the shotgun slaying of Sellers, a Pawleys Island, S.C., convenience store clerk who was kidnapped, raped and murdered by Woomer and his partner, Eugene Skaar of Huntington.
In the hours before that slaying, the men also robbed and killed Cottageville, S.C., coin collector John Turner, then drove into rural Georgetown County, where they shot to death Arnie Lee Richardson and his sister-in-law, Earldean Wright.
Ronald Woomer also wounded Richardson's 5-year-old daughter, but the child was able to crawl out from under her father's body and ride nearly 5 miles on her bicycle to an aunt's house seeking help.
The sixth victim of the bloodbath was Wanda Summers, who was abducted along with Sellers from the Pawleys Island store where both women worked. Most of Summers' jaw was blown away by the same shotgun blast that killed her friend, but she recovered to testify against Woomer
Despite many operations, Summers remains permanently disfigured. She said she hoped nothing would stand in the way of Woomer's execution, and called the years of appeals that repeatedly spared Woomer from execution 'cruel and inhuman and very hard on victims.'
Before the execution, Don Sellers said he would not be satisfied until he saw his wife's killer slumped in the electric chair. 'I feel like I've had my life on hold for 11 years,' he said.
But Sellers' younger brother, Lee Hewitt, said he has been able to forgive Woomer, who has turned to religion during his 11 years on Death Row.
'At one time I could have killed Rusty, I could have blown his head off,' Hewitt said. 'But through God, I found God can work a miracle on a man.'
According to trial testimony, Ronald Woomer and Skaar came to South Carolina from Huntington with a plan to steal Turner's valuable coin collection and kill anyone who got in their way. The two men who masterminded the heist, Fred Whitehead of Myrtle Beach and John Fisher of Huntington, were sent to prison for their roles in the theft.
Ronald Woomer and Skaar were cornered on the night of the killings at a Myrtle Beach motel. Skaar turned a gun on himself rather than be captured, but Woomer was apprehended without incident in another room
https://www.upi.com/Archives/1990/04/27/Crime-spree-killer-dies-in-electric-chair/3568641188800/