Russell Tucker was sentenced to death by the State of North Carolina for the murder of Maurice Travone Williams
According to court documents Russell Tucker would rob a store and shoot three people with Maurice Travone Williams dying from his injuries
Russell Tucker would be arrested, convicted and sentenced to death
Russell Tucker Photos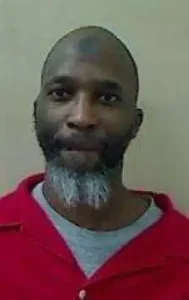 Russell Tucker Now
RUSSELL TUCKER
Offender Number:
0413011
Inmate Status:
ACTIVE
Probation/Parole/Post Release Status:
INACTIVE
Gender:
MALE
Race:
BLACK/AFRICAN AMERICAN
Ethnic Group:
NOT HISPANIC/LATINO
Birth Date:
09/27/1966
Age:
56
Current Location:
CENTRAL PRISON
Russell Tucker Case
The evidence presented at trial tended to show that at approximately 10:00 p.m.   on 8 December 1994, defendant walked out of the Super K-Mart Center on University Parkway in Winston-Salem, North Carolina, wearing a coat and a pair of boots for which he had not paid.   He was followed by Assistant Loss Control Manager William Maki. Travis Church, a K-Mart employee, and Maurice Travone Williams, a security guard, followed shortly behind Maki. Maki asked defendant for a receipt, and according to Maki, defendant responded, "Come on, I've got something for you."
Defendant then removed a Lorcin .380-caliber semiautomatic pistol from his knapsack with his right hand and fired at Maki's face from a distance of approximately six feet.   Maki was not struck by the shot but received gunpowder burns on his face.   Williams and Church began running back toward the store, and defendant switched the gun from his right to his left hand.   Defendant then shot and killed Williams with one shot that penetrated his aorta and both lungs.   Five to ten seconds elapsed between defendant's attempt to shoot Maki and the second shot at Williams.
Defendant had run approximately four hundred feet to an area in the parking lot of the Super K-Mart Center when he was approached by a police vehicle.   Winston-Salem Police Officer S.E. Spencer was operating the marked police vehicle, and Winston-Salem Police Officer H.M. Bryant was a passenger.   As defendant slowed to a walk, he turned and fired five shots into the vehicle, striking both Spencer and Bryant.   The time between the shooting of Williams and the shooting of Spencer and Bryant was described as being between forty-five seconds and a couple of minutes.
Defendant then fled up an embankment and into some woods.   He was apprehended by police officers forty-five minutes to one hour later.
https://caselaw.findlaw.com/nc-supreme-court/1347533.html