Shawn Rogers was sentenced to death by the State of Florida for a prison murder
According to court documents Shawn Rogers would beat to death fellow inmate Ricky Dean Martin in what he said was revenge for the killing of teenager Trayvon Martin. Ricky Dean Martin would be bound at the ankles and wrists and beaten in to a coma and would later die from his injuries
Shawn Rogers would be convicted and sentenced to death
Shawn Rogers Photos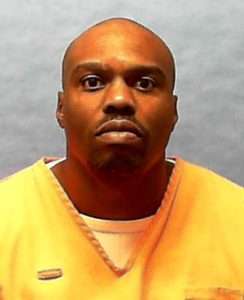 Shawn Rogers Now
| | |
| --- | --- |
| DC Number: | 166626 |
| Name: | ROGERS, SHAWN |
| Race: | BLACK |
| Sex: | MALE |
| Birth Date: | 08/09/1980 |
| Initial Receipt Date: | 04/10/2002 |
| Current Facility: | UNION C.I. |
| Current Custody: | MAXIMUM |
| Current Release Date: | DEATH SENTENCE |
Shawn Rogers Case
A state prisoner with a history of attacking other inmates has been sentenced to death for fatally beating his cellmate.
Shawn Rogers, 37, was sentenced Monday after Santa Rosa County jurors voted unanimously for his execution. He was convicted in August of first-degree murder and kidnapping.
Authorities say Ricky D. Martin was found lying in a pool of blood with bound hands and feet in his cell at Santa Rosa Correctional Institution in March 2012. He was taken to a Pensacola hospital, where he died a week later.
Rogers was already serving a life sentence for armed robbery and battery convictions in Volusia County. Officials say Rogers has a history of violence, including multiple assaults on inmates.
https://www.nwfdailynews.com/news/20171219/prisoner-gets-death-sentence-for-killing-cellmate