William Reaves was sentenced to death by the State of Florida for the murder of a police Officer
According to court documents William Reaves was being arrested by Cpl. Richard Raczkoski when a gun fell from his pocket and a struggle ensued where Cpl. Richard Raczkoski was fatally shot
William Reaves would be arrested, convicted and sentenced to death
William Reaves Photos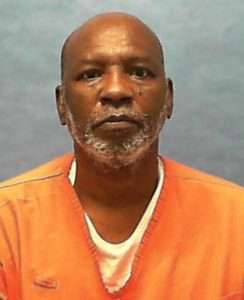 William Reaves Now
| | |
| --- | --- |
| DC Number: | 040002 |
| Name: | REAVES, WILLIAM |
| Race: | BLACK |
| Sex: | MALE |
| Birth Date: | 12/30/1948 |
| Initial Receipt Date: | 09/02/1987 |
| Current Facility: | UNION C.I. |
| Current Custody: | MAXIMUM |
| Current Release Date: | DEATH SENTENCE |
William Reaves Case
In the early morning hours of September 23, 1986, William Reaves walked from his girlfriend's home to a nearby convenience store in Indian River County, Florida, where he placed three calls from a pay phone to a taxi service in order to get a ride home. Reaves grew impatient waiting for a taxi to arrive and, not having any more change to make another call, he dialed 911 shortly after 3:00 a.m., hoping to have the operator call a cab for him. For some reason he hung up the phone before speaking to the 911 operator.
Deputy Richard Raczkoski was dispatched to investigate the hang-up call. After arriving at the convenience store and talking with Reaves for a while, the deputy contacted the 911 dispatcher and learned that Reaves had no outstanding warrants. The deputy asked the operator to contact the taxi service and find out if one was coming for Reaves, and the operator confirmed that a taxi was on its way. All seemed to be going well.
But events sometimes tumble toward tragedy as if the devil himself had shaved the dice.1 What tumbled in this case was a .38–caliber pistol, which had been concealed on Reaves but somehow slipped from the waistband of his short pants and fell to the ground. The record does not show how that happened, but it does show that Reaves had prior felony convictions for conspiracy to commit robbery, for grand larceny, and for grand theft. The record also shows that Reaves believed that if he were arrested and convicted for being a felon in possession of that firearm he would face mandatory prison time. He did not want to go back to prison.
When Reaves reached for the pistol on the ground Deputy Raczkoski tried to stop him. Reaves pushed the deputy, grabbed him by the throat, picked up the pistol, and pointed it in the deputy's face. Pleading with Reaves not to kill him, the deputy managed to back away, turn, and run. Reaves emptied the entire seven-round clip of his pistol, each shot requiring a separate pull of the trigger, and four of those shots struck the deputy, hitting him in the back. As the deputy lay bleeding on the ground, he fired several shots from his weapon, but none of them hit Reaves. Later that morning Deputy Raczkoski died on the operating table.
After the shooting, William Reaves fled into dense woods behind the convenience store and made the seven-mile trek to the home of a friend, Erman Eugene Hinton, all the while eluding a police manhunt that involved dozens of officers, a K–9 unit, and a police helicopter. Reaves arrived at Hinton's home, woke him up, and asked to take a shower and for a change of clothes. Hinton obliged. According to Hinton's trial testimony,2 Reaves told him that as the deputy attempted to draw his own weapon he had pointed the gun in the deputy's face and warned him, I wouldn't do that if I were you. Reaves recounted to Hinton how the deputy had pleaded for his life, begging Reaves not to shoot him, to which Reaves had responded: One of us got to go, me or you. Hinton testified that he had no difficulty understanding Reaves, whose speech was not slurred and who appeared to be in full control of his faculties that morning.
Later that day William Reaves offered a half ounce of cocaine to Jerry Bryant, his niece's husband, in exchange for a ride to a motel in Melbourne, Florida. Bryant agreed and Reaves directed him to retrieve some cocaine that he had hidden in his mother's house. After retrieving the cocaine, Bryant drove Reaves to a motel in Melbourne, some 30 to 40 miles away, and rented a room for Reaves to use. On the afternoon of the following day, Reaves boarded a Greyhound bus for Albany, Georgia. When he arrived there, Reaves was arrested by Georgia authorities, who had been notified that he was suspected of killing Deputy Raczkoski.
At the time of his arrest, which was not quite two full days after he killed the deputy, Reaves had four-and-a-half ounces of cocaine with him, at least a portion of which he intended to sell in order to finance his continued flight, and he also had a newspaper bearing the headline, Indian River Deputy on Emergency Call Killed in Shooting. William Reaves initially lied to the Georgia authorities, telling them his name was Randy Martin and giving them a false home address and place of employment. He did not appear to be intoxicated to any of the officers who encountered him.
Detectives from the Indian River Sheriff's Department arrived in Albany the following morning to interview William Reaves. During a taped confession, which was later played for the jury at trial, Reaves admitted to shooting Deputy Raczkoski and recounted the incident, including his ensuing flight, in considerable detail. Reaves, however, told the officers that he had ingested an unspecified amount of cocaine before the incident, and he made over a dozen references to being coked up, high, and wired out at the time of the shooting. Although Reaves repeatedly blamed the shooting on drug-induced panic and paranoia, he also explained that he couldn't let that officer get that gun because he believed that, as a convicted felon, he was facing a mandatory three years for possessing a firearm. Reaves confirmed telling Hinton about the shooting, although he said that what he told Hinton was that he thought he had shot a police officer.
https://caselaw.findlaw.com/us-11th-circuit/1632850.html