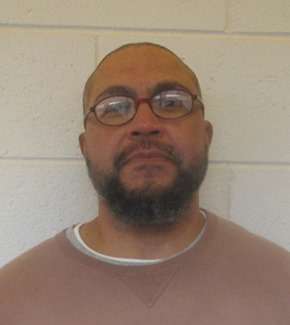 Alfred Mitchell would be arrested, convicted and sentenced to death for the murder of Elaine Marie Scott
According to court documents Alfred Mitchell was just released from a State Reformatory where he served a sentenced for sexual assault when he would attack Elaine Marie Scott who was sexually assaulted and murdered
Alfred Mitchell would be arrested, convicted and sentenced to death
Alfred Mitchell Photos
Alfred Mitchell Now
Gender: Male
Race: Black
Height: 5 ft 11 in
Weight: 230 lbs
Hair Color: Black
Eye Color: Brown
OK DOC#: 206964
Birth Date: 12/23/1972
Current Facility: OKLAHOMA STATE PENITENTIARY, MCALE
Reception Date: 7/15/1992
Alfred Mitchell Case
For Ann and Bruce Scott, justice remains as elusive as a peaceful moment since their daughter's murder 17 years ago.
Elaine Marie Scott, then 21, was bludgeoned to death on Jan. 7, 1991, so severely with a wooden coat tree that her parents were advised against viewing her remains. The attack took place at Oklahoma City's Pilot Recreation Community Center, where Scott worked part time counseling underprivileged children
Prosecutors identified her attacker as Alfred Brian Mitchell, then an 18-year-old convicted rapist who had recently been released from a state reform school. Investigators found Mitchell's blood on Scott's body, as well as fibers from his jacket embedded in her fingernails.
The Scotts have endured countless appeals, volumes of testimony and three trials in 17 years, including two new sentencing trials. Each time an Oklahoma County jury returned with the same fate for Mitchell — death.
Mitchell will appear at his third formal sentencing Jan. 23.
"Are we done, or will there be a new trial because the prosecutor misspoke one word?" Ann Scott asked sarcastically this week at her Tulsa home. "It's beyond ridiculous at this point. You're either gonna give this guy life or death. I just wish they would make a decision and get it over with.
"This has gone on long enough."
Over the years, appeals courts have granted Mitchell new hearings and two new sentencing trials based on a string of courtroom blunders by an expert witness, a trial judge and prosecutors.
For now, Mitchell sits on death row while his attorneys scramble to file new appeals. Bruce Scott admits this laborious journey for justice has changed him dramatically.
"I've gotten very hard," said Scott, a retired grocery company executive. "I'm very cold, very bitter and very cynical.
"Nowadays I have virtually no sympathy for people who have broken the law."
Turning to his wife, he noted how the judicial follies they have experienced in various courts have also rendered her emotionally "brittle." Still, despite the hardships and repeated accounts of their daughter's gruesome murder, the Scotts have never missed a day in the courtroom in 17 years.
"It's been tough," said David Scott, 35 and Elaine's younger brother by three years. "My mom and dad have been through so much. We all have, really. With each new trial, the highs seem to get higher and the lows get lower. It's this constant emotional roller coaster.
"And each time, we have to watch Elaine murdered all over again."'She was kind'Elaine Marie Scott instinctively filled the role as the eldest of three siblings early in life, mastering the juggling routine as boss, teacher and protector.
"There wasn't trouble in this home unless Elaine wanted trouble," Ann Scott quipped. "She was good at it, too."
Yet the educator in her mostly prevailed.
Once, Elaine found her baby brother Robert — now 23 — having trouble pronouncing the word "three." He kept saying, "Free." Elaine took him into the bathroom and had him practice saying the word in front of the mirror.
Within minutes, Robert was pronouncing "three" flawlessly.
Elaine's gift surfaced in many settings, such as now-cherished family trips to California.
"A lot can happen on a 27-hour drive," David Scott said. "At the time, you don't think much about little things that happened. I guess you don't count on those moments being the ones you remember forever, but now I'm glad they happened.
"For me, it was Elaine teaching me how to whistle on one of those trips. Or hearing her saying, 'I want to be a teacher.'"
Elaine Scott pursued her passion for teaching after high school graduation in 1987. She studied at the University of Oklahoma as an elementary education major. During the summer, she found work as a counselor at a Christian summer camp in Arkansas where she harbored fond memories as a camper.
Eventually she landed a $4.15-an-hour summer job at the Pilot Recreation Community Center west of downtown Oklahoma City. The pay wasn't great, but she quickly found the underprivileged children who wandered into the center irresistible.
"She would always say to me, 'If I could just give those kids this much more!'" Ann Scott recalled, holding two fingers an inch apart. "She just loved helping those kids."
Later, the Scotts would discover school supplies Elaine had bought with her own money in the trunk of her car. She had been tutoring some of the center's children on the side for free.
"She did special things like that all the time," David Scott said. "Whenever a kid at the Pilot Center had a birthday she would take them down to McDonald's and buy them a special meal.
"She was kind."
Then one day an 18-year-old man from the neighborhood walked into the center — Alfred Brian Mitchell.
"I begged her to quit for her own safety, and although she loved the children, she promised me she would," Ann Scott said. "Then one day we were talking on the telephone, and she mentioned that a young man had come into the center and that he had recently been released from prison for rape. She never mentioned his name, but I'm certain that man was Mitchell.
"The hair rises on my neck when I think about it now."What happened Homicide investigators found Elaine bludgeoned to death in a pool of blood and with a piece of a wooden coat tree embedded in her brain. Bloody shoe prints trailed into the bathroom, where detectives deduced her assailant tried to wash off the blood
In an interview with police, Mitchell confessed to hitting Elaine three or four times with a "wooden thing." His story would later change at least a dozen times, with one version featuring himself as a helpless bystander while a gang member named "C Ray" raped and beat Elaine to death.
Jurors in his 1992 murder trial didn't buy his story. They convicted him of first-degree murder in less than three hours of deliberation. They then sentenced him to death.
What followed would leave the Scotts' faith in the judicial system shaky.
In September 1999, U.S. District Judge Ralph G. Thompson ruled that Oklahoma City police chemist Joyce Gilchrist gave untrue and misleading testimony at Mitchell's murder trial. Gilchrist, whose cases are now under FBI investigation, testified in the 1992 trial that blood and semen found on Elaine matched Mitchell's blood type and genetic markers.
Thompson upheld Mitchell's death sentence but tossed out his lesser convictions of first-degree rape and forcible sodomy.
Within two years, the 10th U.S. Circuit Court of Appeals unanimously granted Mitchell a new sentencing trial based on Gilchrist's testimony. However, an Oklahoma County jury again returned the death penalty.
The state Court of Criminal Appeals granted Mitchell a new sentencing trial in May 2006, citing errors by the trial judge and prosecutors. Last month another Oklahoma County jury returned a familiar verdict — death.
"This guy never should have seen his 21st birthday," David Scott said in amazement. "He's now lived 17 years longer than my sister. As far as I'm concerned, the 10th Circuit Court of Appeals has been an absolute joke. The Oklahoma Court of Criminal Appeals has been an absolute joke.'It's been tough'David Scott plans to witness Mitchell's execution.
"Not for me," David said simply, "for Elaine."
Yet the entire Scott family could lay claim to pain. On the day they learned of Elaine's murder, then-6-year-old Robert stood with tears streaming down his cheeks.
"I'll never forget what he said," Ann recalled. "He said, 'Maybe if we pray real hard, God will bring Elaine back to us.'"
At the time, David Scott was a senior in high school. His final months of school are a fog.
"Things were happening around me, but it was like I wasn't even there," he said. Shortly after his 21st birthday, he began experiencing severe anxiety attacks.
"Suddenly, I realized I was older than my sister," he said. "That wasn't supposed to happen. At 21, I was already thinking about things I hadn't done in my life as if I didn't have much time to live. It's been tough."
In the end, however, Bruce and Ann Scott already know where to find their peace.
"I know I won't be able to see Elaine again until the day I die and we're reunited in Heaven," Ann Scott said with a smile. "And, frankly, that's a day I'm looking forward to."
"I begged her to quit for her own safety, and although she loved the children, she promised me she would."
Ann Scott about her daughter, Elaine Scott'I've gotten very hard. I'm very cold, very bitter and
very cynical.' Bruce Scott
https://www.oklahoman.com/article/3189323/17-years-after-daughters-murder-family-awaits-peace