Dustin Davison was sentenced to death by the State of Oklahoma for the murder of Kreedin Paul Brooks
According to court documents Dustin Davison was suppose to be taking care of two year old Kreedin Paul Brooks while the child's mother was at work. Instead Davison would beat the little boy to death
Dustin Davison would be arrested, convicted and sentenced to death
Dustin Davison Photos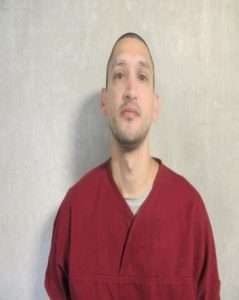 Dustin Davison Now
Gender: Male
Race: American Indian
Height: 6 ft 1 in
Weight: 145 lbs
Hair Color: Brown
Eye Color: Brown
---
Alias: Dustin Davison
---
OK DOC#: 687068
Birth Date: 2/7/1993
---
Current Facility: OKLAHOMA STATE PENITENTIARY, MCALE
Reception Date: 4/9/2018
Dustin Davison Case
¶2 On the afternoon of May 18, 2015, K.B., the two-year-old son of Jennifer Young, died at Children's Hospital in Oklahoma City. Earlier that day, K.B. had suffered multiple blunt force traumas to his head and torso, resulting in fifty or more areas of external bruising; a broken mandible; a fracture of the skull behind his right ear; internal damage and hemorrhaging from the liver, pancreas, and intestinal mesentery; hemorrhages of the scalp, subgaleal, subdural and subarachnoid areas of the head; retinal hemorrhage; and edema throughout the brain. K.B.'s fatal injuries involved the application of substantial force inconsistent with typical play or accidents. The State's medical experts later testified that K.B.'s injuries indicated he had been beaten to death.
¶3 On the day K.B. died, he and his mother, Jennifer Young, were living with the Appellant, Dustin Davison, in an apartment paid for by Ms. Young. Appellant was Ms. Young's ex-boyfriend, but they remained roommates, and Appellant watched K.B. while Ms. Young worked. Around 11:00 a.m. that morning, Appellant and K.B. dropped off Ms. Young at work. Appellant and K.B. then returned to the apartment and apparently remained there until Appellant called 911 seeking emergency assistance for K.B.
¶4 During the investigation of K.B.'s death, Appellant gave investigators several conflicting accounts of the events leading up to his 911 call. Appellant first claimed he came out of the shower to find K.B. lying on the floor, bleeding from his nose and mouth. He later claimed that K.B. fell and hit his head on a coffee table during a pillow fight, or that the family dog had knocked him into the table. He also stated that K.B. had bumped his forehead in the bathtub the previous day.
¶5 Appellant told police at one point that K.B.'s extreme bruising was caused by Jennifer Young's brother. He also stated at various times that K.B. had fallen from the apartment balcony, been struck by a soccer ball, had a chair pulled out from under him, or fallen to the ground at 7-11. Appellant admitted being a "straight up asshole" to K.B. when K.B. "pissed him the fuck off." Appellant also admitted throwing K.B. to the ground, probably causing K.B.'s skull fracture, and waiting twenty minutes or more to call 911.
¶6 Contrary to these statements, Appellant took the stand at trial against the advice of counsel and testified that a man named Jeremy Walker had killed K.B. after coming to the apartment to buy drugs that day. Appellant claimed that he had injected methamphetamine while Walker was there and temporarily lost consciousness. When he woke up, Walker had left the apartment and K.B. was lying on the floor seriously injured. Appellant told the jury that Jeremy Walker had "aggressively killed and murdered" the victim. Appellant had "tried to save" K.B., and had "wasted time trying to revive him" instead of calling 911.
¶7 Appellant said that he "didn't know how to explain" the injuries inflicted by Jeremy Walker to investigators, which "made me out to be–to look like a liar." Appellant said he "would never hurt" K.B. because he "loved that child." Appellant claimed he "had to make up more stories" only because he wanted to tell Jennifer Young "what truly happened" before he told investigators. He "wanted to tell [the investigating detective] the truth, but I didn't know how to."
¶8 On cross-examination, the State established that Appellant was not selling drugs to Jeremy Walker every weekend, as he had claimed in his testimony. According to phone records, Appellant hadn't spoken to Walker in more than two and a half months before the homicide. Appellant acknowledged that he had waited a year and a half after being charged with this murder to name Jeremy Walker as the real perpetrator.
¶9 Appellant admitted on cross-examination that he had repeatedly lied to investigators, his parents, and his siblings about the facts of K.B.'s death as he tried to deflect suspicion from himself, but had waited almost eighteen months to name the real killer. Appellant also admitted that when naming Jeremy Walker as the murderer didn't work, Appellant offered to implicate a fellow jail inmate in the murder in exchange for a deal. Appellant also agreed when the prosecutor asked him if he thought he was the real victim in this case.
https://law.justia.com/cases/oklahoma/court-of-appeals-criminal/2020/d-2018-373.html