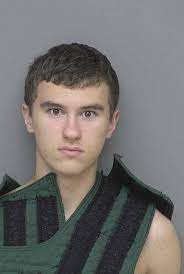 Hayden Jagst was a eighteen year old teen killer who would murder his father in Michigan
According to court documents Hayden Jagst would fatally shot his father Edward Jagst as he lay sleeping in his bed. Hayden would leave the house telling his sister that he was going to kill as many people as possible. Thankfully Hayden would be arrested before he could carry out his plan
Hayden Jagst would be convicted and sentenced to forty to sixty years in prison
Hayden Jagst Now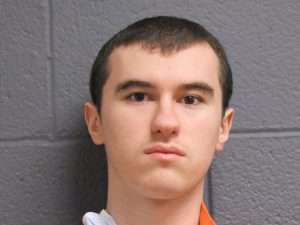 MDOC Number:
662321
SID Number:
6112506H
Name:
HAYDEN KENNETH JAGST
Racial Identification:
White
Gender:
Male
Hair:
Brown
Eyes:
Brown
Height:
5′ 10″
Weight:
130 lbs.
Date of Birth:
04/02/2003  (20)
Current Status:
Prisoner
Earliest Release Date:
06/20/2063
Assigned Location:
Maximum Discharge Date:
06/20/2083
Hayden Jagst Videos
Hayden Jagst Case
Hayden Jagst was sentenced Thursday, April 27, by Judge Michael P. Hatty in 44th Circuit Court to 40-60 years in prison, after being found guilty of premeditated first-degree homicide, felony firearms, dangerous weapon carrying with unlawful intent, felony firearms and carrying concealed weapons.
The charges stem from shooting his father to death the day after Father's Day in 2021 and intending to harm others.
Hatty sentenced Hayden Jagst to 40-60 years for count one, two years with credit for 675 days served for count two, three to five years for count three, and two years with credit for 675 days served for count four.
"My daughter and I have lived with this day hanging over our heads for almost two years now," said Jagst's mother, Sarah. "We desperately need this to end. We need to move forward and not have the stress of a trial looming over us. This has taken an unimaginable toll on me both physically and emotionally. I need to be able to put this part behind me and move forward.
"I'm asking you to give us some hope back to our family. Hope that one day we can be reunited with Hayden outside of prison walls. Hope that he will receive a sentence ranged that was agreed upon previously and hope that this will finally come to an end today so that we do not have to endure this trauma any further."
Following a day-long hearing in February, Hatty decided to dismiss and return to make a decision later on whether to sentence Jagst to life in prison or a term of years previously agreed upon because the act was committed when the defendant was 18 years old.
In the past, defendants who were 18 were considered adults. But a recent Michigan Supreme Court decision determined that those who are 18 often are more like juveniles than adults and may be sentenced as such.
"I know that some of you may not want to hear from me today," Jagst said. "You all have the right to feel however you want about me. All of you here. God knows that I deserve this, but I do want you to know that I'm truly sorry. I'm sorry that I took my father's life. I regret this every single day.
"The decision I made can never be changed. I feel this impact every day. They lost a good person that day. I took a good person's life. I regret doing this and I know that the most I can give is my apology today, but I just want you all to know that I'm truly sorry that I did this and most importantly, I'm sorry to my own father. I can only hope in the afterlife that he's forgiven me.
"I'm sorry for all this. I wish that I tried to become a better person. I wish I put more effort into my self improvement. There's good and evil in all of us. I chose evil and I'm very sorry. If I could turn back time, I definitely would. My father deserves to be here with us today. All I can say is I'm sorry. That's all I have to say."
Hatty provided a summary of his findings to the court, citing youth as a factor.
"I have given this case a lot of thought," Hatty said. "I do look to the youth of this young man. The young man is of an age where his brain is not formed yet. The limbic system overrides the frontal lobe of the brain that controls the emotions, rationality and things like that."
Other factors included immaturity, emotionality, mental instability, seeking media attention, and appearing to be "cool" to anonymous people on the internet. He also cited his mother's unwavering support.
"A sentence of life imprisonment without the possibility of parole is presumed to be a disproportionate sentence for an 18-year-old convicted of first-degree murder," Hatty said. "Only in the rarest of cases would a sentence of life in prison be justified. This court finds that the people have failed to demonstrate that this is one of the rarest cases."
Prior to the sentencing, Public Defender Kristina Dune shared why the agreed upon plea agreement of a maximum of 60 years was appropriate.
"The circumstances of this homicide show that my client was very swayed by online content and peer pressure that he felt that he experienced because of the engagement online with a hate group. They fetishized weapons and they glorified violence — because of his age and his vulnerability and his mental health issues he was definitely influenced by those online discussions," she said.
Assistant Prosecutor Rolland Sizemore disagreed. He argued, in this case, the defendant acted alone.
"Statutorily speaking, the taking of a human life is the most serious offense one can commit in the state of Michigan. Morally speaking, it is the vilest offense one can commit in the world. Statutorily speaking, this court is obligated to sentence the defendant to life in prison without the possibility of parole," he said.
"I point the court to the fact that this defendant has lied and manipulated others for his homicidal goals. As recently as Nov. 4, 2022, he told his probation agent Connie Miller that he still thinks about killing people and killing himself."
Sizemore also referenced emails to his mother, where Hayden Jagst allegedly asked her to check the Columbine shooting in references to him and that he's sick of everyone not knowing he killed his father. He said Hayden sought notoriety for being a mass murderer.
"He has shown absolutely no remorse for his actions. At the plea, this court questioned him over and over about his actions, more so than the court normally does on the plea forms. (He) expressed no regret. The court was looking for remorse or regret and found none," Sizemore said.
"I want the court to sentence this defendant with life without the possibility of parole in the Michigan Department of Corrections for the protection of our children and I would ask the court, no matter what the court sentence is today, I would ask the court specifically address that goal in the sentencing."
During the hearing, Sarah Jagst came forward to address the court.
"The circumstances I find myself is both a complicated and agonizing one," she said. "I am both mother to the defendant and wife of the victim. On June 21, 2021, I lost my husband to a violent death in our home and I lost my son who committed this crime.
"Hayden has struggled with mental health issues since he was 15 years old. My husband and I followed his treatment very closely. We went to every one of his psychiatry appointments and had our own visits with his therapist to gauge how we could help him. We all thought he had been improving.
"The day my husband was killed was 10 days after my son graduated high school … still very much a child. In his broken mind, he honestly thought he was being merciful to his father and he wanted to protect him from what he was planning."
That day,Hayden Jagst, then 18, shot his father, Edward, 48, in his sleep at their home in Brighton. Afterward, he walked past his 14-year-old sister Allison, who had heard the gunshots come from the basement, and told her their father was dead, to keep watching TV, and not to call the police.
Hayden Jagst, who was arrested the same day, was charged with first-degree murder, two counts of felony firearm, carrying a dangerous weapon with unlawful intent, and carrying a concealed weapon. He pleaded no contest to the concealed weapons charge, and guilty as charged to the other counts in October 2022.
After giving orders to his 14-year-old sister, Hayden Jagst left the home and apparently headed toward a psychiatry office in Novi where he intended "to kill as many people there as possible," prosecutors wrote in a court document.
When Hayden Jagst was arrested, police found a Ruger .22-caliber rifle and 380 rounds of ammunition.
Prosecutors argued in documents the teen's attack on his father, who was a Canton police officer, was not random, but part of a larger plan that began taking shape years before.
According to written arguments from prosecutors, in 2018, Jagst began writing of his admiration for mass murderers in a journal. He wrote about a 14-year-old Indiana boy who that year tried to attack a school, but died by his own hand after a police shootout.
"I pay my respects to this fallen soldier," Hayden Jagst wrote. "I which I knew (the boy). If that were the case we could both shoot up his school … or mine."
He also wrote in 2019: "If you kill yourself, no one remembers you. When you kill others, you will be forever remembered." In a separate journal entry, he wrote: "One thing's for sure, I better get some (explicative) news coverage after this."
Other entries include, according to prosecutors, "I only have two goals in life. One is to kill, the other is to die" and "I want revenge, revenge on humanity. The only way I can do that is mass murder."
In March 2019, he wrote that he tried to break into his father's gun safe to obtain weapons and ammunition to carry out an attack. He was unable to gain access, and wrote of considering taking a kitchen knife to Brighton High School, where he was a student, to kill people, especially girls.
In October 2019, he wrote of planning a trip to the Howell Dunham's store after he turned 18 to purchase a pump action shotgun or rifle. He also said he would shoot his father in his sleep and then attack a school, hospital or Planned Parenthood, according to prosecutors.
In June 2021, after turning 18, Hayden Jagst wrote that he expected to have a bullet through his head soon. He said in what was planned as suicide note that he was not crazy and hadn't "snapped."
https://www.livingstondaily.com/story/news/crime/2023/04/27/teen-killer-will-spend-40-60-years-in-prison-after-committing-patricide-in-brighton/70147115007/