Kristina Adkins was thirteen years old from Michigan when she would murder her Grandmother
According to court documents Kristina Adkins would steal her Grandfather's morphine pills and use them to poison and kill her Grandmother Virginia Bentley
Needless to say Kristina Adkins was caught pretty quick and would be charged as an adult for the murder
In the end Kristina Adkins would plead guilty to murder and be sentenced to life in prison with no chance of parole until 2037
Kristina Adkins Photos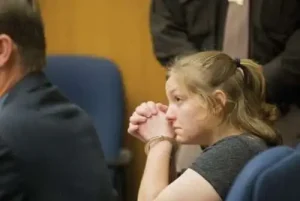 Kristina Adkins Now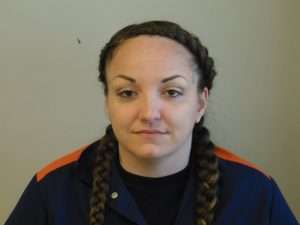 MDOC Number:
706987
SID Number:
3576977W
Name:
KRISTINA LYNN ADKINS
Racial Identification:
White
Gender:
Female
Hair:
Brown
Eyes:
Brown
Height:
5′ 3″
Weight:
168 lbs.
Date of Birth:
08/23/1992 (31)
Kristina Adkins FAQ
Where is Kristina Adkins now
Kristina Adkins is currently incarcerated at the Huron Valley Complex
When is Kristina Adkins release date
Kristina Adkins is serving a life sentence however she is eligible for parole in 2037
Kristina Adkins Sentencing
A 16-year-old girl who admitted poisoning her grandmother at their Addison-area home two years ago was taken to a women's prison Friday to begin a life sentence as an adult.
"I really am sorry. I can sit here and tell you I'm sorry over and over again and it won't make any difference," a tearful Kristina Adkins said at her sentencing hearing in Lenawee County Probate Court. "I not only took someone from you that you loved, but someone I loved," she said to family and friends in the courtroom.
Kristina Adkins pleaded guilty to second-degree murder three weeks ago in the same courtroom. She said she intended to kill her grandmother, 53-year-old Virginia Bentley, by slipping her grandfather's morphine pills into capsules of Bentley's medication. She died at her Rollin Township home on Aug. 1, 2006.
The life prison term handed down by Judge Margaret M.S. Noe was a stronger punishment than Ireland "Buzz" Bentley?Jr. said he expected his step-granddaughter to receive.
"I think what the court did was right," Buzz Bentley said. But nothing can make up for the loss, he added.
"No matter what they give her, my wife got a worse sentence," he said. "They say there's going to be closure at the end of this, but I don't feel any closure. I still don't have my wife."
Why Kristina Adkins would kill the woman who raised her since she was an infant remains unclear.
"Nobody knows but her," said Buzz Bentley. The only conflict he knew of at the time was his wife's plan to homeschool Adkins and her older sister because of behavior problems they were having.
"Things are not like they seem to be, that's all I can say," said Doris Dupuie, Virginia Bentley's mother and Kristina's great-grandmother.
Dupuie said she has been visiting Kristina Adkins regularly at the Maurice Spear Campus since she was charged in December with murder. They were not allowed to discuss the case during the visits, however, and Dupuie said she does not understand why Kristina would do what she confessed to doing.
A letter Kristina Adkins sent her included a drawing of a heart with the name Virginia Bentley and the dates of her birth and death. She also drew a rose inside the heart, Dupuie said, and wrote next to it, "Please foregive me."
Dupuie said she had the drawing laminated and planned to place it Friday on her daughter's grave, she said, as Kristina Adkins asked in the letter.
"She wanted her mom, her grandmother, to know she didn't really mean it," Dupuie said.
Defense attorney Michael McFarland of Adrian said Kristina Adkins never gave a direct explanation for wanting to kill her grandmother.
"I think it was cumulative of her entire life experience," McFarland said.
At the sentence hearing, McFarland told the court that Kristina had a troubled childhood that included mental health problems and drug abuse by the time she was 13. McFarland said she also told psychologists about both mental and physical abuse in the Bentley home.
He said she initially intended to kill her grandmother with the morphine tablets but changed her plan to only keeping her ill and in bed by continuing to put morphine in her medicine.
"Kristina is not the same individual she was at the age of 13," McFarland told the court. "She has very deep sorrow, sincere sorrow I believe, for destroying their family."
McFarland argued she be sentenced as a juvenile or at least assigned to a juvenile facility to the age of 21 before serving any additional time in an adult prison.
"She wants to change her life. She wants to come out of the system a better person so she can give back," McFarland said.
Kristina told the court she is taking responsibility for what she did and is dealing with her drug problems.
"In the last 10 months, I'm not the same person I was in November 2007," she told Noe. "I know I have made things difficult for myself. But I'm not going to let that hold me back."
Buzz Bentley told the court he and his wife always put the two girls first in their lives since they took over raising them when Kristina was only 8 months old. He said his wife was strict because she wanted to protect the girls from bad influences.
"You see, Kristina, you grew up not caring about anyone else," he said.
"I personally don't think there is much help the court could give that would benefit you," he said. "I hope that, whatever the sentence is, you think of Ginny while you serve it. You not only took her life, you took mine."
Lenawee County Prosecutor Jonathan Poer asked the court for an adult sentence.
"While she may be a teenager, the result of her conduct is undeniable and permanent," Poer said. Society would not be protected if Kristina was placed in a juvenile facility, he said, adding that she told a probation officer she is not sure if she might kill again. Poer said that Kristina saw her grandmother in pain for several days from the morphine before increasing the dose to a fatal level.
Noe agreed the severity of the crime and the risk to society are too great for a sentence to a juvenile facility.
"She was your guardian, your grandmother, the person who raised you from 8 months of age, and you murdered her in a cold and calculated manner," Noe told Kristina. The lives of all in her family are forever distorted by the killing, she said.
There is no evidence to support claims she was abused, Noe said, and described the complaints as similar to those often made by children against those who discipline them.
"I believe you have probably embarked on major changes in your life," Noe told her. But she said Kristina showed no willingness to improve her behavior problems until after she was charged with the murder and placed in the county juvenile facility.
Noe urged Kristina to continue her education and treatment for mental health and drug problems while in prison to prepare for parole review in the future.
https://www.lenconnect.com/article/20081101/NEWS/311019982