Lyle May was sentenced to death by the State of North Carolina for a double murder
According to court documents Lyle May would stab to death Valerie Sue Riddle, 24, before stabbing to death her four year old son Mark Laird Jr
Lyle May would be arrested, convicted and sentenced to death
Lyle May Photos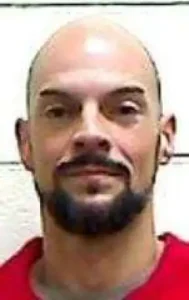 Lyle May Now
LYLE C MAY
Offender Number:
0580028
Inmate Status:
ACTIVE
Gender:
MALE
Race:
WHITE
Ethnic Group:
NOT HISPANIC/LATINO
Birth Date:
02/16/1978
Age:
45
Current Location:
CENTRAL PRISON
Lyle May Case
On 8 July 1997, Diane Boussois was at her home in Asheville.   Her son, Darrell Godfrey, was entertaining guests.   These guests included defendant in this case, Lyle Clinton May, and the victims in this case, Valeri Sue Riddle and her four-year-old son, Kelley Mark Laird.   The next morning, 9 July 1997, Ms. Boussois left home and saw Valeri Riddle, Mark Laird, and Darrell Godfrey up and awake.   When Ms. Boussois returned home around 11:30 p.m., the house was empty, but she found a red liquid on the floor which she later learned was blood.
In the early morning hours of 10 July 1997, the Asheville Police found the dead bodies of Valeri Riddle and Mark Laird on a pull-off area on the Blue Ridge Parkway.   The police found at the Parkway scene a variety of personal items, including a Swiss army knife with a broken blade.   They also found a larger knife 2.3 miles from the Parkway scene.
Near the time that the police discovered the bodies of the victims, they also located defendant outside a restaurant in Asheville.   Asheville Police Officer Darren Moore saw defendant in the parking lot and noticed that he had blood on his shirt, socks, and shoes, and cuts on his arms.   The police later found that some of this blood came from the victims.   After confronting defendant, Officer Moore arrested him without incident and took him to the police station.   There, during a police interview, defendant confessed.   In addition to an oral confession, defendant gave a confession in his own handwriting.   In that written statement, he confessed that he had stabbed Valeri Riddle to death because she "got on [his and Godfrey's] nerves."   He also wrote that he had killed Mark Laird because he "did not want to see the kid crying or having the memory of his mom getting killed."   He then described how he had disposed of the bodies and how Godfrey had "watched both killings and went along willingly for the ride."
The police also found significant physical evidence indicating defendant's guilt.   That evidence included DNA from both victims on defendant's socks and shorts and defendant's DNA on the pillowcase from Ms. Boussois' home, where the murders had occurred.   A box of matches found on defendant at the time of his arrest was of the same kind as matches found near the victims' bodies.   The police also found defendant's bloody fingerprint on the trunk of Valeri Riddle's car.
The autopsy report showed that Valeri Riddle had been stabbed multiple times.   She had suffered blunt-force injuries that fractured her skull, and her neck had been broken.   Mark Laird had been stabbed and beaten.   His blunt-force injuries were likely made by a heavy, cylindrical object like a pipe or baseball bat.
https://caselaw.findlaw.com/court/nc-supreme-court/1216341.html