Max Payne Executed For Braxton Brown Murder
Max Payne was executed by the State of Alabama for the murder of Braxton Brown
According to court documents Max Payne would rob a grocery store and in the process would fatally shoot owner Braxton Brown
Max Payne would be arrested, convicted and sentenced to death
Max Payne would be executed by lethal injection on October 8 2009
Max Payne Photos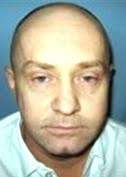 Max Payne FAQ
When Was Max Payne Executed
Max Payne was executed on October 8 2009
Max Payne Case
Alabama death row inmate Max Payne was executed by lethal injection Thursday for the 1992 kidnapping, robbery and killing of Cullman store owner Braxton Brown.
Payne, 38, died at 6:25 p.m. as his two sisters and other relatives wept quietly in the witness viewing room. Payne made a hand sign that means "I love you" to his relatives before losing consciousness. Asked if he had any last words, Payne said, "I just want to tell my family I love them."
The heavyset, balding Payne, strapped to a gurney in the execution chamber, made his last statement after warden Grantt Culliver read the execution order issued by the Alabama Supreme Court. Once the lethal injection began, Payne gestured to family members and spoke quietly with prison chaplain Chris Summers, who was standing a few feet away. At one point Summers grabbed Payne's hand and patted him on the knee. Payne closed his eyes, pinched his lips and seemed to take a deep breath. Then he was still. His sisters, Wilma Easterling and Evelyn Schrimser, cried quietly as they watched from the witness room. They did not talk to news reporters.
One witness, Douglas Price, who prison officials described as a friend of Payne's, released a handwritten statement through prisons spokesman Brian Corbett. In it, Price complained that Payne was not able to donate his organs after his death. "It is like he said today at our last visit, 'Do you think people would care where a heart came from if their child is dying?'" Price said in the statement. Corbett said he's not sure why Payne was unable to donate organs. "It's not a prison issue, it's a medical issue," Corbett said.
No relatives of the victim attended the execution. Payne had been held since Tuesday in a cell just a short walk from the execution chamber.
He was convicted of kidnapping the 58-year-old Brown from his store at gunpoint on March 23, 1992, and taking Brown to a bridge over Crooked Creek in a rural area near West Point. Brown was shot there and his body dumped in the waters below. Assistant Alabama Attorney General Clay Crenshaw said Thursday that no motions to stop the execution had been filed.
An attorney for Payne, Bruce Nestor of Minneapolis, said earlier that Payne had exhausted his appeals and he did not plan to file any last-minute motions to halt the proceedings.
Payne spent Thursday visiting with about a dozen friends, family members and religious advisers in a visitation yard at the prison. For his last meal about 3:30 p.m., Payne had a turkey sandwich with tomatoes and mayonnaise, potato salad and cake, Corbett said.
The condemned inmate gave away his few possessions. He left a rosary necklace, a watch, a white cap and some photos to Easterling; two Bibles, some photos and drawings of family members to a friend, Claudia Wheatley; and his television to death row inmate Calvin Stallworth.
Gov. Bob Riley's press secretary, Todd Stacy, said the governor received letters asking him to commute Payne's death sentence. Stacy said the governor responded to the letters, but took no action to stop the execution. In his earlier appeals, Payne claimed another man shot Brown and asserted that the court-appointed attorney at his trial was ineffective. His pleadings were rejected by state and federal courts.
Len Brooks, who was the Cullman County district attorney at the time, called Brown's killing "a cold, callous, senseless crime." Brooks said the kidnapping and shooting of the store owner shocked the close-knit, rural West Point community in northwest Cullman County.
Payne's lethal injection brings Alabama's 2009 execution total to six, the most in a single year in the state since the U.S. Supreme Court allowed capital punishment to resume in the 1970s. Until now, the most in a single year was four, in 2005, 2000 and 1989.
http://www.montgomeryadvertiser.com/article/20091009/NEWS02/910090303/Inmate+put+to+death+for+1992+murder