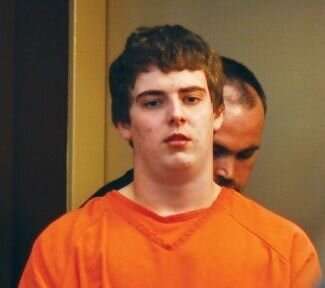 Devon Moore was a sixteen year old teen killer from Washington State who would murder his father
According to court documents Devon Moore would wait for his father, Tim Moore, to go to bed and once he was asleep Devon would shoot him four times in the back of the head. Devon would then put his fathers body into a trash can, drug him out to a vehicle and would drive to a remote location where he would dispose of the body
Devon Moore would be arrested, plead guilty and would be sentenced to 380 months in prison followed by three years of supervision
Devon Moore Now
Devon Moore Case
Following one and one-half years of court proceedings, Devon Moore, now 18, was given the maximum sentence for the 2010 murder of his father.
Judge Michael Sullivan sentenced Mr. Moore to 380 months and he will serve 31 years in prison, followed by 36 months of community custody. Further information is contained in the sentence memorandum submitted to the court on behalf of the Pacific County Prosecutor's Office.
Devon Moore pleaded guilty in October to first degree murder domestic violence and murdering his father, Timothy Moore, on November 2, 2010. Moore, who was 16 years old at the time of the shooting, had gone into his father's room as he slept and shot him four times in the back of the head. Moore then placed his father into a garbage can, drug him into the bed of a pickup truck and took his body to a remote area in Pacific County where he buried his father in a shallow grave.
Woodcutters discovered the remains in early April, 2011. Moore had been missing for five months. Due to the serious nature of the charge, Devon was charged as an adult.
Moore claimed a mental health defense, and the case was delayed for an evaluation at Western State Hospital.
Devon Moore News
Devon R. Moore pleaded guilty on Monday, Oct. 29, to first-degree murder in the 2010 slaying of his father, Timothy Moore of South Bend.
Devon Moore, 18, could face up to 380 months in prison when he is sentenced on Nov. 15. The prison term is part of a plea agreement that includes a maximum sentence for first-degree murder plus an additional five years for using a firearm.
Pacific County Prosecutor David Burke said the family of Tim Moore agreed with the terms of the plea deal. "We've had long conversations with the family over a number of months," he said. "They are interested in closure, and they are in agreement with what we are doing here today."
During Tuesday's hearing Judge Michael Sullivan carefully reviewed each point of the plea agreement with a taciturn Moore. He sat motionless and answered most questions in a monotone "yes" or "no."
When asked to enter a plea to the charge of murder in the first degree, domestic violence, with firearm enhancement Moore's voice dropped somewhat for his reply, "Guilty, your honor."
Tim Moore was reported missing in November 2010.
Prosecutors say Devon Moore shot his sleeping father to death on Nov. 2, 2010, dumped his body into a garbage can, loaded it onto a truck, drove into the woods south of South Bend and buried the body in a shallow grave.
Police searched the Moore residence in January 2011, and suspicion that Devon Moore was involved grew.
Woodcutters found remains in early April 2011, and they were identified as Tim Moore soon after. Police arrested Devon Moore at South Bend High School on April 13, 2011.
According to court documents, Devon Moore initially denied killing his father, but eventually confessed that he shot him with a .22 bolt-action rifle. He said in the police interview that an argument with his father over driving privileges preceded the killing and that Tim Moore had choked him. He told police that Tim Moore had hit him fairly regularly since he was 8 years old.
Burke noted in a press release that Dr. Ray Hendrickson, and his team from Western State Hospital, "worked under difficult conditions to rebut Moore's assertion that he suffered from post-traumatic stress disorder." Burke added that "there was no credible evidence to support the conclusion that Moore suffered from any disorder."
Moore's trial had been delayed several times since he was charged in 2011; his trial was scheduled to begin on Nov. 5.
https://www.chinookobserver.com/news/teen-pleads-guilty-to-murdering-dad/article_910fd634-87d8-59ec-a4af-935276c1b076.html