John Fautenberry Executed For Joseph Daron Murder
John Fautenberry was a serial killer who was executed by the State of Ohio for the murder of Joseph Daron
According to court documents John Fautenberry was picked up hitchhiking by Joseph Daron. When the vehicle would stop Fautenberry would fatally shoot Daron before robbing him of his credit cards and vehicle
John Fautenberry would be arrested, convicted and sentenced to death
John Fautenberry would be executed by lethal injection on July 14 2009
John Fautenberry would be convicted of multiple murders in different States
John Fautenberry Photos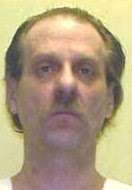 John Fautenberry FAQ
When Was John Fautenberry Executed
John Fautenberry was executed on July 14 2009
John Fautenberry Case
utside the cramped, dimly lit Death House on Tuesday, an undertaker sat in a black hearse, parked inside the barbed wire fence at Southern Ohio Correctional Facility. Less than an hour later, the 46-year-old body of serial killer John Fautenberry was wheeled out – executed by the state of Ohio.
The former truck driver-turned-drifter confessed to killing five people including Joseph Daron Jr., 46, of Milford. Daron's 23-year-old daughter decided not to witness the execution, but said she was happy to see her father's murderer loaded into the hearse. Rachel Daron and her mother, Sandy Bronner, both of Amelia, watched from a prison visitors' room. "I'm just glad this is finally over," said Rachel, who was 4 when her father was fatally shot twice in the chest by the hitchhiker on
In the 10 years since executions resumed in Ohio, Fautenberry was just the third of 30 killers who chose not to make a final statement.
Rachel Daron said she wasn't disappointed that Fautenberry didn't make a statement "because I know he's not sorry. He didn't care. Even if he did (make a statement) it's not going to bring my dad back or any of the other victims back. I just saw him go to the hearse and that was good enough for me." Rachel said she doesn't remember much about her father. "He liked to drink coffee. I never really got to know him. He was stolen from me."
It took about 31 minutes from the time prison staff began hooking Fautenberry to intravenous tubes to when he was pronounced dead at 10:37 a.m. Three IV drugs knocked him out, stopped his breathing and his heart. The injection of lethal fluids took about 13 minutes.
Fautenberry wore navy blue pants with orange stripes. His head was shaved and he wore black eyeglasses, black boots and a white T-shirt. Twenty eyewitnesses, including family of victims, defense attorneys, a prosecutor, pastor, news reporters and prison workers, witnesses the execution. Seven prison officers who volunteered for the duty, and the warden, oversaw his execution. Fautenberry died silently without looking up. Andrea Carson, a prison spokeswoman, said Fautenberry asked for and got some sedatives Monday night and Tuesday. He appeared very calm before the injection.
Fautenberry arrived at Southern Ohio Correctional Facility shortly before 10 a.m. Monday. His last "special meal" included two sunny side-up eggs, fried bologna, toast with butter and jelly, four slices of tomato, fried potatoes, two Three Musketeer bars and two packs of Reese's Cups.
Fautenberry was hitchhiking near I-275 and I-71 when Daron picked him up on his way to work. After shooting Daron, Fautenberry stole his car, cash and credit cards before tossing the body into the Ohio River. Carson said Fautenberry was offered a chance to telephone his sister in Oregon on Monday afternoon, but turned it down.
Defense Attorney Dennis Sipe of Marietta lost a last-minute appeal to the U.S. Supreme Court on Monday that Fautenberry suffered brain injuries as a child and in the Navy. Sipe said two life sentences for Fautenberry was more than enough punishment. Revenge was provided to the families of victims, he said after witnessing the execution with two public defenders. "No, I don't think justice has been served."
Over a five-month period in late 1990 and early 1991, the former trucker killed five people in four states. Fautenberry was convicted of the stabbing death of an Alaska miner and the slaying of a New Jersey truck driver, and confessed to the deaths of two people in Oregon. He received a 99-year-sentence in the Alaska case and a life sentence in the New Jersey murder.
Oregon did not charge him in the Portland-area killings because authorities there decided to let Ohio prosecutors take the lead. He fatally shot a retired truck driver who went target shooting with him in Oregon. He shot a former girlfriend in the head in Portland, Ore., after luring her into the woods.
http://news.cincinnati.com/article/20090714/NEWS0107/307140008