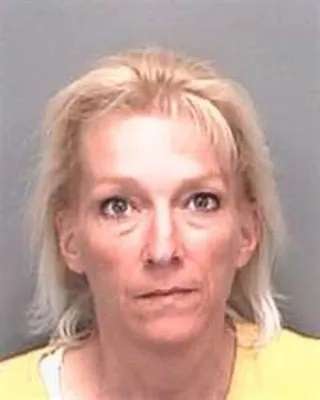 Kristen Gilbert is a serial killer from Massachusetts who would be convicted of four murders however suspected of many mores
According to court documents Kristen Gilbert was working as a nurse at a VA hospital in Northampton Massachusetts where a high number of deaths were occuring on her shift. Authorities would later state that Gilbert would inject adrenaline into the patients which would cause them to have a heart attack and then she would be part of the team to resuscitate the patient. Authorities believe she was attempting to prove how competent a nurse she was
In the end Kristen Gilbert would be charged with four murders and would later be convicted of all four and would be sentenced to four consecutive life terms without parole
Kristen Gilbert Now
Name: KRISTEN GILBERT
Register Number: 90371-038
Age: 55
Race: White
Sex: Female
Release Date: LIFE
Located At: FMC Carswell
Kristen Gilbert Case
"There was a coldness in Ward C," the prosecutor began his wintry tale of white-coated murder this week.
"It was a deep, eerie, unsettling feeling that something terribly, terribly wrong was happening," the prosecutor, Assistant United States Attorney William M. Welch II, went on. Patients were succumbing to sudden cardiac arrest at an alarming rate, a suspicious rate. Finally, he said, in February 1996, "three registered nurses came forward to report a patient's, a health care professional's, a hospital's worst nightmare: there was a killer amongst them."
That killer, prosecutors say, was Kristen Gilbert, 33, a former nurse, who is on trial in federal court here, accused of killing four patients and trying to kill three others by injecting them with epinephrine, a stimulant that can cause heart failure.
Massachusetts is one of 12 states without the death penalty, but in a rare jurisdictional twist, Ms. Gilbert's is a capital case nonetheless, the first since the state's death penalty was overturned in 1984. Because the deaths were on federal property, at the Veterans Affairs Medical Center in Northampton, Mass., the case is being tried in federal court. So prosecutors can, and say they will, seek the death penalty.
If they succeed, Ms. Gilbert will be the first woman executed by the federal government since 1953, when Bonnie Brown Heady, a convicted murderer, was gassed to death in Missouri and Ethel Rosenberg was executed for espionage. And Ms. Gilbert would be the first Massachusetts defendant executed since 1947.
The prosecution's success, however, is far from assured.
In a nearly two-hour opening argument today, the defense lawyer, David P. Hoose, emphasized that no one had seen Kristen Gilbert inject the patients. He said that they were all extremely sick and that the prosecution's claim that epinephrine was found in the exhumed bodies of patients was based on shoddy science.
The case is really about "an investigation that started with a conclusion and then worked backwards to fill in the gaps," Mr. Hoose said. "And the proposition they started with was that people were injected with epinephrine, and Kristen Gilbert did it."
The investigators are not the first to make such dark assertions in a medical case. Last year, Orville Lynn Majors, a nurse, was convicted of giving lethal injections to six patients in a western Indiana hospital, and was sentenced to 360 years in prison. This fall, a federal judge on Long Island sentenced Michael J. Swango, a former doctor, to three consecutive life sentences for similar murders.
As the prosecution tells it, Ms. Gilbert first came under scrutiny because colleagues on Ward C, which housed an intensive care unit and chronic patients, noticed that people seemed more likely to die when she was around. They also noticed, the prosecution says, an apparent shortfall in epinephrine, normally used to counteract allergic reactions to medication or bee stings.
Mr. Welch said Ms. Gilbert reveled in the excitement of emergency calls, so she created emergencies by injecting patients with epinephrine.
She had a particular reason to crave that spotlight, he said. She began an affair in late 1995 with one of the hospital's security police, James Perrault, who was summoned to help whenever an emergency call was made. Colleagues observed her flirting with Mr. Perrault in the emergencies, Mr. Welch said.
In one case, he contended, Kristen Gilbert killed a patient simply to empty the intensive care unit so she could leave early for a date. Mr. Welch also said Ms. Gilbert had confessed to Mr. Perrault, who would testify, he said, that she told him in a phone conversation: "I did it. You wanted to know. I killed all those guys by injection."
The defense does not deny that Kristen Gilbert had an affair with Mr. Perrault. Rather, Mr. Hoose, the defense lawyer, portrayed the affair as the source of many of her troubles. The close-knit staff on Ward C gossiped about her, he said, and after she moved out of her house and began divorce proceedings, she was increasingly ostracized.
Moreover, by the spring of 1996, he said, she had been injured and lost her job, she had health problems, her relationship with Mr. Perrault had turned stormy and the stress was breaking her. By summer, she was in a psychiatric hospital, tormented, he argued, by the investigation itself rather than by any crime she had committed.
When she told Mr. Perrault she had killed the patients, he said, she was being angry and provocative, but not actually confessing. As for the missing epinephrine, Mr. Hoose said, "No one knew how much epinephrine was missing, if any." He also said that two nurses with drug problems may have been involved in its disappearance.
Mr. Hoose also tried to neutralize the prosecution's claim that other nurses had twice found broken containers of epinephrine in needle-disposal buckets soon after emergency calls involving Kristen Gilbert. The prosecution has not produced those containers, he said, asking, "Where are they?"
Then there is the science. Mr. Hoose said the toxicologist who is expected to testify about the presence of epinephrine in two bodies invented a process "in order to find what he wanted to find." The prosecution maintains that the analysis of the remains was valid, and that it clearly indicated abnormal amounts of epinephrine, particularly in two patients who were not given epinephrine as part of their treatment.
"This is largely going to come down to a battle of scientific experts," Mr. Hoose said, asking the jury not to convict "unless the science is sound, reliable science."
Testimony early this week focused on the first of the seven patients, and included a nurse's description of hearing the patient cry out, while Ms. Gilbert was in his room: "Stop! Stop! You're killing me!" But the nurse also said the patient was a frequent loud complainer.
Even more dramatic testimony from another nurse is expected. Mr. Welch described a pivotal moment on Feb. 15, 1996, when a colleague, Kathy Rix, had begun to suspect foul play connected with the epinephrine. On that day, Ms. Rix counted three containers in the intensive care unit's medicine cabinet at 4 p.m.; an hour later, after an emergency call that involved Kristen Gilbert, she counted again and found none, and then saw three broken containers in the needle disposal bucket.
"She felt sick to her stomach and her knees about buckled," Mr. Welch said, "because she now knew what had been happening on Ward C."
Kristen Gilbert Videos