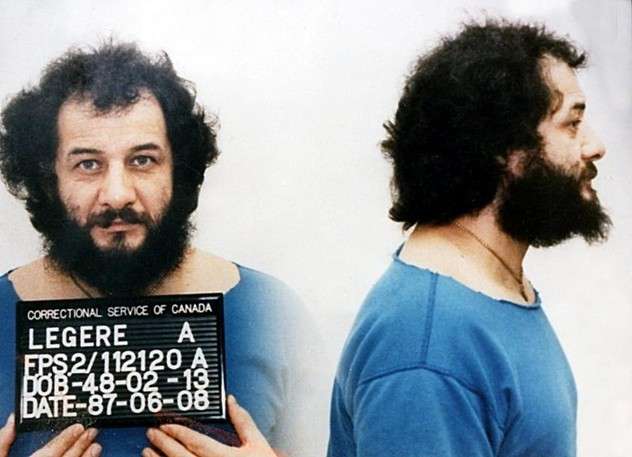 Allan Legere is a Canadian serial killer who would be convicted of five murders. Legere is known as the Monster of the Miramichi
According to court documents Allan Legere and two accomplices Todd Matchett and Scott Curtis would rob a store where they would attack John and Mary Glendenning. John Glendenning would die from his injuries. The three would be arrested and convicted of murder at trial
While serving his prison sentence Allan Legere would escape when he was taken to an outside hospital for medical treatment
During his time on the run Allan Legere would murder Annie Flam (May 29, 1989), Linda and Donna Daughney (October 13, 1989) and Father James Smith (November 16, 1989)
Allan Legere would be arrested, convicted and sentenced to life in prison with no chance of parole for twenty five years. Legere was eligible for parole in January 2015
Allan Legere Videos
Allan Legere Case
A parole board rejected Allan Legere's request for supervised release Wednesday.
Legere, who has been called the "Monster of the Miramichi," was convicted of murder, rape and arson in the early 1990s after he escaped from custody while serving a life sentence for murder. He terrorized the Miramichi community and killed four people over the course of seven months.
"Your risk is not manageable," parole board member Delaine Dew said as she delivered the decision. "The victim harm is still felt to this day and you have a number of outstanding issues."
Allan Legere appeared at the virtual hearing from Edmonton, where he's being held at a maximum security prison. He answered questions at length for close to four hours, saying he doesn't understand why the community can't forgive him.
He said he's a "different man now," but denied killing two of the four people he was found guilty of killing.
Legere's parole officer Mercedes Garcia told the hearing his case management team did not support giving Legere day or full parole. She said his participation in some rehabilitation programs has not translated to responsibility.
Allan Legere shows "limited insight into his offences," she said, and is on a waiting list for a high-intensity sex-offender program.
Allan Legere escaped custody in May 1989 while serving time in Renous prison for the murder of shopkeeper John Glendenning and the beating of Glendenning's wife, Mary.
Legere killed Chatham storeowner Annie Flam, 75, in her home 25 days after the escape. He killed sisters Donna and Linda Daughney, 45 and 41, in their Newcastle home five months later, then Rev. James Smith, a 69-year-old Catholic priest, in his Chatham Head rectory five weeks after that.
Community members recall sleeping with guns under their pillows, opening their doors with guns in their hands and installing light poles around their properties to illuminate their yards at night and reveal anyone hiding in the shadows.
Legere appeared at the parole hearing by video link from the Edmonton prison where he's being held.
The board members, Amy Agar and Dew, asked Legere questions. He provided rambling answers, sometimes speaking for 10 to 15 minutes after a yes or no question.
He was asked repeatedly to keep his answers short or to come back to the topic at hand. Even before the hearing started, he often interrupted the hearing officer, extending a routine list of checklist questions to almost an hour.
When asked if he considers himself a violent person, Legere said no.
When asked if he considers himself a sexual offender, Legere said no. Board member Agar said the information on his file speaks to more severe violence and deaths than what he's saying he's responsible for.
Dew asked if he's reminded in any way of the pain and the suffering people felt as a result of his actions. Legere said "Yes, I understand that part," but the one thing he doesn't understand is "why they can't forgive me, why they can't forget."
A board member asked Leger if he takes responsibility for causing the deaths of the four victims slain while he was a fugitive.
"I was present, but I wasn't the only one," he said. "I was found guilty but they don't have it right."
Legere denied killing two of the four victims and blamed an accomplice. Legere was one of the first people in Canada to be convicted based on DNA evidence.
Agar said Legere's files speak to antisocial and narcissistic disorder and obsessive compulsive personality disorder, and he scores high on the psychopathy checklist, a result connected to high rates of recidivism.
When asked about his sexual violence tendencies, Legere said female prison employees aren't afraid of him.
"I'm not like that," he said,
Agar said that contrary to what Legere was saying, there have been issues with female staff, including his fixation on some staff to whom he's sent poetry and handmade cards.
"It seems you do have issues," she said.
When giving the board's decision Dew said Legere remains "an untreated sexual offender and violent offender."
"This is about risk and public safety and when we make a decision the board needs to consider everything in your file, the positives and the negatives, and weigh everything out," Dew says.
At the media briefing, parole board spokesperson Paula Vargas said because Legere is serving a life sentence, he will be supervised by correctional officers for the rest of his life, no matter what the board decides.
"Life means life whether the offender is incarcerated or supervised in the community," she said.
To make their decision, board members had to consider the past, including Legere's criminal history, and the present, including treatment, insights he has gained and how he has behaved institutionally.
The board also had to consider the future, including Legere's release plan, what supports he would have, and how his risk would be managed in the community.
Legere will turn 73 in February. He was entitled to apply for parole after serving 25 years.
He's been eligible for day parole since November 2012 and for full parole since November 2015. The verdict was handed down in 1991.
https://www.cbc.ca/news/canada/new-brunswick/allan-legere-monster-of-the-miramichi-parole-1.5871123