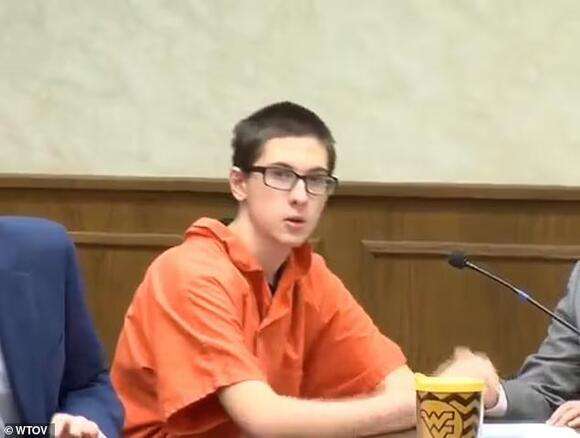 Connor Crowe was a thirteen year old teen killer who would murder his mother and sister in West Virginia
According to court documents thirteen year old Connor Crowe would shoot his fifteen year old sister Madison Crowe multiple times in the chest and would then shoot his mother Melissa Rowland multiples times. Connor would run out of the house saying an armed intruder had shot his mother and sister.
Needless to say no one believed his story and Connor Crowe would be arrested. Connor would later plead guilty to two counts of second degree murder and would receive a forty year sentence for each murder which has to be served consecutively
Connor Crowe Videos
Connor Crowe Case
A teenager in West Virginia was recently sentenced to spend 80 years in prison for the admitted murders of his mother and sister.
Connor Crowe, 16, pleaded guilty in November 2022 to two charges of murder in the second degree over the September 2020 slayings that took the life of his 15-year-old sister and his mother, Melissa Rowland, 39, at the family's home on Ardmore Avenue in New Cumberland – a tiny town west of Pittsburgh, Pennsylvania.
On the day in question, Connor Crowe fired several rounds into the chest and torso of each victim, according to The Weirton Daily Times.
After the matricidal and sororicidal attack, the defendant ran out of his house screaming that a stranger had come inside and killed his family, the paper reports, citing Prosecuting Attorney Steven Dragisich. Then, Crowe told a neighbor he shot the stranger in the shoulder – producing the gun from his pajamas. The bullet fragments and shell casings at the crime scene matched the gun Crowe showed his neighbor. The teen was covered in gunshot residue. Police also said there was no evidence of forced entry into the residence or anyone fleeing the premises.
Connor Crowe was 13 at the time.
"I'm cognizant of the fact he was 13 years of age, but my job and my duty as the prosecutor of this county is to protect the public and hold people accountable for their actions," Dragisich told Circuit Judge Jason Cuomo after the boy pleaded guilty. "So, we will be seeking the maximum penalty allowable by law, a 40-year sentence for each offense, which would be a total of 80 years."
Crowe was reportedly unsure about waiving his rights during his plea hearing – twice prompting the judge to pause the proceedings.
"There was a long hesitation there, and every time that happens to me it puts me on my heels," the judge reportedly said. "I don't want anybody to plead guilty who is hesitant to any degree — I would rather have every defendant (go to) trial in front of me, all the time. I'll give you another shot … what is the hesitancy?"
After conferring with his attorney and a bit more back-and-forth between the court and attorneys involved, Crowe accepted culpability.
The judge accepted the plea in the end, warning the defendant that he could have tried his luck with a jury giving him a lesser sentence.
And, in motions, Crowe asked the court for exactly that.
Cuomo was not receptive to the request.
"You're asking this court for something less than the maximum so that you can make something of yourself," the judge said in comments reported by Wheeling, West Virginia-based ABC/CBS/MyNetworkTV affiliate WTRF. "That's what you're asking. That's what you have said in the file. Your sister would have graduated high school I think about a week or two ago. She'll never get that opportunity. She'll never get to go to college. She'll never get to walk down the aisle and get married and have kids of her own. You took that from her. You gave her no opportunity to make something of herself but you're asking me to do that to you."
Just as the state requested, Crowe was sentenced to the maximum of 40 years in prison for each murder. Cuomo ruled that the sentences would be served consecutively or one after the other.
"It's my duty to protect the public and keep everybody safe and the most effective way to do that was for him to be sentenced to the maximum amount," the prosecutor said, according to WTRF. "And I'm satisfied the judge saw it the same way."
He faced a minimum sentence of 10 years for each killing.
No motive for the violence has ever been revealed.
"Yeah, no terrific explanation, and I don't think we'll really understand why," Dragisich said last year, after the plea hearing, in comments reported by Steubenville, Ohio-based Fox affiliate WTOV.
When Connor Crowe turns 18, he will be transferred to an adult facility. A separate hearing will occur at that time to determine where he goes.
He will be eligible for parole after 15 years behind bars.