Gavin Smith was a sixteen year old from West Virginia who would murder four members of his family
According to court documents Gavin Smith would fatally shoot Risa Mae Saunders, 39, Daniel Dale Long, 37, Gage Ripley, 12, and Jameson Long, 3. Smith would tell police that he was tired of being home schooled as well as his parents kept the doors and fridges padlocked
Gavin Smith would be arrested and later convicted of three counts of first degree murder and one count of second degree murder. Smith would be sentenced to multiple life terms however is eligible for parole after fifteen years
Gavin Smith Now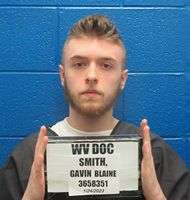 Offender ID (OID) Number: 3658351
Name: Smith, Gavin Blaine
Sex: Male
Birth Date: 5/17/2004
Height: 5′ 10″
Weight: 190 lbs.
Race: White
Location: MOCC
Gavin Smith Videos
Gavin Smith Case
A judge on Tuesday handed down three life sentences for a teen convicted of killing four family members in December of 2020.
In December of 2022, Gavin Smith was found guilty on all charges, which included three counts of first-degree murder, one count of second-degree murder, and one count of using a firearm during the commission of a felony.
"I never expected my life to be in such turmoil at this stage of my life. No one knows what life brings and the situation surrounding this horrific murder was unimaginable. Nothing could prepare me for the sorrow and hurt inflicted on me and my family by this incident," said Doug Long, father of one of the murder victims.
For each count of first-degree murder, Smith received life sentences with mercy.
Judge Kenneth Ballard said he was only granting mercy in this case, because it is mandated by state law.
Smith is automatically eligible to see a parole board in 15 years because West Virginia law does not allow for juveniles to be sentenced to life in prison without mercy, even though Smith is now 18 and was tried as an adult.
For second-degree murder, Smith was sentenced to 40 years and for using a firearm during the commission of a felony, Smith will spend 10 years in prison.
"As the numbness took over my body I tried to comprehend how someone could have so much hatred to eliminate four people including his own flesh and blood in such a violent way and cowardly way especially the three year old Jameson who loved Gavin unconditionally," said Susan Long, mother of one of the murder victims.
In December 2020, Smith's family members were found dead by another relative at a home on Cemetery Hill Drive in Elkview.
Gavin Smith was 16 at the time his mother, stepfather and two siblings were murdered, investigators say.
According to a Kanawha County Circuit Court order, after the murders, Smith was found hiding behind a dresser in a third-floor room of a home along River Haven Road in Clendenin.
The victims were later identified as Daniel Dale Long, 37, Risa Mae Saunders, 39, Gage Ripley, 12, and Jameson Long, 3.
Long's parents spoke during the sentencing hearing, saying they adopted their son Daniel when he was 14 months old.
"As a parent you pray you never have to bury a child or grandchild," said Susan.
Both said their lives were torn apart after the murders, and asked for the harshest punishment.
"It is my opinion that his sentence should be harsh and severe, served to the maximum while allowed by law. Human life is a gift from God our creator. He and only He has a right to give life and to end it," said Doug.
Smith also spoke during the hearing, saying he apologized for his actions.
"I do regret this and if I could I would take it back because it is one of my deepest regrets," said Smith.
Judge Kenneth Ballard called the murders a heinous crime during the sentencing.
"You murdered your entire family in cold blood, Mr. Smith. You devised this plan to kill your family days and weeks in advance for the selfish reason of spending time with your girlfriend. You executed your mother and stepfather by shooting them in the head while they were asleep. Then you executed your two brothers by shooting them in the head. The youngest of which was hiding under his crib," said Ballard. "Your actions can only be described as an act of pure evil. I find that you have no remorse for your actions."
Rebecca Lynn Walker, 17, who was in a relationship with Smith at the time of the murders, took a plea agreement and pleaded guilty to four counts of accessory after the fact to first-degree murder.
https://www.wsaz.com/2023/01/17/teen-sentenced-life-murdering-4-family-members/