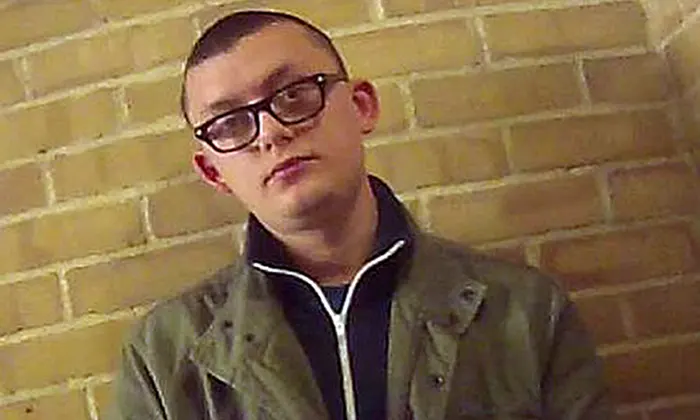 James Fairweather was a teen killer from Colchester Britain who wanted to be a serial killer and he would start killing when he was fifteen years old
According to court documents James Fairweather would attack James Attfield who was lying down in a park. The man would be stabbed over a hundred times causing his death. Three months later Fairweather would attack and murder Nahid Almanea who was stabbed repeatedly including in the eyes.
James Fairweather was arrested while he was planning to murder a third victim. Fairweather would tell police he wanted to be a serial killer and kill at least fifteen more people
James Fairweather would be convicted and would be sentenced to life in prison with no chance of parole for 27 years
James Fairweather Videos
James Fairweather Case
A 17-year-old boy who idolised the Yorkshire Ripper has been detained for at least 27 years for the "brutal and sadistic" murders of two strangers.
James Fairweather, who was 15 at the time, has been convicted of stabbing to death James Attfield in March 2014 before killing Nahid Almanea in the same way three months later.
James Fairweather stabbed 33-year-old Attfield 102 times as he lay drunk and helpless in a Colchester park. He then knifed Almanea, 31, in both eyes as she walked along a nature trail in the Greenstead area of the town on 17 June.
As he was sent down, he mouthed towards his parents: "I don't give a shit."
James Fairweather, who is being detained in a secure psychiatric hospital, was obsessed with Yorkshire Ripper, Peter Sutcliffe, and regarded the US serial killer Ted Bundy as his favourite murderer.
He had denied murder but admitted manslaughter on the grounds of diminished responsibility – claiming he was possessed by the devil and heard voices that compelled him to kill.
Jurors took eight and a half hours to unanimously find him guilty of both murders. Their verdict came after one expert said Fairweather's description of the hallucinations were like something plucked from a horror film.
Sentencing him, Mr Justice Spencer, sitting at the Old Bailey, told Fairweather he had "acted out … violent, sadistic fantasies fuelled by your obsession with serial killers".
He said Fairweather had been "immersed in that obsession for several months at least" and was "seeking to emulate others, such as Peter Sutcliffe, the Yorkshire Ripper".
James Fairweather carried out his first attack just three days after he had been handed a referral order for a knifepoint robbery on a shopkeeper. In the second attack he had deliberately knocked off Almanea's sunglasss to target her eyes as Sutcliffe had done with one of his victims.
The judge said: "I have no doubt the way James Attfield screamed in pain when he was stabbed through the eye had remained with you and excited you."
As well as autism, psychologists believed he had emerging psychopathic personality disorder, and he was responding well to treatment, the judge said: "It is too early to say how your emerging psychopathic personality disorder will develop".
Had he been an adult, James Fairweather could have faced a whole life sentence for the two murders carried out with a "substantial degree of premeditation" with "sadistic" features. The starting point would have been a minimum of 30 years, the judge said.
He sentenced him for each of the two offences of murder to be detained at Her Majesty's pleasure. "That is the same as a sentence of life imprisonment". He would serve a minimum term of 27 years – less the 339 days he has already spent on remand. "Thereafter it will be for the parole Board to decide when, if ever, you should be released. If you are ever released you will remain on licence for the rest of your life."
Fairweather was actively seeking a third victim when police arrested him in May last year. At the time, he was wearing gloves and was armed with a lock knife.
The teenager had described the murders with "chilling frankness" to police, the judge said.
The court heard how Fairweather had been playing the violent computer games Call Of Duty and Grand Theft Auto since he was 13. He owned a stash of horror films including Wrong Turn: The Carnage Collection, a DVD about Sutcliffe and a book called The World's Worst Crimes.
After the murders, Fairweather obsessively looked up press coverage about murders on the internet. The judge told him: "I have no doubt you relished the sense of power and control it gave you."
The murder of Attfield, a father of four who had suffered brain damage in a car crash four years earlier, was a "brutal, relentless and cowardly attack on a man lying on the ground incapable of defending himself".
Both killings, said the judge, showed elements of sadism. Superficial tip-of-knife wounds demonstrated "control inconsistent with your description of going into a rage".
The judge took into account that the murders were planned, the victims were vulnerable and that physical or mental suffering was inflicted before death. Almanea, a student from Saudi Arabia who was walking to the University of Essex campus at the time of the attack, was a lone woman and physically slight.
Spencer said the fact that Fairweather's autism was undiagnosed was not a defence. "Many people of all ages suffer from autism. It would be an unfair and unjustified slur on them to suggest that autism predisposes someone to commit acts of violence," he said.
The court had also heard that Fairweather had two previous convictions, one for robbery when he stole £30, cigars and a lighter from a shop, and another for criminal damage when he broke a window. He received a youth referral order for both.
Julie Finch, Attfield's mother, said in a victim impact statement that she has been unable to work since his murder and had lost her home. Immediately after Fairweather's conviction, she described him as a monster for murdering her son, who she said had already been through so much since his car accident.
Almanea's brother said her family "has been feeling such sadness and grief it is crippling us". Raed Almanea added: "My father always wonders why she was killed. My mother cries incessantly, her tears never dry. Life has become meaningless as far as we are concerned."
The murders terrorised the Essex town, with police estimating the bill for the investigation and public reassurance measures at £2.6m. About 3,000 personal alarms were handed out to those who felt vulnerable and officers were drafted in from neighbouring forces
https://www.theguardian.com/uk-news/2016/apr/29/james-fairweather-detained-27-years-colchester-essex-double-murder