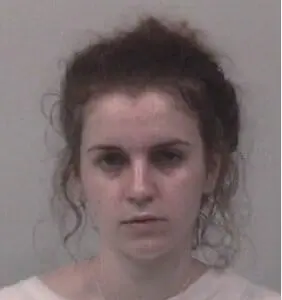 Morgan McDonald was a seventeen year old teen killer from North Carolina who would murder another teenager over a boy
According to court documents Morgan McDonald and Summer Waaga were both interested in the same young man. Soon the argument would escalate to violence and Morgan would stab Summer in the neck which would cause her death
Morgan McDonald would be arrested, convicted and sentenced to twenty five to thirty one years in prison
Morgan McDonald Now
MORGAN L MCDONALD
Offender Number:
1488550
Inmate Status:
ACTIVE
Gender:
FEMALE
Race:
WHITE
Ethnic Group:
NOT HISPANIC/LATINO
Birth Date:
05/21/1998
Age:
25
Current Location:
ANSON CI
Morgan McDonald Case
A 19-year-old Camden County woman was sentenced from 25 to 31 years in prison for the death of Summer Faith Waaga, who was 18 at the time of her murder.
According to officials, Morgan Lynn McDonald, 17 at the time, stabbed Waaga on March 13, 2016, in the neck, after confronting her at a sleepover at a home on Butler's Lane in the county.
News 3 spoke with a friend of both girls back in 2016 who was there when it all happened.
Wyatt Dail says he and Summer had spent the night with other friends at the house on Butlers Lane after watching movies.
The next morning, he says McDonald, whom he had previously dated, came to the house upset.
"Morgan comes in there and starts asking me all kinds of questions, asking me why I didn't go pick her up the other day and why I'm hanging out with Summer," said Dail.
At that point, the two girls started arguing.
"Morgan walks out of the room and goes in the room Summer's in, and then I heard some commotion so I got up to see what happened, and Summer comes up to me and she's just covered in blood, head to toe," Dail said.
Dail says he tried to get Summer in a car to get to the hospital but realized they weren't going to make it.
"The neighbors called the police. They were out on the porch. I looked around in her car to try to find something to stop the blood. I grabbed a t-shirt and she had a pretty bad cut or wound on her neck, so I tied it around there and I was pulling it as tight as I can, trying not to choke her," Dail said.
Police were called about an assault with a deadly weapon at 11:35 a.m.
When they arrived, they found Summer Waaga lying on the ground in front of a home with a knife in her neck.
A neighbor tried to perform CPR on the woman. She was later pronounced dead at the hospital.
McDonald was detained after fleeing the scene and heading toward Elizabeth City State University.
https://wtkr.com/2018/05/23/camden-co-woman-sentenced-to-decades-in-prison-for-stabbing-death-of-teen/