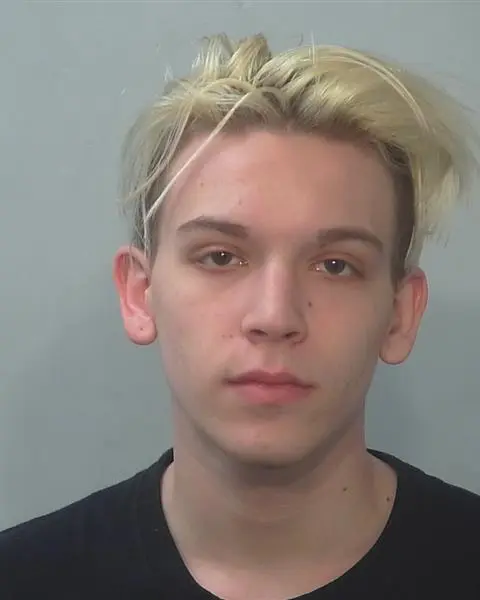 Tre Zwieg was a nineteen year old teen killer from Indiana who would murder two teenagers
According to court documents Tre Zwieg would invite two teenagers, 19-year-old Brendan Steave Cole of Fort Wayne and 16-year-old Juan Jose Ramirez Jr. of Ypsilanti, Michigan, to his home where he had told the two they were going to rob an abandoned home. Instead when the two teenagers would show up they would each be shot multiple times causing their deaths. Tre believed that one of the teenagers had screwed him over in a prior business deal
Tre Zwieg would be arrested, convicted and sentenced to 140 years in prison
Tre Zwieg Now
DOC Number
294010
First Name
TRE
Middle Name
M
Last Name
ZWIEG
Suffix
Date of Birth
05/2002
Gender
Male
Race
White
Facility/Location
Miami Correctional Level 3 Facility
Earliest Possible Release Date*
* Incarcerated individuals scheduled for release on a Monday, Tuesday or Wednesday are released on Monday. Incarcerated individuals scheduled for release on a Thursday, Friday, Saturday or Sunday are released on Thursday. Incarcerated individuals whose release date falls on a Holiday are released on the first working day prior to the Holiday.

12/07/2126
Tre Zwieg Case
A few days after two teenagers were found shot to death in a garage on Cumberland Avenue in December 2021, Tre Zwieg was charged with their deaths.
No motive for the shootings was given until Tuesday when Allen County Chief Deputy Prosecutor Tom Chaille said in opening arguments that Zwieg believed one of the victims, Brendan Cole, had cheated him on business deals.
Tre Zwieg was charged with two counts of murder, two counts of felony murder, burglary and using a firearm in the commission of an offense in the Dec. 3, 2021, homicide of Cole, 19, and Juan Jose Ramirez, 16. The victims worked with Zwieg at Arcos Restaurant, at the time located on East Dupont Road.
In their confusing living situations, Cole and Zwieg, then 19, both stayed with friends in apartments at The Summit in Ridgewood, a large apartment complex that backs up to Cumberland Avenue, part of a residential neighborhood off Spy Run Avenue, but both of them had a home base with their mothers.
The three apparently planned on burglarizing 741 Cumberland Ave. known in the neighborhood as "the haunted house," even though a woman named Kerry White had lived there since 2009. The would-be burglars believed the house was abandoned.
But Chaille said Zwieg "lured" the two friends there with the intention of shooting them. Cole was shot three times, in the back and the head; Ramirez, 16 times. In the garage where garden equipment could be seen in one crime scene photo, shell casings surrounded their bodies.
The teens were found lying on their backs with their feet to the door and ski masks, made from knit caps, on their heads.
The 9mm shell casings were a mix of ammunition that included TRN, PMC and Hornady guns, lead homicide detective Luke MacDonald wrote in the probable cause affidavit. That ammunition was tied to guns found at Zwieg's home, one gun later retrieved in a local river.
Another witness the prosecution will bring forward is a fellow inmate at the DeKalb County Jail. Both inmates had a family connection, Chaille said.
"He confided in an individual he shouldn't have confided in and basically confessed to details," Chaille told the jury.
Another likely witness will be Tre Zwieg's girlfriend who, after the deaths, was carefully instructed on what to say to police as she was the one who shuttled Zwieg between his mother's home and the apartment where he was staying, less than 300 feet away from the Cumberland home, Chaille said.
Tre Zwieg's attorney, Gregory Fumarolo, said some details don't make sense. One of the witnesses who reported hearing shots between 10 and 11 p.m. on Dec. 2 put the number of shots at 10, in two sequences. But the killer had to have shot around 25 rounds to match the number of gunshot wounds to the victims and shell casings found, Fumarolo said.
Police responded to the call for shots fired on Dec. 2, but found nothing untoward on Cumberland Avenue, according to testimony from Fort Wayne officer Joshua Franciscy. The bodies were discovered by White around 2:20 a.m. on Dec. 3 when she returned from her shift at Parkview Regional Medical Center. She investigated the garage after she noticed the light was on.
Fumarolo also said that there was no DNA to link the three teens.
Details presented by the prosecution are "speculation and innuendo that will be explained by statements by witnesses," Fumarolo predicted.
The families of the two victims and Zwieg were there Tuesday in numbers. The victims' families said Cole and Ramirez were friends from childhood, but no one knew Zwieg. Brendan was one of the older children of Ana Maria Nolasco Gomez and helped her immensely, watching the younger children when she went to work. Brendan was the one who kept the family together.
It was a tough day for both of the mothers. Shelly Ramirez could barely speak between her sobs as she took the witness stand to talk about her son. Cole's younger sister testified on her brother's behalf.
https://www.wane.com/news/crime/courts-accused-killer-in-double-homicide-believed-teen-cheated-him-in-business-deals-prosecutor-says/