Hawkin Groenendaal was an eighteen year old teen killer from Utah who would murder his adoptive father with an axe
According to court documents Hawkin Groenendaal was estranged from his family for months before the brutal murder. It was revealed for days before the murder Hawkin would stalk the family from a nearby construction site. Hawkin would go into the home and beat 59-year-old William Groenendaal to death with the handle of an axe
Hawkin Groenendaal would then rob the home stealing his fathers credit cards and vehicle before fleeing
Hawkin Groenendaal would use the credit cards to by a ring for his girlfriend and flee to Colorado where he was soon arrested
Hawkin Groenendaal would plead guilty to murder, in order to avoid the death penalty, and would be sentenced to life in prison without parole
Hawkin Groenendaal Photos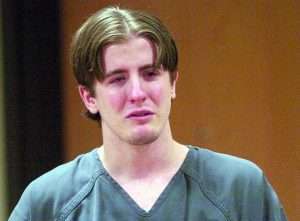 Hawkin Groenendaal Case
Hawkin Groenendaal will spend the rest of his life in prison for murdering his adoptive father in his Awbrey Butte home in January 2005, then fleeing to Colo-rado in the family car.
Groenendaal, 19, was found guilty Thursday of two counts of aggravated murder and two counts of murder for bludgeoning 59-year-old William Groenendaal in the head with the handle of an ax.
Deschutes County Circuit Court Judge Michael Sullivan found the teen guilty after a brief trial during which defense attorneys agreed that Groenendaal was responsible for his father's death.
Groenendaal also pleaded guilty to robbery, burglary, car theft, identity theft, fraudulent use of a credit card and theft.
In exchange for his plea, prosecutors agreed not to seek the death penalty. Instead, Groenendaal will be sentenced to life in prison without the possibility of parole.
Sullivan asked Groenendaal if he wanted to make a statement at Thursday's hearing, but the teen declined.
Groenendaal was not living with his family at the time of the murder and had been estranged from them for months. He returned to Bend with plans to break into the family home and steal valuables, according to police reports.
He told his girlfriend, who lived in Colorado at the time, that he planned to take his father's credit cards so he could buy her an engagement ring. He also said he "might have to hurt his father in order to get what he wants," court records show.
In another conversation, Groenendaal reportedly told the girlfriend that he was going to kill his father and steal his car.
Groenendaal was living in a tent near his parents' home on Awbrey Butte in the days leading up to his father's death, according to police.
Groenendaal's girlfriend later told police that the two took an online quiz during a phone conversation the night before the murder that asked "what kind of killer are you?"
The teen went to his parents' home on the morning of Jan. 18, police reports show.
After a confrontation with his father, he struck William Groenendaal repeatedly with an ax handle, crushing his skull. The teen locked his father's body in a bathroom before stealing credit cards and various items from his former bedroom.
Groenendaal took his father's wallet and left the home in his father's 1993 Chevrolet Suburban.
Investigators discovered that night that a woman living in Elizabeth, Colo., had a restraining order against him.
When authorities called the woman, later identified as Groenendaal's girlfriend, and told her of the homicide investigation, she "gasped and asked if it was Hawkin's father," according to the a police report.
On the afternoon of Jan. 19, an Elbert County, Colo., sheriff's deputy stopped Groenendaal for speeding less than a block from his girlfriend's house.
The deputy told Bend police that Groenendaal was driving his parent's sport utility vehicle.
A Bend police evidence log lists a wooden-handled ice ax, as well as valuables alleged to be missing from the Groenendaal home, among items found in the car.
Groenendaal was extradited back to Oregon in late March and has been housed at the Deschutes County jail without bail since he returned to the state.
On Thursday, Sullivan told Groenendaal he would remain at the jail until his sentencing hearing on July 5.
https://www.bendbulletin.com/localstate/teenage-murderer-to-get-life/article_b1b94108-cba1-5354-9c3e-66afb51606d1.html