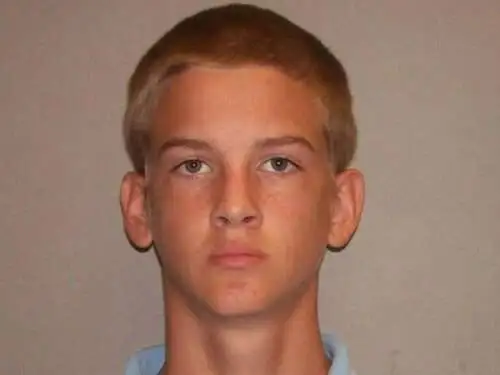 Konrad Schafer was a fifteen year old teen killer from Florida who would murder two people
According to court documents Konrad Schafer was riding in a car when he pulled out a gun and would fatally shoot 17-year-old David Guerrero. Schafer would later take part in a home invasion where he would slit the throat of Eric Roopnarine. Evidence also showed that Schafer had fired at several homes during his crime spree
Konrad Schafer would be arrested, convicted and sentenced to life in prison
Konrad Schafer Now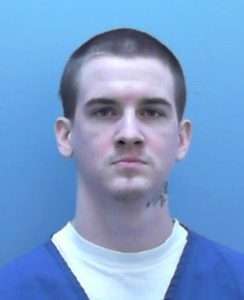 | | |
| --- | --- |
| DC Number: | X91581 |
| Name: | SCHAFER, KONRAD H |
| Race: | WHITE |
| Sex: | MALE |
| Birth Date: | 10/29/1997 |
| Initial Receipt Date: | 04/20/2016 |
| Current Facility: | SANTA ROSA C.I. |
| Current Custody: | CLOSE |
| Current Release Date: | SENTENCED TO LIFE |
Konrad Schafer Case
A judge on Friday sentenced an Osceola County teen who pleaded guilty to murdering two people during a weeks-long shooting spree in 2013 to two life sentences.
Konrad Schafer, 18, pleaded guilty in January to two counts of first-degree murder in exchange for other charges being dropped.
Schafer will be eligible for a parole hearing after serving 25 years. He has already served three years.
Schafer was 15 when investigators say he killed David Guerrero, 17, for fun at a bus stop in 2013.
Investigators said he also killed Eric Roopnarine, 22, during a Poinciana home invasion in July 2013.
Schafer was also charged with several drive-by shootings around Kissimmee.
"I know teenagers do dumb things, but how does a kid ever come to the point where shooting somebody else is something that they thought was an experience that they would like to have?" State Attorney Jeff Ashton said.
Schaefer's friends who were also charged in connection with the murders and the shooting sprees are also making their way through the court system.
According to court records, David Damus was sentenced to life in prison in the killing of Roopnarine. Juan Muriel accepted a plea deal and was sentenced to 10 years in prison.
https://www.clickorlando.com/news/2016/04/15/teen-sentenced-to-life-in-prison-in-osceola-shooting-spree-slayings/
Konrad Schafer Other News
Nearly three years after a 15-year-old and his friends terrorized Osceola County with random shootings that left two innocent bystanders dead, a judge on Friday sentenced the youngest triggerman to two consecutive life terms in prison.
Konrad Schafer, now 18, apologized to the families in court after hearing how the deaths of David Guerrero and Eric Roopnarine, both students, ripped their lives apart. Schafer had previously pleaded guilty to two counts of first-degree murder in the rash of violence that put residents on edge for two weeks as bullets pierced their homes and cars 22 times.
"I know you would never forgive me, and I don't expect you to…if it was me in the same position I wouldn't either," Schafer said in a low voice, an orange jumpsuit dwarfing his thin frame. He sunk his head for the majority of the two-hour hearing.
After hearing Schafer speak, Orange-Osceola State Attorney Jeff Ashton questioned Schafer's sincerity and called him a sociopath. Locking Schafer up for the remainder of life is the only way to ensure the community's safety, Ashton told the judge.
"Someday maybe we will understand better why people like Mr. Schafer exist, but for the safety of this community, until we know the answers, we simply cannot allow Mr. Schafer to walk free among us," Ashton said. "He simply is and will always be that person, that sociopathic person."
Because Konrad Schafer was a juvenile at the time of the killings, he is entitled to have his sentence reviewed in 25 years, when it could be shortened.
The U.S. Supreme Court has ruled that sentencing a juvenile to life in prison without the possibility of parole constitutes cruel and unusual punishment.
Schafer's attorney, Francis Iennaco, pushed for a sentence of 40 years, saying Schafer had matured considerably since the killings and showed signs that he could be rehabilitated. The chaplain and GED teacher at the Osceola County Jail testified to Schafer's progress and said he was always polite and respectful.
"For a very good reason, we don't treat 15 year olds as adults in virtually any context in life, not just in the criminal justice system," Iennaco said. "We don't let them make their own medical decisions, they don't get to live where they want, they don't get to drive where they want."
More than 30 people packed the Kissimmee courtroom Friday morning, including detectives who worked the case and family members of the victims.
Guerrero, a 17-year-old Osceola High School student, was fatally shot on his way to catch the bus for work at dawn on June 26, 2013 in Kissimmee when Schafer opened fire from a passing car. Days later, prosecutors say Schafer and three of his friends forced their way into the Poinciana home of Roopnarine, a 22-year-old club promoter and college student, and killed him as he begged for his life. Prosecutors said Schafer slit his throat after another man mortally shot him.
Kripanand Ramnarain, Roopnarine's grandfather, said he didn't believe Schafer's apology.
"There is no happiness," he said, recalling the death of his grandson, who was studying to achieve his dream of working on Wall Street. "We will never see that bright smile on his face again. We will never get to celebrate his graduation…I have no intention to forgive the guilty."
Guerrero's brother also testified, saying his mother moved back to Colombia after the killing because it was too painful to live here and that she now suffers from psychological problems.
The back story of Schafer, a Leukemia survivor who flunked parts of elementary school, was also put on display Friday, an attempt to show Orange-Osceola Circuit Judge Jon Morgan what factors could have led the teen down this path.
Through an American Sign Language interpreter, his mother, who is deaf, testified that Konrad Schafer was bullied at school because of how he appeared after losing hair and gaining weight for cancer treatments starting at age 8. She said she begged the school for counseling but Schafer never got any.
"The doctor explained it was possible his behavior would change because of it the medications," Karen Craven said. "He was more emotional. I think it was because of all the treatment he had."
Morgan, who presided over the trial for a co-defendant in the case, said it was difficult for him to tell the extent of Schafer's remorse.
"Your acts exhibited an absolute indifference to the lives and the rights of others and total disregard of human life," he said.
Before the 2013 shootings began, Konrad Schafer had convinced his father to buy him a .45-caliber Hi-Point carbine and 100 rounds of ammunition. He then allegedly waited until his father went to bed, snuck the gun out of the house, and started riding around the area and firing.
A friend of Schafer's, David Damus, was found guilty of first-degree murder in Roopnarine's death in June. Prosecutors accused Damus of shooting Roopnarine.
The other two charged in Roopnarine's death are Victoria Rios, who was 17, and Damus' roommate Juan Muriel. Muriel struck a deal for a 10-year prison sentence in exchange for his testimony against the others.
After the hearing, Ashton said that if Konrad Schafer were three years older, he would be facing the death penalty.
"You have the murders of two absolutely innocent people, both of which appear to be quite premeditated and cold," Ashton said. "This would have been a classic death-penalty case had he been older."
Konrad Schafer Videos